Smakowite przepisy z całego świata! Smacznego! / Delicious recipes from all over the world! Enjoy!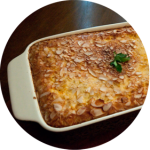 1.  RPA – BOBOTIE / SOUTH AFRICA – BOBOTIE

Bobotie to tradycyjne i mocno przyprawione mięsne danie z Republiki Południowej Afryki, które przywędrowało na te tereny z Batavi, czyli indonezyjskiej kolonii Królestwa Niderlandów. Istnieje wiele odmian Bobotie, ponieważ jest to danie kuchni domowej. / A traditional South African savoury mince dish, which first were brought from Batavia, the Indonesian colony of the Netherlands. There are many varieties of Bobotie as it is a home-style cooking.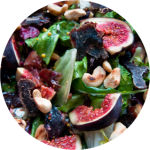 2. RPA – SAŁATKA Z BILTONGIEM, ŚWIEŻYMI FIGAMI I GORGONZOLĄ / SOUTH AFRICA – BILTONG, FRESH FIGS AND GORGONZOLA SALAD
Biltong to odpowiednio przyprawione, a następnie suszone mięso, pochodzące oryginalnie z RPA. Najpopularniejsze przyprawy to ocet, sól, kolendra i czarny pieprz. W Republice Południowej Afryki biltong jest bardzo popularną przekąską. / Blitong is properly seasoned (vinegar, salt, coriander, black pepper and sugar), and then dried meat (beef, springbok and ostrich) originally from South Africa.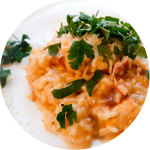 Risotto jest absolutnym hitem i przysmakiem północnych Włoch! Nic dziwnego, ponieważ można je przygotować w 40 minut i posiada tysiące wersji, w zależności od dodanych składników. Dziś proponuję risotto z kurczakiem i prosciutto. / Risotto is an absolute hit and delicacy of northern Italy! This is not surprising, because it can be prepared in 40 minutes and has thousands of versions, depending on the added ingredients. Today I recommend risotto with chicken and prosciutto.