Wiosenny wyjazd do Paryża planowałam od dawna i mimo że nie miała to być moja pierwsza wizyta w tym miejscu, to czekałam na nią z ogromną radością i ciekawością zarazem. Dlaczego? Ponieważ byłam tam bardzo, bardzo dawno temu z jakąś zorganizowaną wycieczką w okresie sylwestrowo-noworocznym. Z tamtego pobytu pamiętam głównie potworne tłumy ludzi i mnie samą – lekko zagubioną w podróży istotę.
Teraz miał to być po prostu wiosenny weekend w miłym miejscu i oderwanie się od codziennych spraw. Byłam też ciekawa, czy pamiętam cokolwiek z języka francuskiego, którego uczyłam się na studiach. Aby przypomnieć sobie chociaż najprostsze zwroty, przez kilka tygodni przed wyjazdem słuchałam codziennie w drodze do pracy kursu językowego.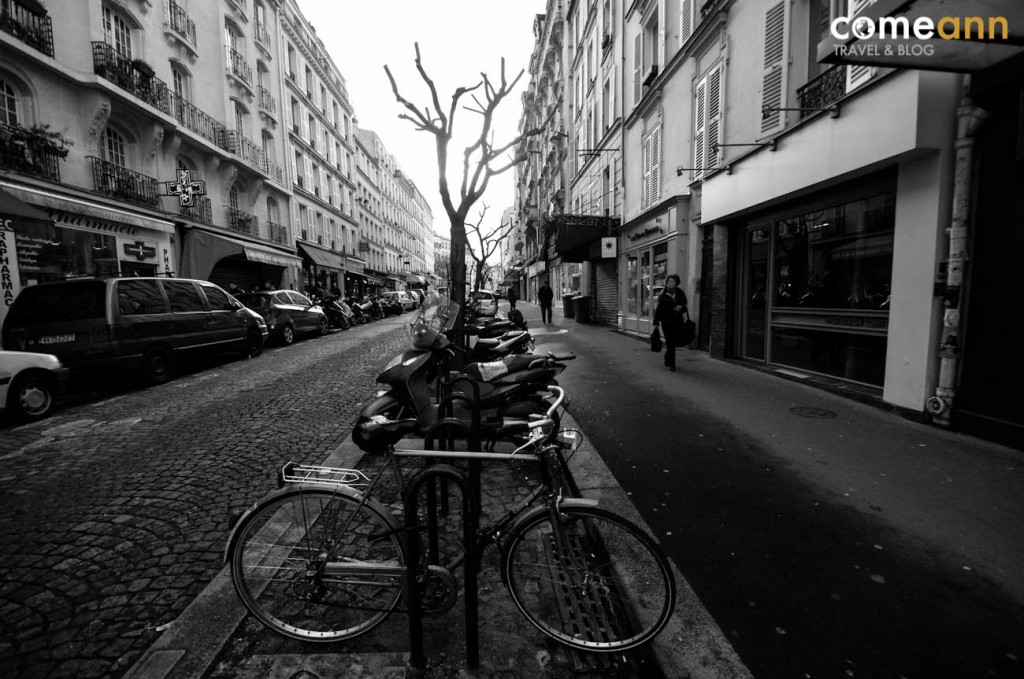 Dwa dni w Paryżu to idealny czas, aby poczuć atmosferę miasta, zagubić się w wąskich uliczkach Montmartre'u, odetchnąć powietrzem przepełnionym sztuką i zmysłowością, odnaleźć smak latte w malutkich kawiarenkach z jeszcze mniejszymi, chyboczącymi się stoliczkami oraz bez wstydu oddać się rozkoszom podniebienia.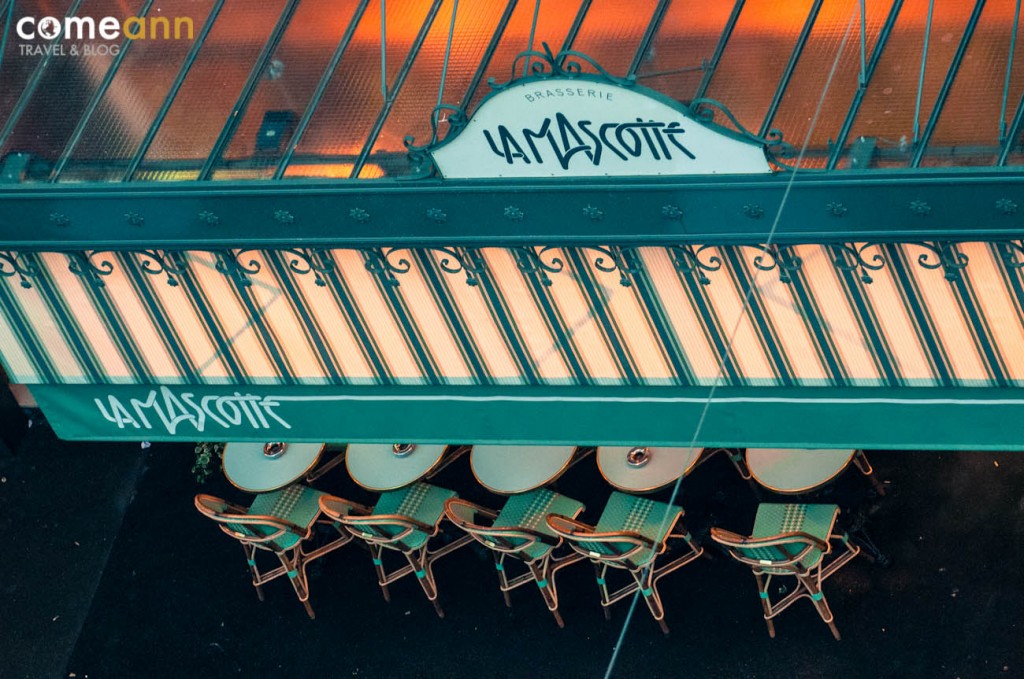 Już podczas podróży poczułam, że to będzie naprawdę miły wyjazd. Czasem to się po prostu wie i już. Wysiadając z samolotu spytałam współpasażera, czy nie wie przypadkiem, jak najsprawniej dostać się na Montmartre. Usłyszałam trzy możliwości: taxi, autobus lub RER, ale już po chwili siedziałam w autobusie razem z parą przemiłych osób, które zaproponowały mi wspólną podróż, ponieważ jechały w tym samym kierunku. Na Charles de Gaulle Étoile przesiedliśmy się w metro, gdzie okazało się, że jedziemy tą samą linią. Tym sposobem trafiłam na miejsce bezbłędnie, cały czas w znakomitej atmosferze i jeszcze na koniec zostałam obdarowana biletem!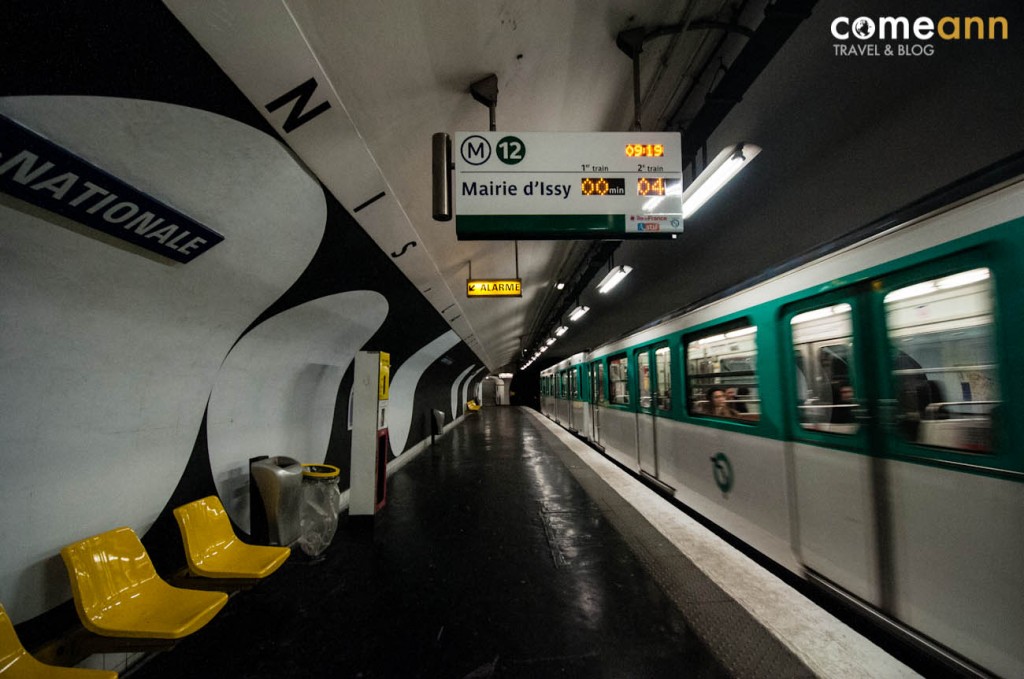 W czasie tej trwającej ponad godzinę drogi z lotniska rozmawialiśmy o Paryżu, o tym, co chciałabym zobaczyć, ale też na jakieś zupełnie błahe tematy. Wtedy uświadomiłam sobie, że osoby spotkane na trasie zawsze nadają jakiś koloryt naszemu podróżowaniu. Jakby na naszej drodze przystawiali pieczątkę czy zaginali róg kartki przewodnika. Dlatego serdecznie dziękuję Beacie i Krzysztofowi za pomoc w poruszaniu się po mieście i cudowne towarzystwo!
Przyleciałam wieczorem, więc mogłam sobie pozwolić na szybką kolację, trochę wina i dużo snu, by następnego dnia zacząć z samego rana od Musée d'Orsay. Byłam jeszcze przed otwarciem, co pozwoliło uniknąć gigantycznej kolejki. Odczekałam piętnaście czy może dwadzieścia minut i w końcu drzwi się otworzyły. Właściwie nie powinno się używać określenia "drzwi", to były prawdziwe wrota do sztuki! I to wszystko bez dzikich tłumów, jakie pamiętałam z poprzedniego pobytu w Paryżu. Mogłam spokojnie podziwiać dzieła Moneta, Pissarra, Sisleya, Van Gogha, Gauguina i wielu, wielu innych znakomitości. Jednak zupełnie nie wiem, czemu najbardziej zapadł mi w pamięć "Portret Matki" Whistlera (Jamesa Abbotta McNeilla oczywiście).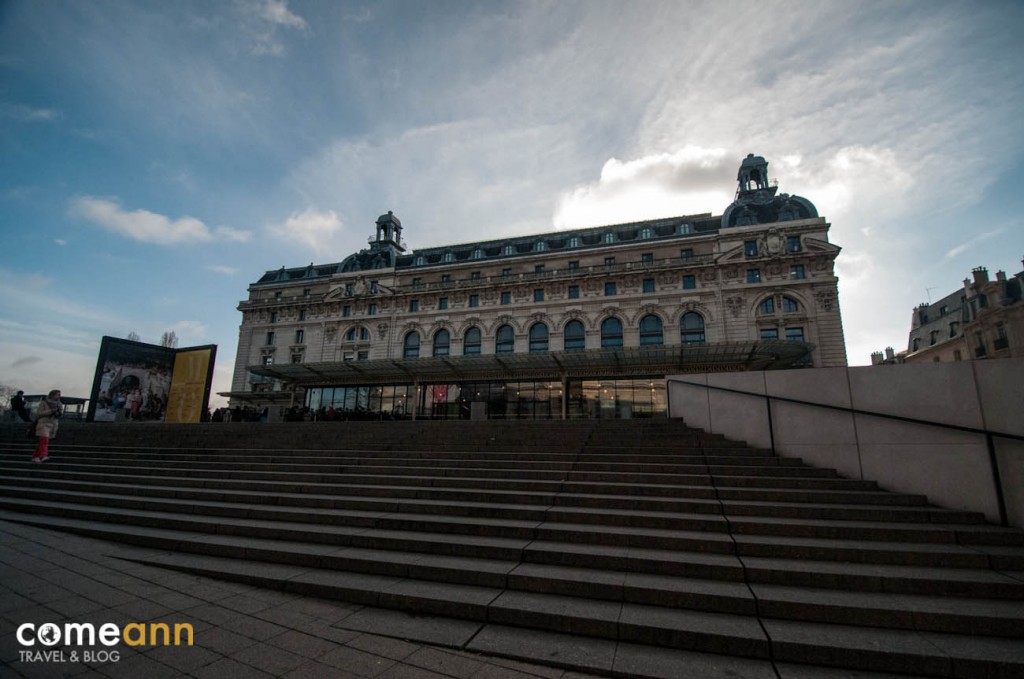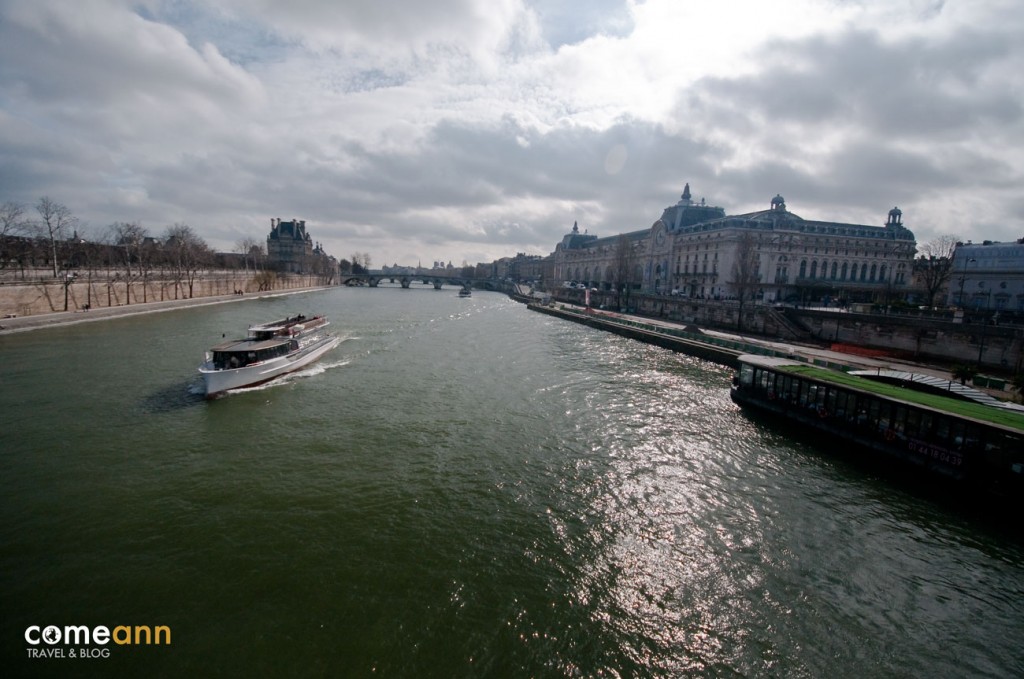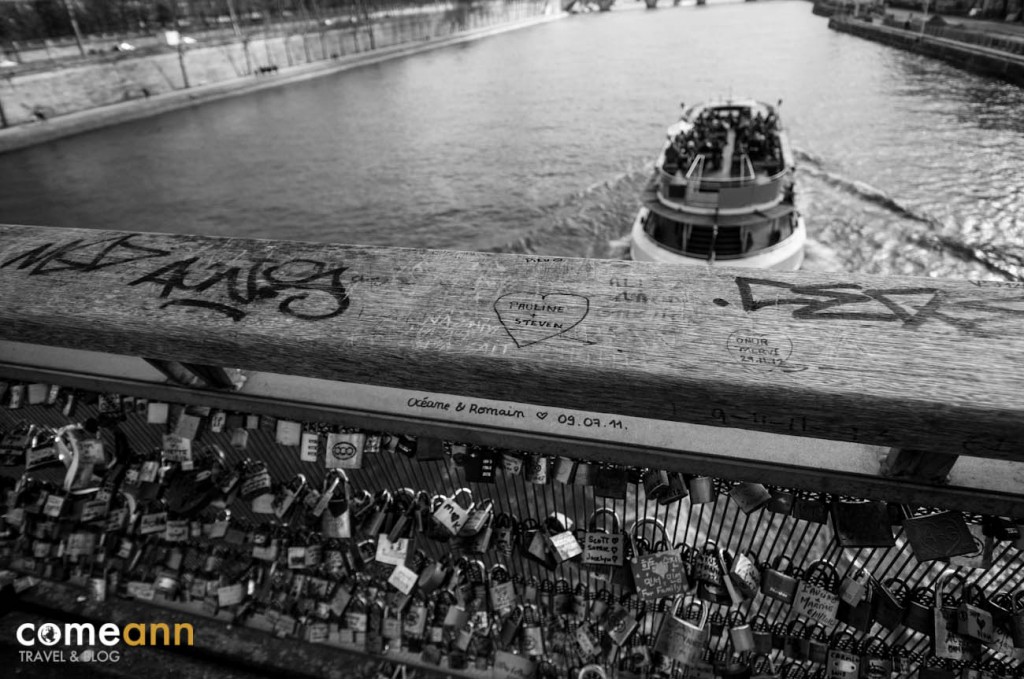 Kolejnym muzeum, które koniecznie chciałam zobaczyć, wcale nie był Luwr (byłam tam poprzednim razem), tylko Musée Marmottan Monet, gdzie znajduje się jeden z największych zbiorów prac tego malarza, a co najważniejsze – słynny obraz "Impresja – Wschód Słońca". To od niego zaczęło się całe impresjonistyczne szaleństwo, a w tamtych czasach otrzymał wielce nieprzychylne recenzje krytyków sztuki.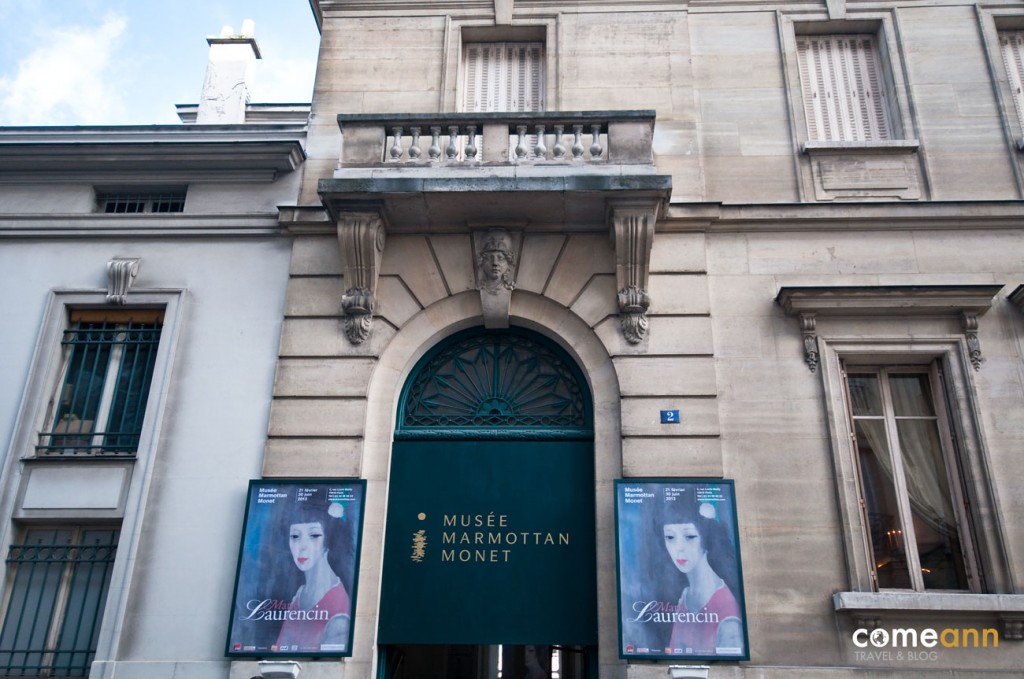 Muzeum znajduje się na uboczu, dobry kawałek od centrum, przy przemiłym parku. Można się tam bez problemów dostać metrem. A co najważniejsze, mało kto o nim wie, więc nawet w sobotnie przedpołudnie było jedynie kilkunastu zwiedzających. Z całą pewnością do Marmottan Monet powinni się wybrać również fani "Nenufarów" – znajduje się tam całkiem pokaźny zbiór tych studiów przyrody.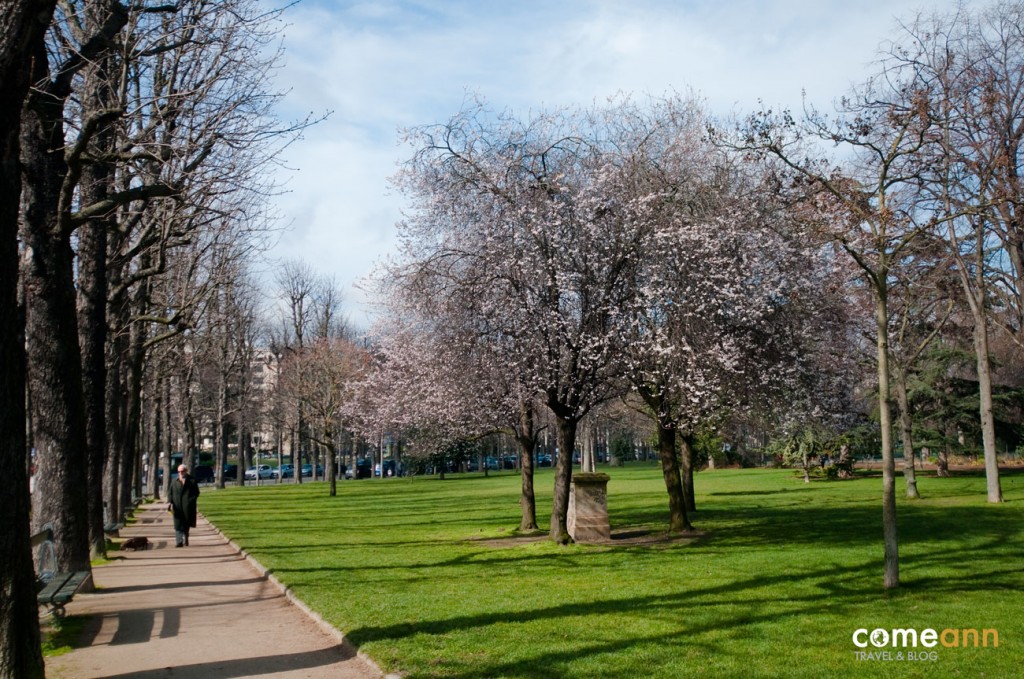 W tym miejscu znowu zaskoczyło mnie pewne spotkanie. Bileter zauważył na mojej szyi wisiorek w kształcie kontynentu afrykańskiego i zaczął się dopytywać, dlaczego go noszę i w jakich krajach byłam. Spytał, czy byłam w Etiopii, a kiedy odpowiedziałam twierdząco, powiedział, że pochodzi z Addis Abeba i tak zaczęła się nasza rozmowa… Jest coś niezwykłego w tym, że niezależnie skąd się pochodzi, można polecieć na weekend do innego kraju, a tam przypadkiem spotkać kogoś z innego kontynentu, na którym akurat się było i już jest powód do rozmowy, do wymiany wrażeń i do radości. Dlatego też lubię podróżować sama.
Takie spotkania czy rozmowy prawie nigdy się nie zdarzają, kiedy podróżuje się w grupie, czy nawet z drugą osobą (podkreślam "prawie", bo jednak czasem dzieją się cuda). Jesteśmy wtedy, chcąc czy nie, trochę zamknięci w swoim świecie. Rozmawiamy, śmiejemy się między sobą i tylko czasem wysuwamy czubek nosa, by nawiązać kontakt z otoczeniem. Jesteśmy po prostu turystami, do których także miejscowi mają ograniczone zaufanie.
Kiedy podróżujemy sami, jesteśmy w pewien sposób skazani na mieszkańców danego miejsca – kiedy czegoś nie wiemy lub zastanawiamy się nad jakimś wyborem, możemy to przegadać jedynie z nimi, nie mamy opcji konsultacji z przyjacielem. Dużo częściej i jakby inaczej rozmawiamy z miejscowymi. Tym sposobem naturalnie wchodzimy w otoczenie, jesteśmy o wiele bardziej otwarci i budzimy większe zaufanie.
Mimo że wiele osób powie, że podróżowanie w pojedynkę jest niebezpieczne (może niekoniecznie do Paryża, choć spotkałam podczas tego weekendu dwie dziewczyny z Polski, które zapytały mnie, czy nie boję się podróżować sama?) i te osoby pewnie nigdy nie odważyłyby się wyjeżdżać w ten sposób, to ja podejmuję ryzyko. Biorę w pakiecie wszystkie możliwe konsekwencje i nadal uważam, że jest to fantastyczny rodzaj podróży, umożliwiający inne poznanie niż wyjazdy z osobą towarzyszącą. I choć każdy sposób, by spełniać swoje globtroterskie marzenia, jest wspaniały i sama czasem jeżdżę na wyjazdy grupowe czy nawet zorganizowane, to garstce odważnych polecam spróbować choć raz. Przełamać się, zarezerwować bilet, nocleg i po prostu poddać się prądowi podróży.
Po Musée Marmottan Monet przyszedł czas na długi spacer po słynnym cmentarzu Père Lachaise. Dzień był ciepły i słoneczny, więc pogoda wręcz zachęcała do odwiedzin miejsc spoczynku Fryderyka Chopina, Jima Morrisona, Édith Piaf, Honoré de Balzaca czy Amedeo Modiglianiego. Cmentarz jest ogromny, a alejki przypominają ulice i mają nawet swoje nazwy. Żeby się nie zgubić, najlepiej jest kupić plan z oznaczonymi miejscami, gdzie znajdują się groby znanych osób. Mnie udało się odwiedzić miejsca, które chciałam, choć niektóre nagrobki są naprawdę trudne do znalezienia. Najbardziej zadziwił mnie niepozorny grób Morrisona, schowany gdzieś w kąciku i odgrodzony barierką. Dobrze, że zmierzało tam sporo osób, bo inaczej nie wiem, czy bym trafiła…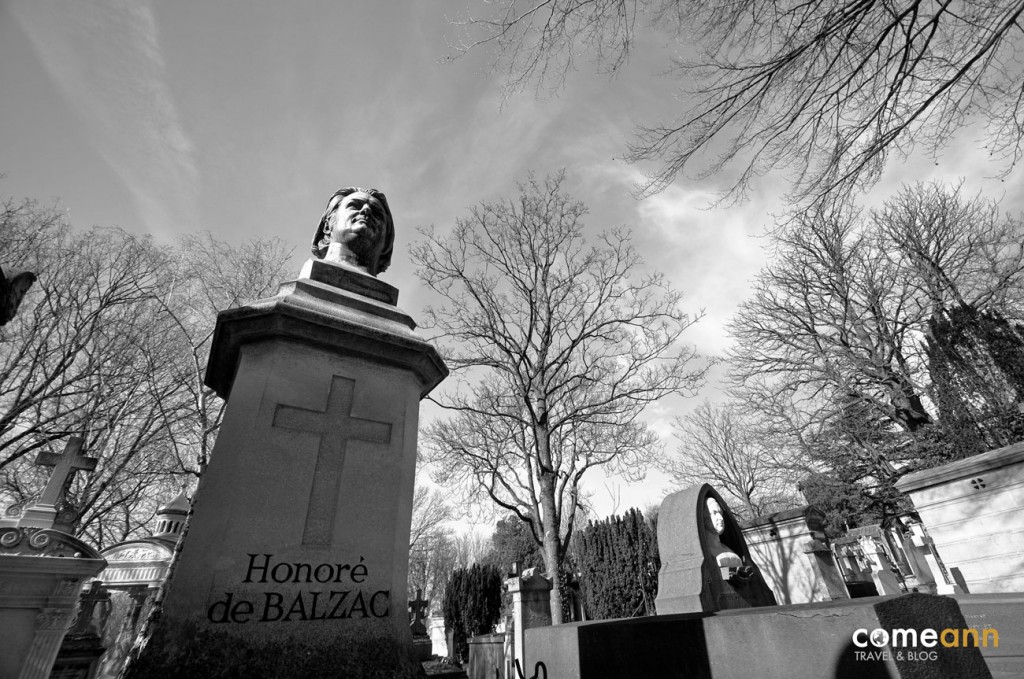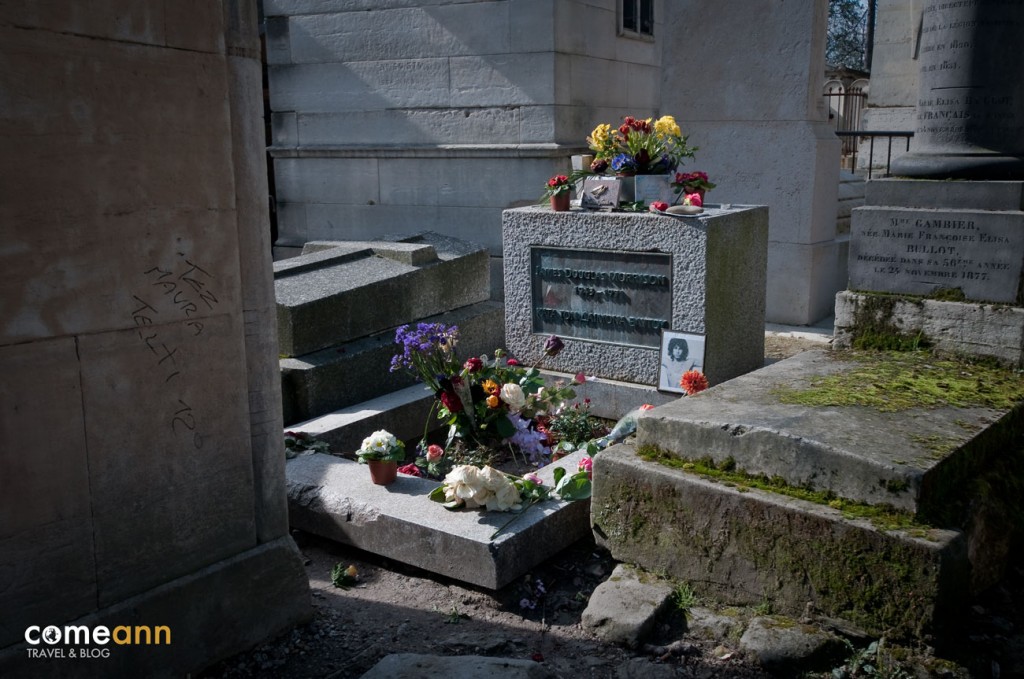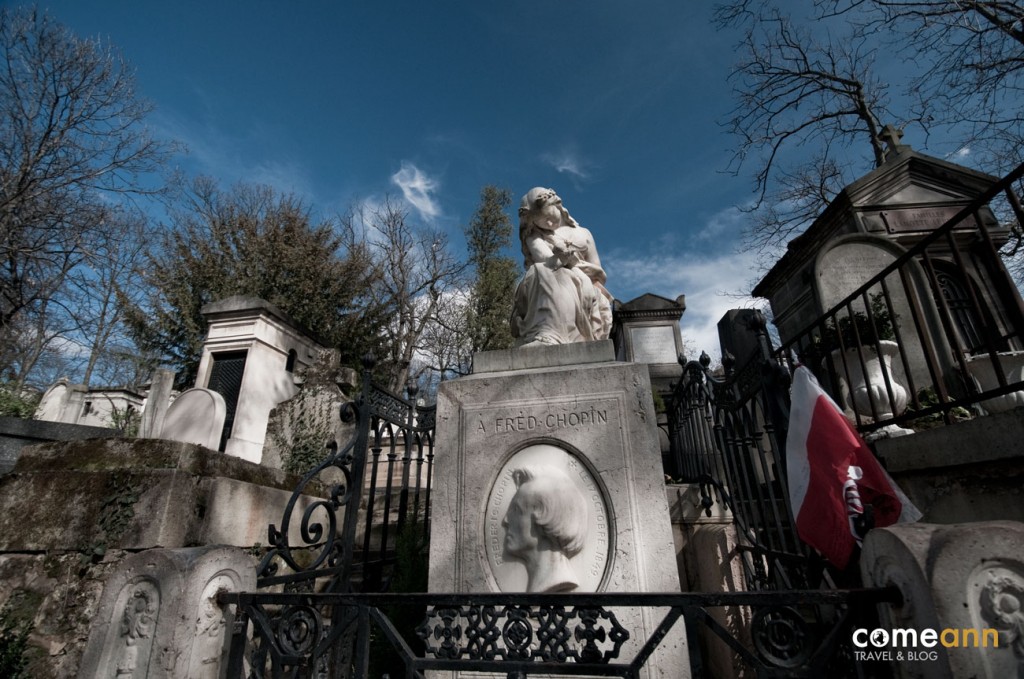 Na koniec zostawiłam sobie Centre Pompidou, czyli muzeum sztuki współczesnej. Tutaj chciałam jedynie przejechać się słynnymi ruchomymi schodami umieszczonymi na zewnątrz budynku i zrobić trochę zdjęć przedstawiających panoramę Paryża. Kupiłam więc bilet na Vue de Paris (czyli widok na Paryż) i w drogę! Efekty możecie ocenić sami.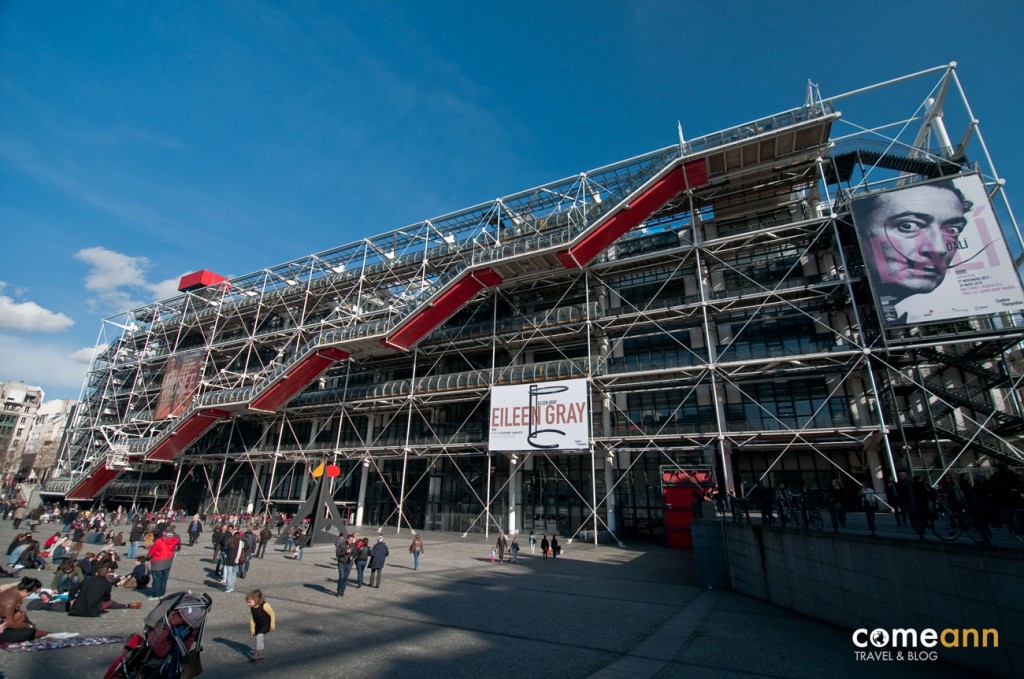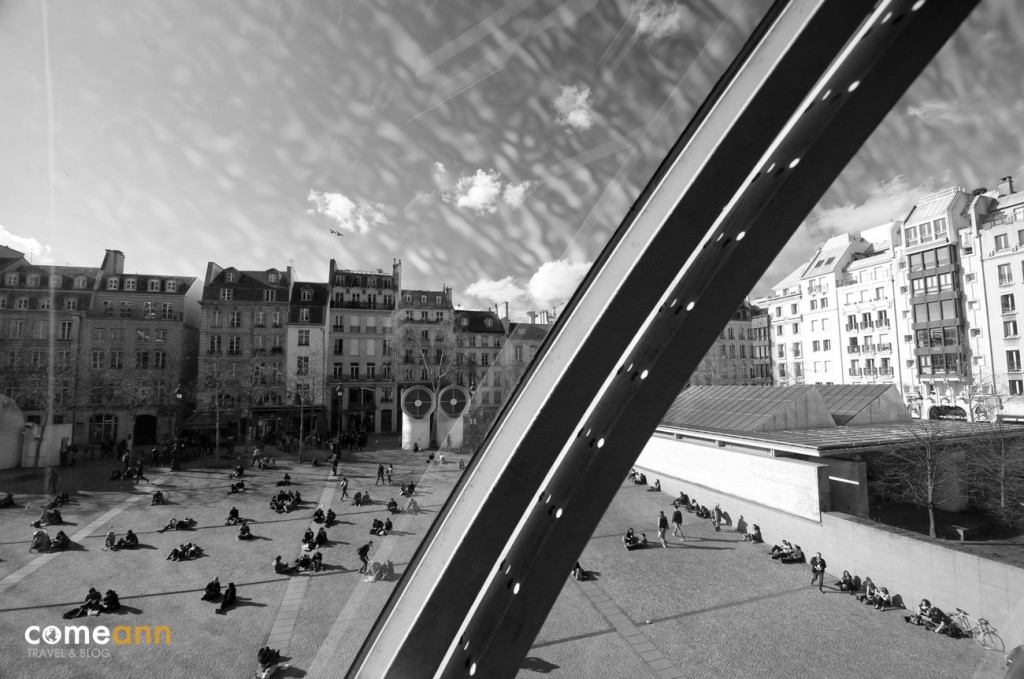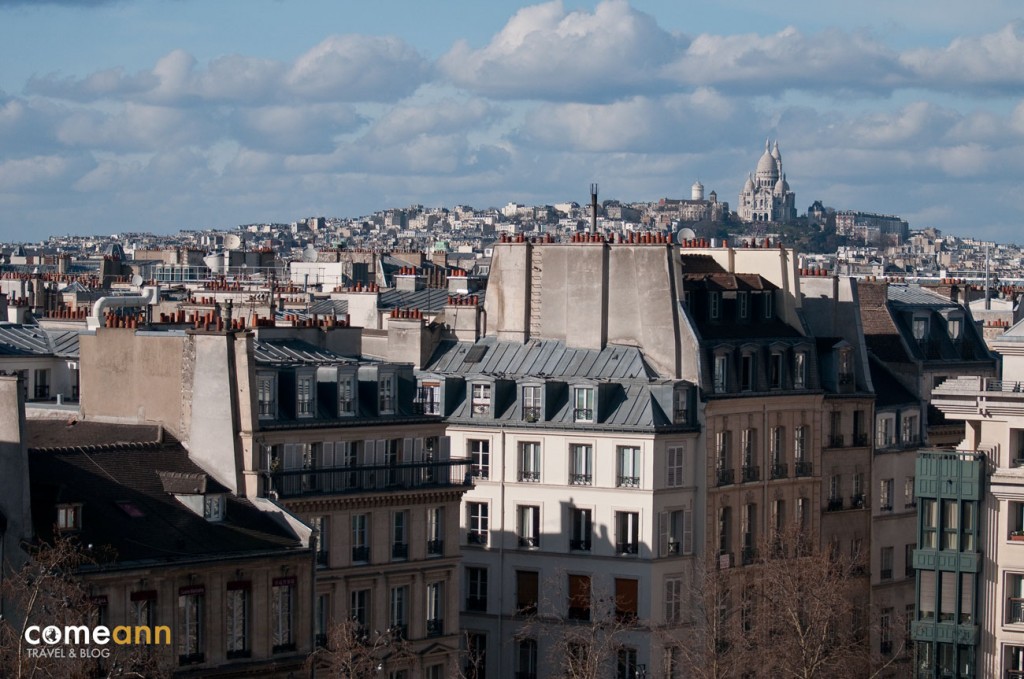 Pierwszy dzień pobytu zakończyłam banalną francuską kolacją, czyli żabimi udkami i zupą cebulową, sącząc perfekcyjnie schłodzone wino przy malutkim stoliczku wystawionym przed restaurację gdzieś na Montmartrze. Było idealnie, rozkoszowałam się wysokimi temperaturami, wyśmienitym jedzeniem i paryską atmosferą. Nie trzeba mi było niczego więcej… No, może trwającego jeden dzień dłużej weekendu.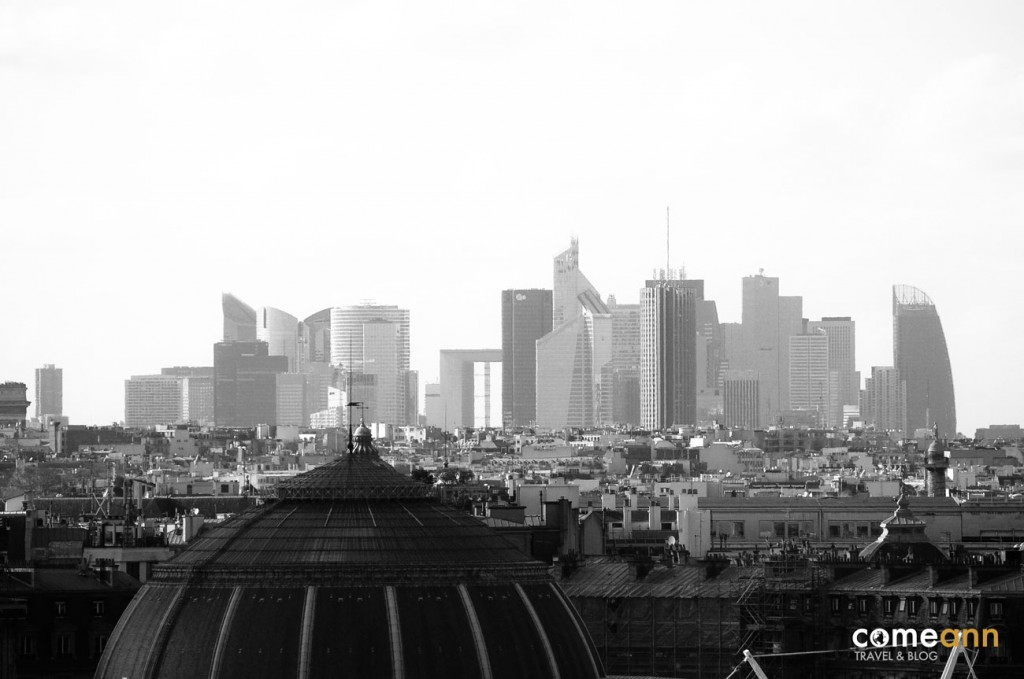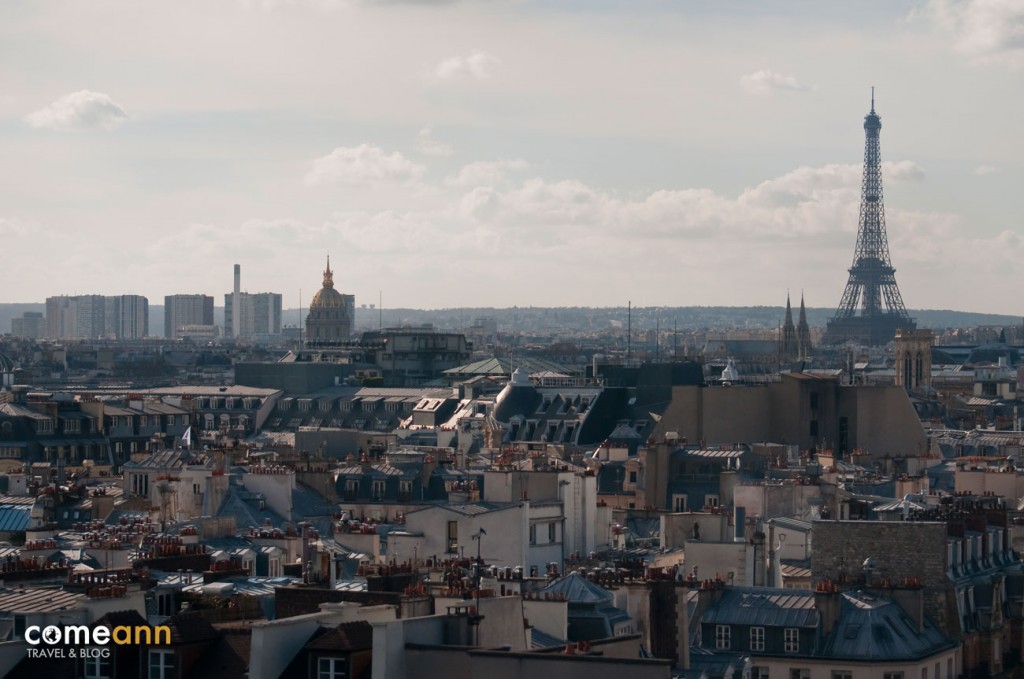 •••
 I had been planning the spring trip to Paris long ahead and even though it was not my first visit to this city, I had been waiting for it with excitement and curiosity. Why? Because I had been there long, long time ago on some organized trip during New Year's Eve holiday period. I remember mostly terrible crowds of people and myself – a bit lost on the road.
This time I simply wanted to spend a spring weekend in a nice place and break away from the everyday routine. I was also wondering if I remembered any French I used to learn during my studies. In order to recall at least the simplest phrases, I had been listening to audio course for several weeks before my departure.
Two days in Paris is a perfect amount of time to feel the atmosphere of the city, get lost in the narrow streets of Montmartre, breathe the air filled with arts and sensuality, find the taste of latte in tiny cafes with even tinier, swaying tables and shamelessly indulge in palate pleasures.
Already on my way to Paris, I felt it was going to be a really nice trip. Sometimes you just know it. Getting off the plane I asked my fellow-traveller if he knew the best way to get to Montmartre. I was told there were three possibilities: by taxi, by bus or RER and after a while I was sitting on a bus with a lovely couple offering me to travel together since they wanted to reach the same destination. At Charles de Gaulle – Étoile we changed to underground and it turned out we needed the same line. This way I reached the goal without getting lost, in a great company and I was even given a ticket for free!
On our way from the airport, which took us over an hour, we were talking about Paris, places I wanted to visit but also discussed some trivial matters. I then realized that people you get to know on your way always give some color to your travels. As if they were putting a stamp or bending corners of a guidebook. Beata and Krzysztof, thanks again for all your help and great company!
I arrived in the evening so I could still have a quick supper, a bit of wine and a lot of sleep so as to start the next day early in the morning with Musée d'Orsay. I reached the place before opening which allowed me to avoid the gigantic queue. I waited some fifteen-twenty minutes and finally the door opened. Actually I shouldn't use the word "door", in fact it was a true gateway to arts! And all this without terrible crowds I remembered from my previous trip to Paris. I could peacefully admire the oeuvre of Monet, Pissarro, Sisley, Van Gogh, Gaugin and many other great artists. However, I have no idea why I especially kept in mind the Whitler's (James Abbott McNeill, of course) Mother portrait.
The next museum I absolutely wanted to see was not the Louvre (I was there the previous time) but the Musée Marmottan Monet with one of the biggest collection of the artist's work and above all the famous "Impression, Sunrise". This is where all the impressionist madness began but at those times the painting received very unfavorable reviews from art critics.
The museum is situated out of the way, a good piece away from the center, next to a lovely park. You can easily reach it with underground and most of all it is not very well-known so even on Saturday afternoon there were only several visitors inside. The museum should certainly be seen by the fans of "Water Lilies" as there's a pretty big collection of nature studies of them.
I was then surprised by another encounter. The ticket inspector noticed a pendant in the shape of Africa on my neck and began to inquiry why I was wearing it and which countries I had been to. He asked me whether I saw Ethiopia and when I said yes he told me he was from Addis Abeba and that's how our conversation began… There's something amazing about the fact that no matter where you come from you can go for a weekend to another country and meet by chance somebody coming from another continent where you happened to be too – and that's enough to start talking together, share your impressions and have a great time. That's one of the reasons why I like travelling on my own.
Such encounters or conversations hardly ever happen when you travel in a group or even just with a friend (I say "hardly ever" because sometimes you can experience a miracle). We are then, willy-nilly, a bit closed in our own world. We talk and laugh together and only from time to time we get in touch with the surrounding environment. We are just the tourists whom the local inhabitants do not really trust.
When we travel on our own, we are in a way doomed to inhabitants of a given place – when we don't know something or consider some option, we can only talk to them, with no option to consult a friend. We talk with locals much more often and somehow differently. This way we naturally enter the environment, we are much more open and awaken more trust.
Although many people would claim that travelling alone is dangerous (maybe not necessarily to Paris, even though during this weekend I met two girls that asked me whether I was not afraid of travelling alone) and they would never dare travel this way, I always take the risk. I take into account the possible consequences and still believe this is a wonderful way of travelling that only lets you experience a place in a very different way than if you were travelling with a friend. And much as any way of fulfilling your globtrotter's dreams is great – and I also sometimes choose organized trips – I still recommend to those more courageous try even once to go somewhere alone. Overcome your fears, book a ticket and place to overnight and simply give in to the current of your journey.
After Musée Marmottan Monet came the time for a long walk on a famous Père Lachaise Cemetery. The day was warm and sunny so the weather encouraged to visit the burial places of Frédéric Chopin, Jim Morrison, Édith Piaf, Honoré de Balzac and Amadeo Modigliani. The cemetery is huge and the alleys resemble streets and even have their own names. So as not to get lost, you should buy a map with marked places of the most famous graves. I managed to visit the ones I wanted to, however, many graves are really hard to find. I was most amazed by the grave of Morrison, hidden somewhere aside and fenced with a barrier. I was lucky there were many poeple looking for it too, otherwise I might not have found it…
In the end I wanted to see the Centre Pompidou which is a museum of contemporary art. I only wanted to have an escalator ride outside of the building and take a few photos depicting the panorama of Paris. So I bought the ticket for Vue de Paris – and off I went! You can assess the effects yourselves.
I finished the first day of my journey with a French dinner, that is frog legs and onion soup, sipping a glass of a perfectly chilled wine at a tiny table in front of some restaurant of Montmartre. It was marvellous, I delighted the warm weather, excellent food and the atmosphere of Paris. I didn't need anything more… Well, maybe just one more day of the weekend.