Dzielnica kolorów, muzyki i zabawy. Miejsce, które upodobała sobie artystyczna bohema Cidade Maravilhosa, zadziwiające ciekawą architekturą i niecodziennymi założeniami, takimi jak Escadaria Selaron, czy Aqueduto da Carioca.
Akwedukt został zbudowany w połowie XVIII wieku, aby dostarczać wodę z rzeki Carioca dla mieszkańców Rio de Janeiro. Jest imponującym przykładem architektury kolonialnej i inżynierii. Przez Brazylijczyków bywa nazywany Arcos da Lapa (Lapa Arches). Od końca 19 wieku służy jako wiadukt dla popularnego tramwaju, który łączy centrum miasta z położoną na wzgórzu dzielnicą Santa Teresa.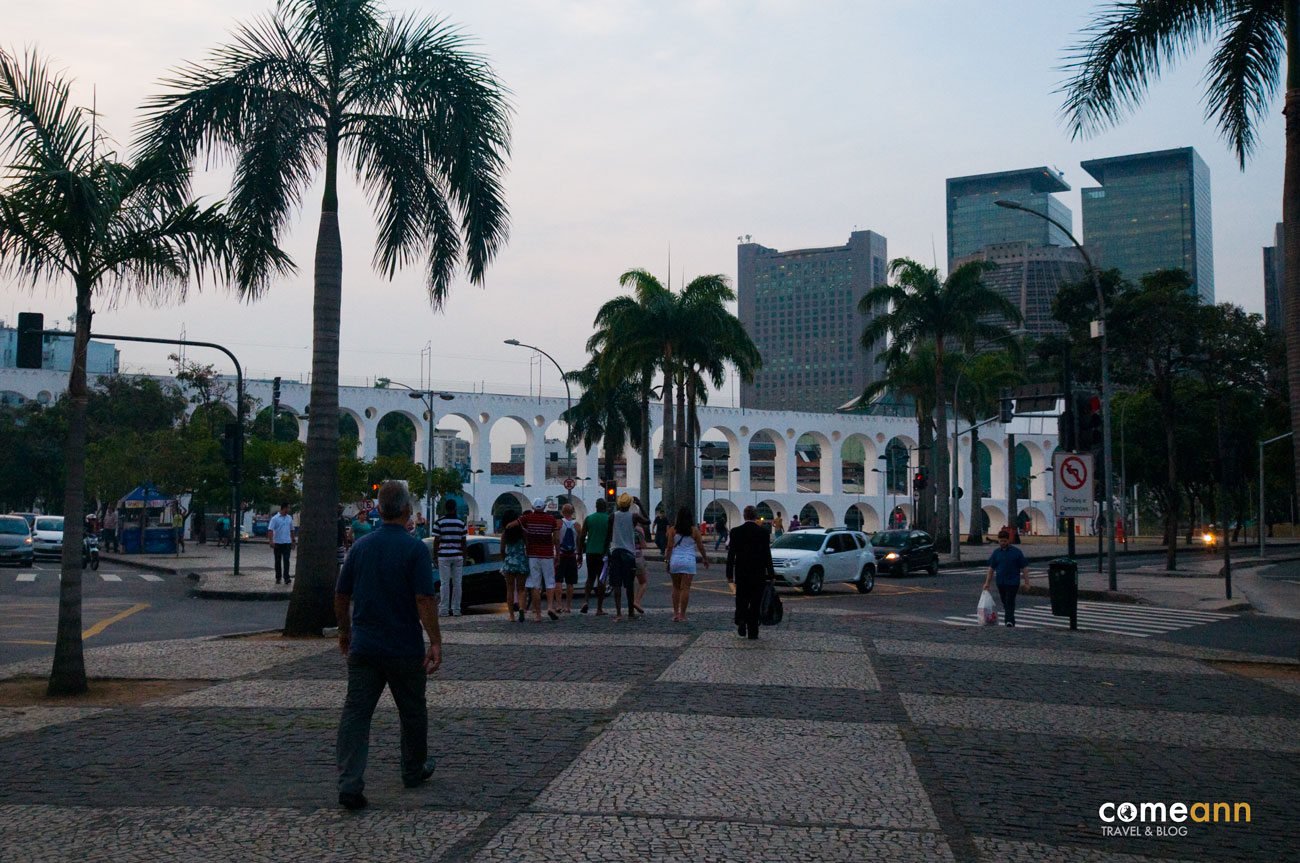 Schody zaintrygowały mnie najbardziej. Bijące po oczach kolorowe płytki nie pozwalały, by przejść obok nich obojętnie, więc utknęłam tam na dłuższą chwilę.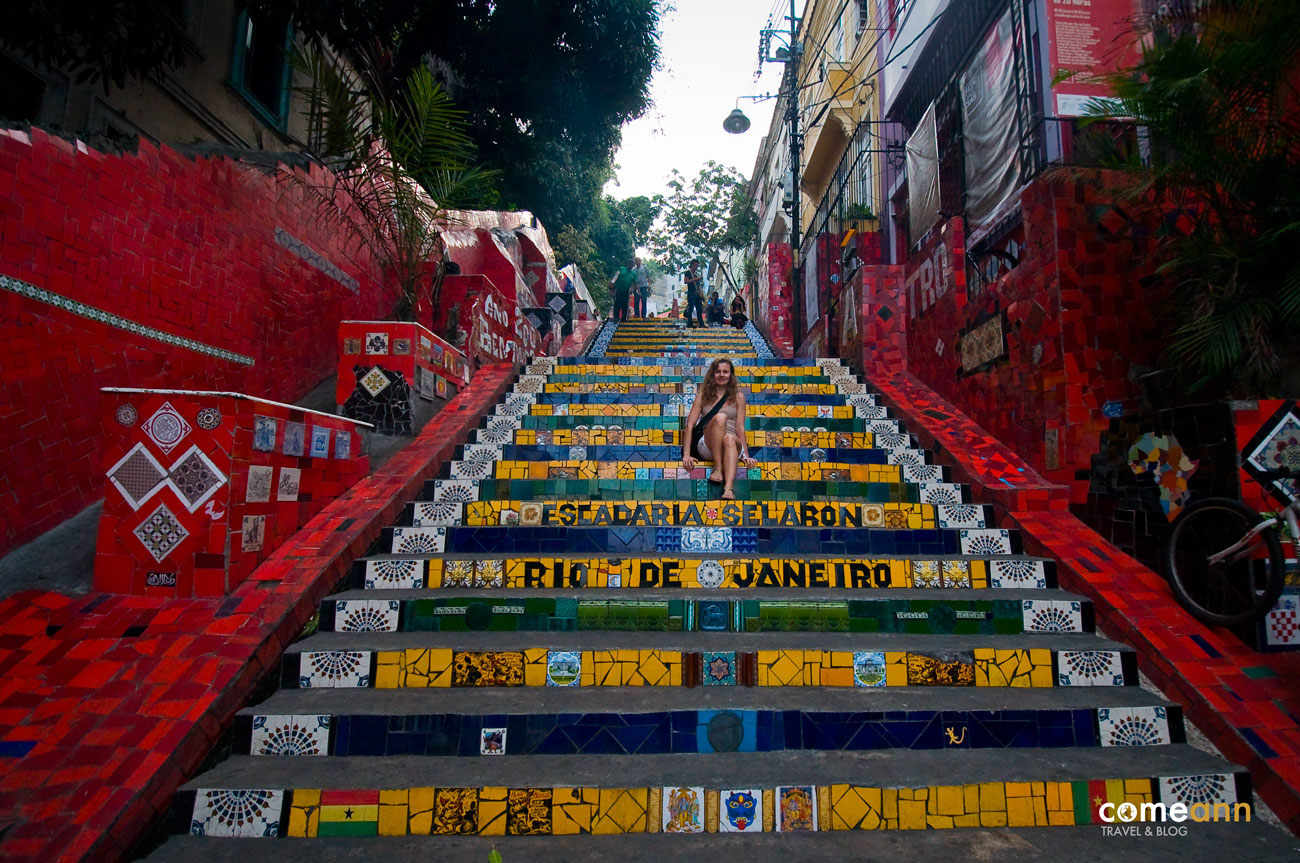 Autorem założenia jest Jorge Selarón – chilijski artysta, który w 1980 roku osiedlił się w domu obok schodów, a 10 lat później zaczął dekorować 215 stopni (prowadzących do klasztoru Santa Teresa) płytkami ceramicznymi otrzymanymi od znajomych i turystów. Selarón modyfikował swoją artystyczną wizję aż do śmierci (10 stycznia 2013), nieustannie transformując schody przy pomocy płytek podarowanych z najróżniejszych miejsc świata. Swoje dzieło nazwał hołdem dla Brazylijczyków.
Atmosfera panująca w okolicach Escadaria Selaron jest wyjątkowo luźna i artystyczna, ale też trochę niepokojąca. Byłam tam po południu, kiedy jeszcze Lapa nie wypełniła się tłumem żądnym nocnych rozrywek, a jednak na schodach siedziało pełno artystów, głównie muzyków z gitarami i bębnami. Rozmawiali, popijali piwo i palili skręty, a przynajmniej taki zapach unosił się w powietrzu i coś mi się zdaje, że węch mnie nie zawodził.
Przez okolicę raz po raz przewijali się turyści, którzy robili sobie zdjęcia na schodach i podążali w górę lub w dół, jednak udało mi się uchwycić parę chwil, kiedy nikt nie wchodził w kadr.
Widziałam też niestety kogoś zupełnie nieprzytomnego, leżącego gdzieś z boku i starającego się wybudzić (lub może raczej nie…) z narkotykowego odurzenia. Przyznam, że poczułam się niespokojna, ale inni przesiadujący tam artyści zagadywali i wprowadzali tymczasowe chociaż poczucie bezpieczeństwa.
Schody jednak robią wrażenie i polecam odwiedzić to miejsce każdemu wybierającemu się do Rio de Janeiro. Stają się kolejnym znakiem rozpoznawczym Cidade Maravilhosa, umieszczanym w czasopismach, teledyskach, filmach reklamowych i dokumentalnych, a nawet w spocie promującym ofertę Rio de Janeiro na Igrzyska Olimpijskie 2016.
Gdybym była sama, to pewnie nie odważyłabym się pójść na wieczornego drinka w Rio de Janeiro. Jednak byłam z Adą (Dziękuję!), która mieszka tam kilka ładnych lat, więc miałam możliwość sprawdzić, czy faktycznie w Lapie życie zaczyna się dopiero wraz z zachodem słońca.
Powiem tak – Caipirinha była wyśmienita! I ta z marakują, i ta klasyczna też. 🙂 Do tego coś na ząb i wszechobecne dźwięki samby, forró i choro, płynące z pobliskich klubów. Podobno zabawa potrafi trwać do białego rana. Niestety wykończona całodziennym zwiedzaniem i nękana przez jet-leg, nie dałam rady tego sprawdzić. Ale atmosfera i tak była wyjatkowa, a ja jak zwykle mam powód, by wrócić!
•••
A district of colors, music and fun. A place favoured by the artistic bohemians Cidade Maravilhosa, bewildering with its architecture and uncommon buildungs such as Escadaria Selaron or Aqueduto da Carioca.
The aqueduct was built in the middle of the XVIII century in order to supply the city of Rio de Janeiro with water from the Carioca ruver. It is an impressive example of colonial architecture and engineering. The Brazilians call it Arcos da Lapa (Lapa Arches). Since the late 19th century it has served as a viaduct for the popular tram that connects the city center with the district situated on the hill of Santa Teresa.
The stairs intrigued me the most. The dazzling colorful tiles didn't let me pass by indifferently, so I stayed there for a longer while.
The structure was created by Jorge Selarón – a Chilean artist who settled in the house next to the stairs in 1980 and 10 years later began to decorate 215 steps (leading to the monastery of Santa Teresa) with ceramic tiles received from friends and backpackers. Selarón was modyfying his artistic vision until his death (January 10th, 2013), constantly transforming the stairs with the use of tiles donated from various parts of the world. He called his work a tribute to the Brazilians.
The atmosphere in the area Escadaria Selaron is very loose and artistic but also a bit disturbing. I was there in the afternoon when Lapa was not yet filled up with the nightlife pleasure-seeking crowd and yet there were plenty of artists on the stairs, mainly musicians with their guitars and drums. They were talking, sipping beer and smoking joints, at least I could smell it in the air and I guess I was not mistaken.
Every now and then you could see tourists taking pictures on the stairs, running up and down, however I managed to capture several moments with nobody in the frame.
Sadly, I also saw an unconscious person, lying somewhere on the side and trying to wake up (or maybe rather not…) from drug intoxication. I admit that I felt a bit weird but other artists sitting there were chatting up, bringing on some sense of safety.
The stairs are really impressive and I highly recommend visiting this place to anyone going to Rio de Janeiro. They have become another hallmark of Cidade Maravilhosa, shown in the magazines, music videos, commercials, documentaries and even in a spot promoting the offer of Rio de Janeiro for the 2016 Olympic Games.
If I were there alone, I wouldn't dare to go for an evening drink in Rio de Janeiro. Lucky enough, I was accompanied by Ada (thank you!) who had been living there for some years so I had a chance to check out of if the life in Lapa really begins after sunset.
I have to tell you that Caipirinha was exquisite! The one with passion fruit – and the classic one too. 🙂 Plus a snack and ubiquitous sounds of samba, forró and choro flowing from the nearby clubs. They say parties can last till dawn. Unfortunately I was so exhausted with the whole day of sightseeing and harassed by jet-lag that I couldn't check it out. But still the atmosphere was exeptional and I have another good reason to come back!