Te miejsca po prostu trzeba odwiedzić, innej opcji nie ma!
Podczas mojego ostatniego pobytu w RPA nie byłam w Simon's Town, ponieważ odwiedziłam pingwiny poprzednim razem. Jednak nie mogłam się powstrzymać, by nie pojechać raz jeszcze na Przylądek Dobrej Nadziei i Cape Point. Tutaj opisuję pełen pakiet, czyli najbardziej popularną wycieczkę okolic Kapszatadu, którą można zrealizować w ciągu jednego dnia.
przylądkowa elegancja
Na początek Simonstad lub Simon's Town oraz znajdująca się nieopodal słynna plaża Boulders Beach, gdzie od 1985 roku znajduję się kolonia przeuroczych pingwinów przylądkowych. Ptaki zwane są też Jackass Penguins, od specyficznego dźwięku, który wydają i który kojarzy się z oślim rykiem. Pingwiny elegancko stąpają po nabrzeżnych kamieniach i zażywają kąpieli w oceanie. Możliwość obserwowania ich zwyczajów przez choćby godzinę to naprawdę ogromna radość!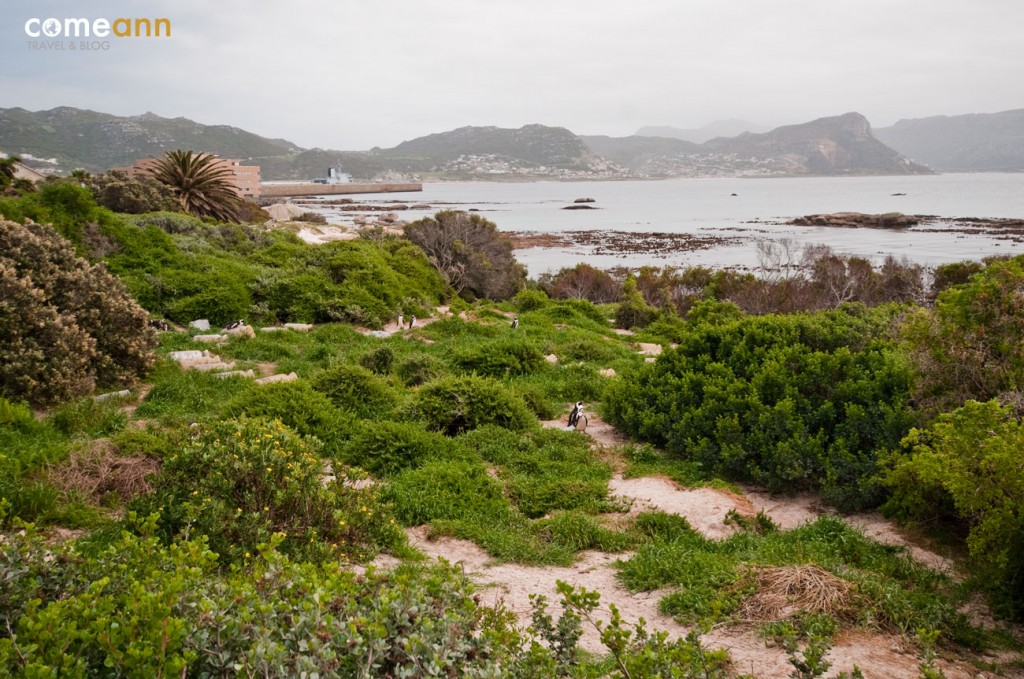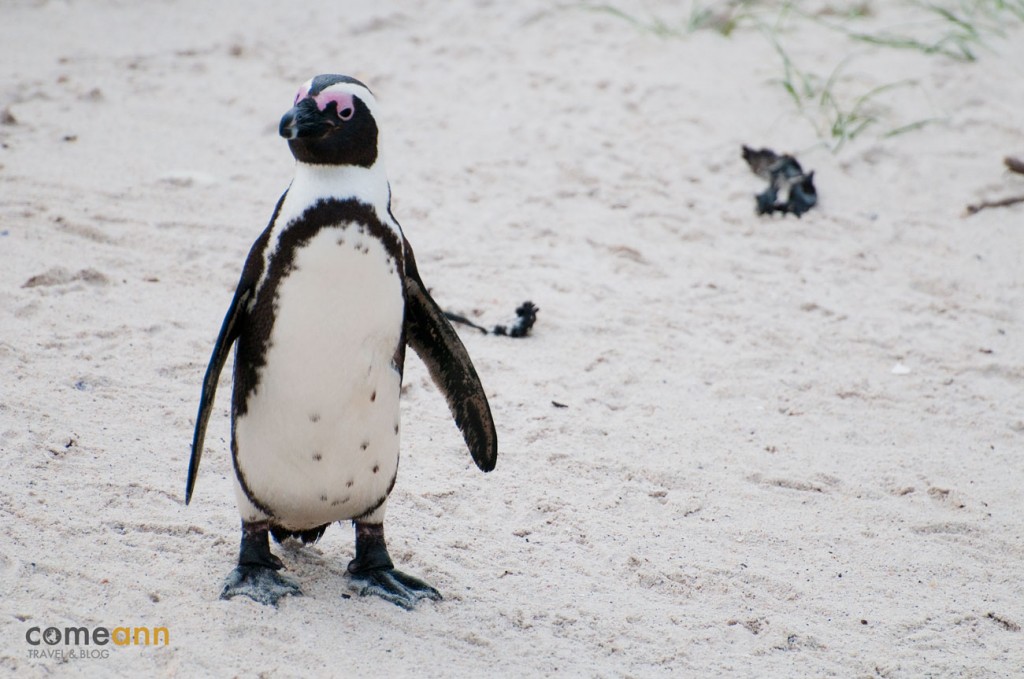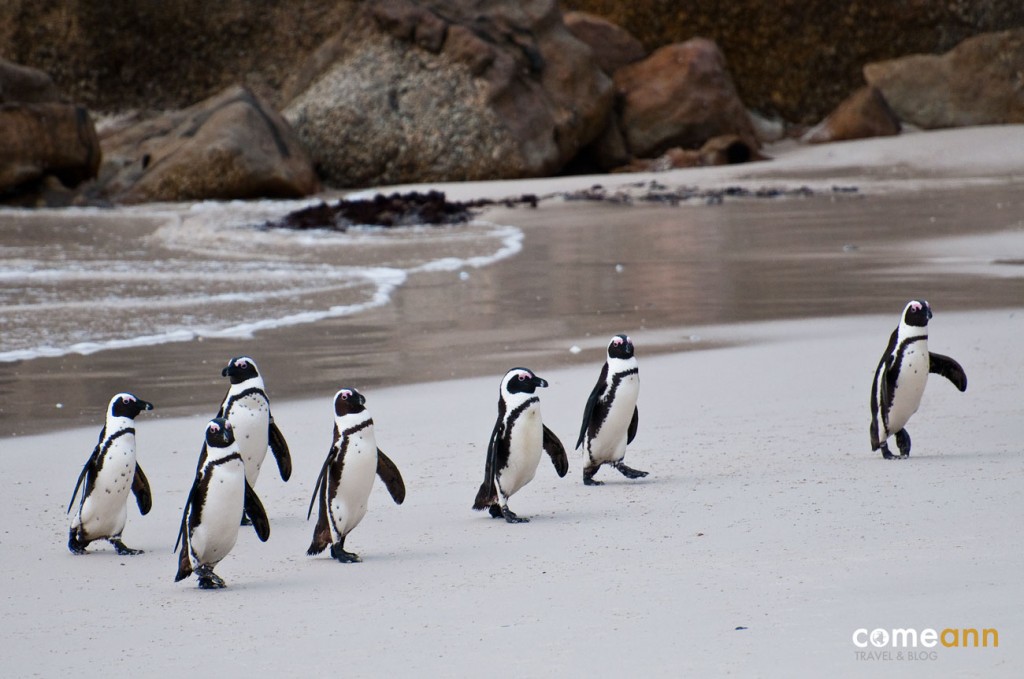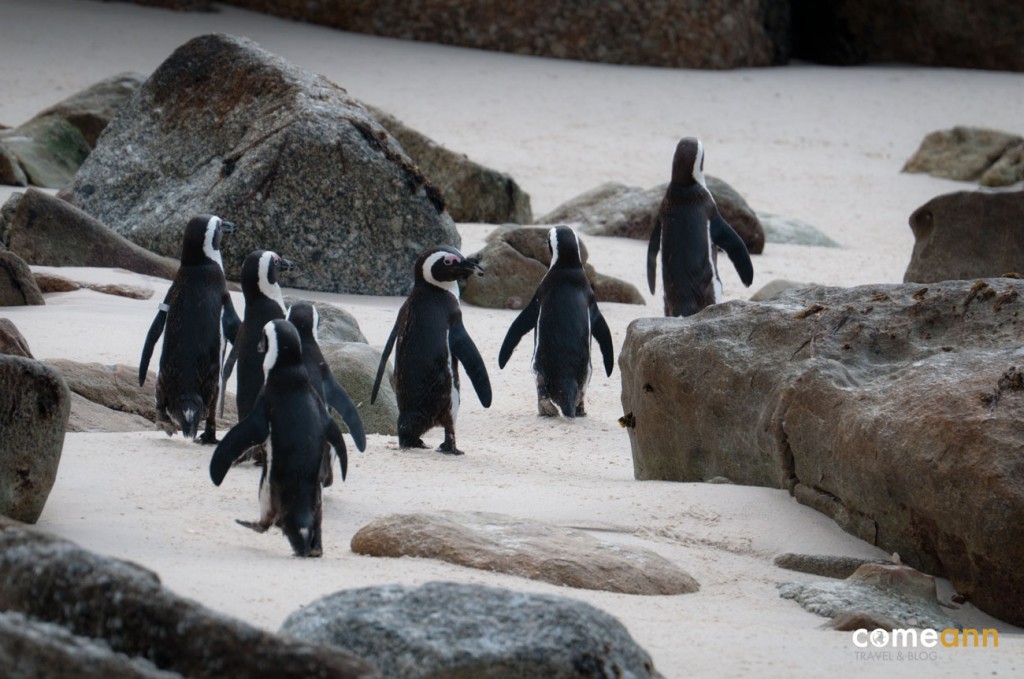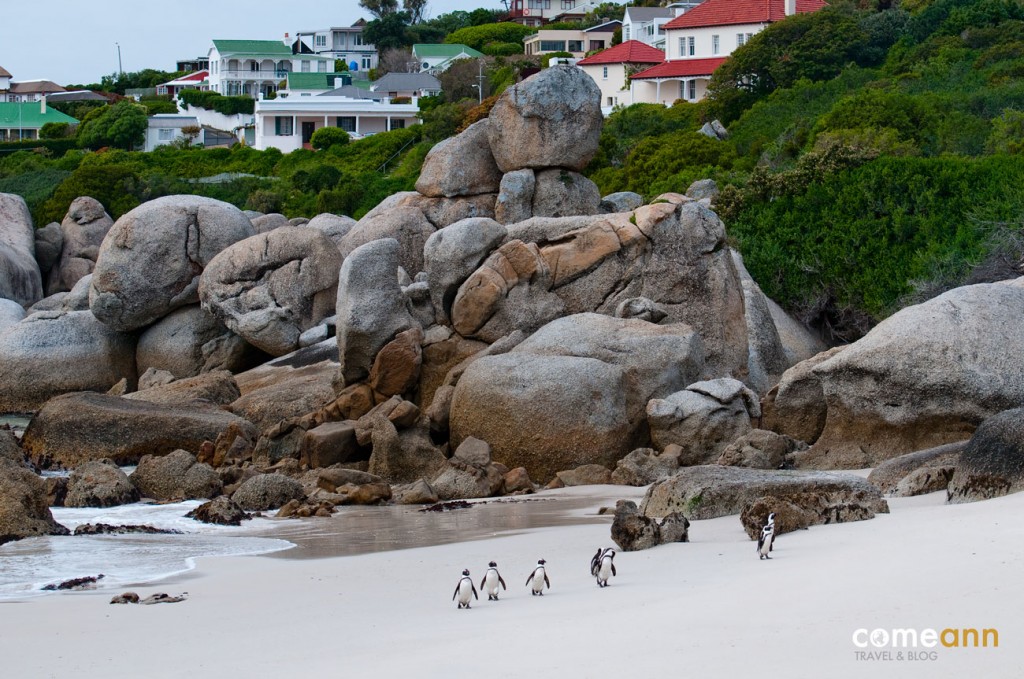 Pingwiny można obserwować całymi godzinami, jednak jeśli wycieczka ma być jednodniowa, należy udać się dalej. Przylądek Dobrej Nadziei daje wiarę w jeszcze piękniejsze widoki (choć trudno w to uwierzyć), jakie oferuje okolica Półwyspu Przylądkowego – jest po prostu bajecznie!
MOCNY POWIEW NADZIEI
"Dla przeciwwagi wielu uciążliwości życia niebo ofiarowało trzy rzeczy: nadzieję, sen i śmiech."
Immanuel Kant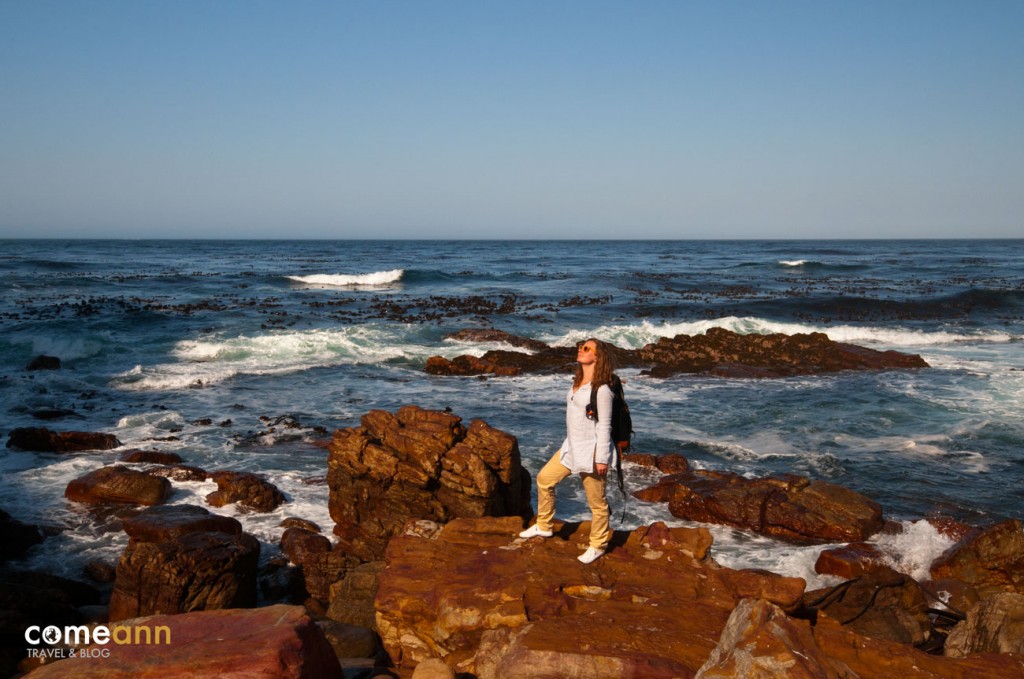 Przylądek Dobrej Nadziei (pierwotnie Przylądek Burz) leży 160 km na zachód od Przylądka Igielnego, czyli południowego krańca kontynentu afrykańskiego i stanowi zakończenie Półwyspu Przylądkowego, u którego nasady leży Kapsztad.
Półwysep charakteryzuje się skalistym krajobrazem, gdzie wśród wielu wzgórz dominuje świetnie widoczna z morza Góra Stołowa. Wchodzi on w skład Przylądkowego Królestwa Florystycznego (Cape Floral Kingdom CFK) wpisanego na listę Dziedzictwa Przyrodniczego UNESCO. Występuje tutaj niesamowite bogactwo typu roślin zwanych "Fynbos", co oznacza "wspaniały busz" lub "drobne krzaki". W skład miejscowej flory wchodzi aż 1500 gatunków roślin, w tym 50 endemicznych lub zagrożonych zagładą. Możemy tutaj spotkać wiele odmian srebrników (czyli na przykład zachwycających Protei), wrzośców i pelargonii.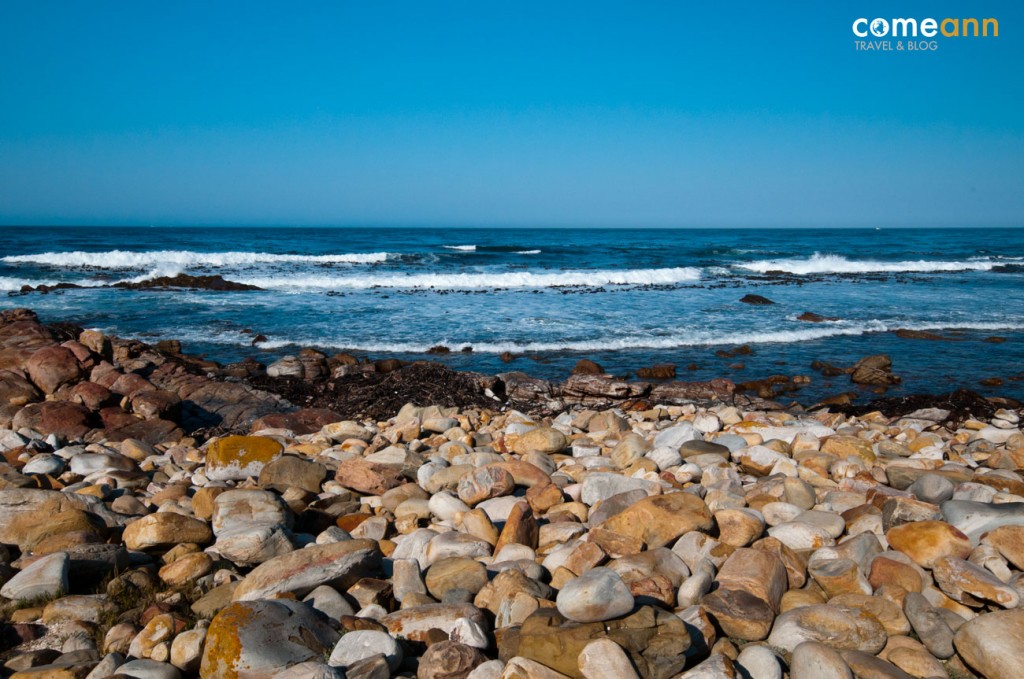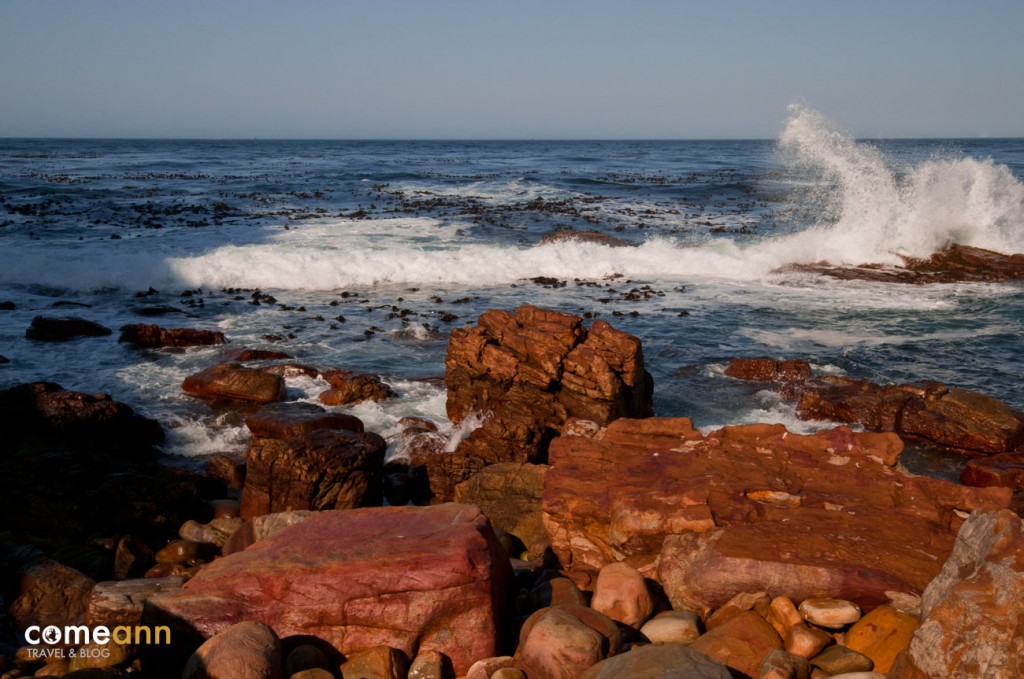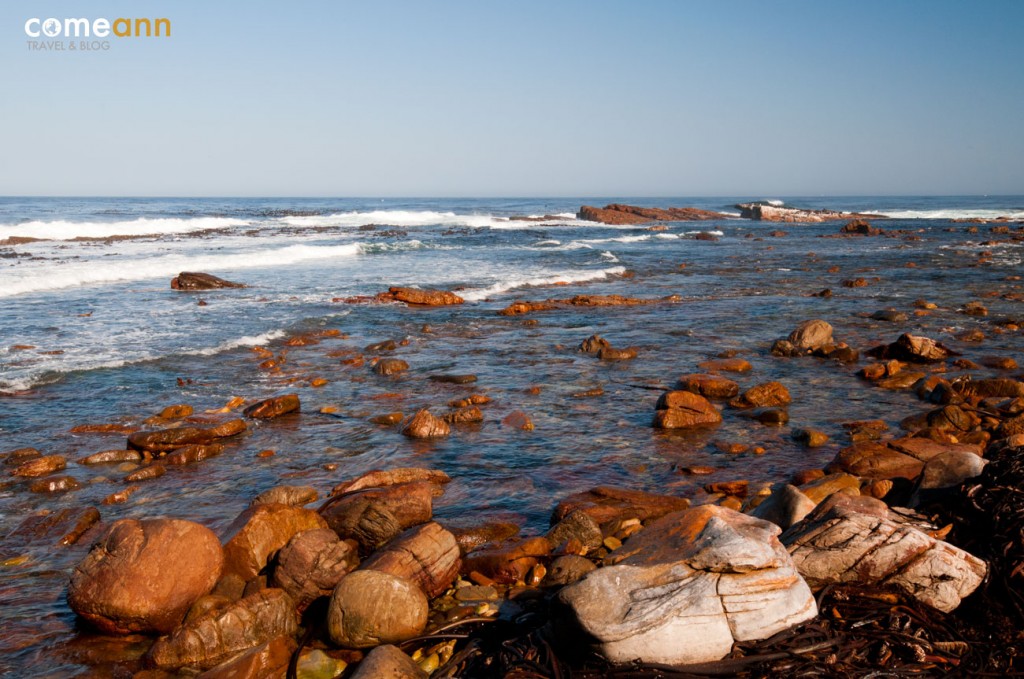 Nazwa przylądka pochodzi z XV wieku. Dokładnie w 1488 roku dotarł tu portugalski żeglarz Bartolomeu Dias i nazwał go najpierw Przylądkiem Burz. Skąd taki pomysł? Okazuje się, że jest to obszar odznaczający się jedną z najwyższych na świecie aktywności wyładowań atmosferycznych. Nazwa jednak nie przyjęła się i została zmieniona na Przylądek Dobrej Nadziei. Powód był prosty. Dopłynięcie do tego miejsca dawało nadzieję na dotarcie na Daleki Wschód.
Każdy odwiedzający Przylądek Dobrej Nadziei robi sobie obowiązkowe zdjęcie pod słynną na całym świecie tablicą. Mam i ja! 🙂
Kiedyś przylądek Dobrej Nadziei uznawany był za miejsce, gdzie łączą się dwa oceany – Indyjski i Atlantycki. Obecnie za to miejsce przyjmuje się Przylądek Igielny, o którym już niedługo osobna opowieść.
Podczas mojego pobytu w tym miejscu, nie trafiłam na burzę, jednak wiatr za każdym razem był bardzo mocny. Można więc powiedzieć, że na przylądku czuć bardzo mocny powiew nadziei. W którą stronę mnie popchnął? Oczywiście na Cape Point!
CAPE POINT ZMIENIA PUNKT WIDZENIA
Cape Point leży jakieś 2 kilometry na wschód od Przylądka Dobrej Nadziei i jest skalistym cyplem na południowo-wschodnim krańcu Półwyspu Przylądkowego. Na szczycie wznoszącym się na Cape Point znajduje się latarnia morska i drogwskaz wskazujący najróżniejsze miejsca na świecie. Światło latarni morskiej na Cape Point jest najmocniejsze na całym południowoafrykańskim wybrzeżu. Ma zasięg aż 101 km!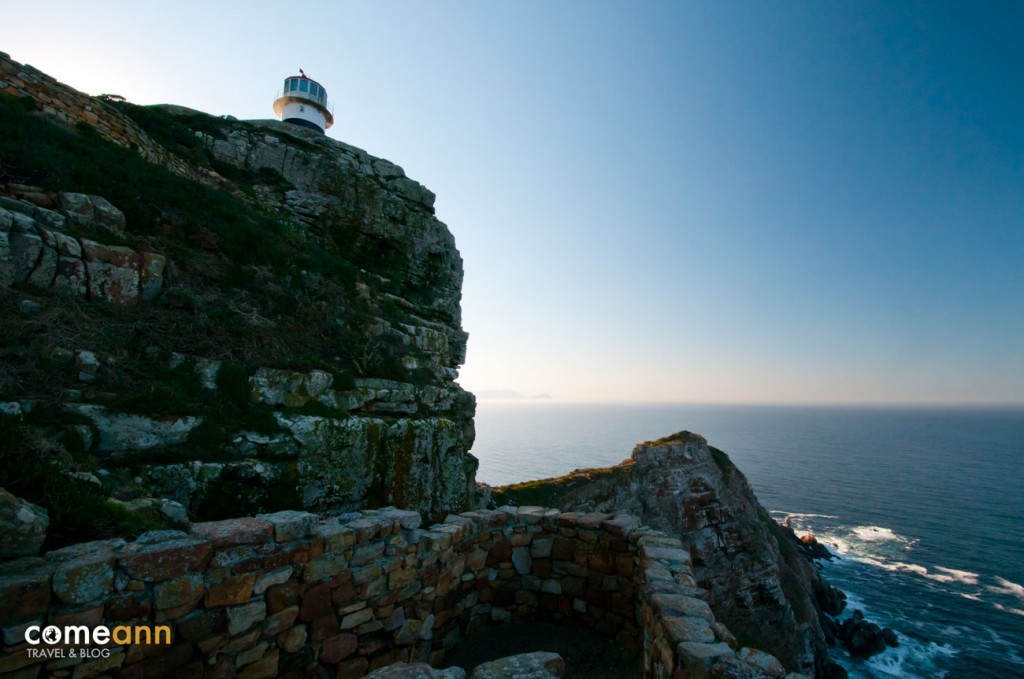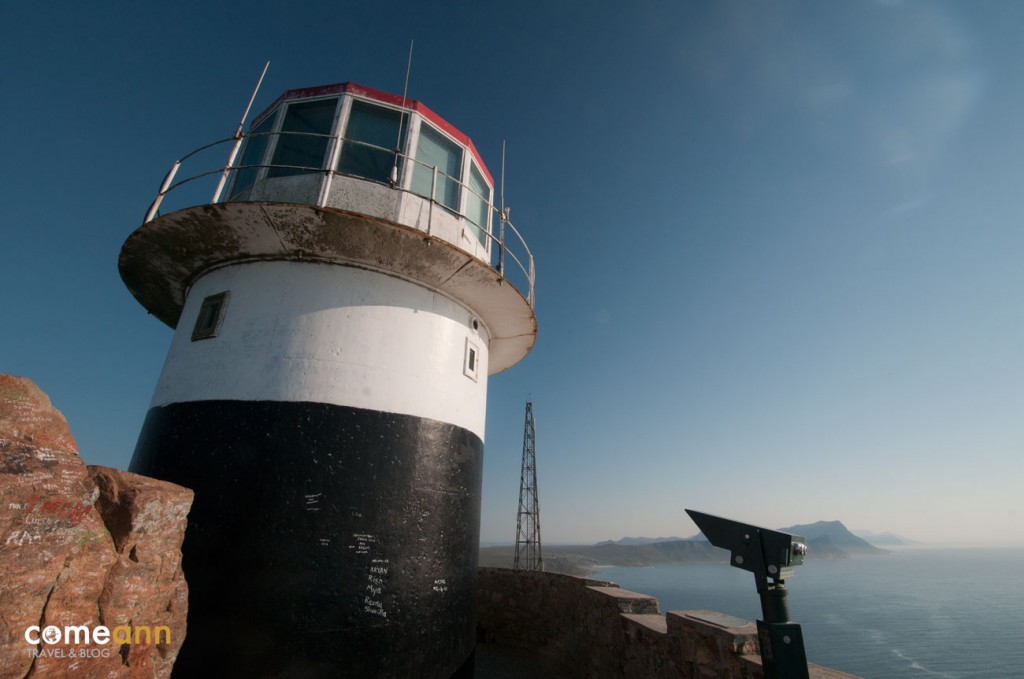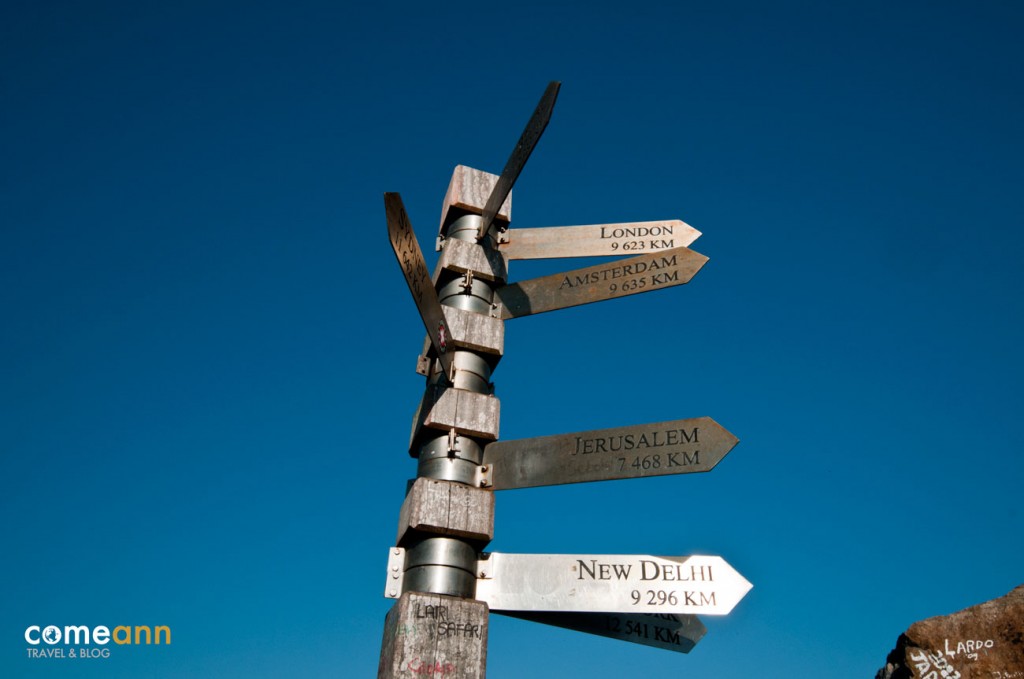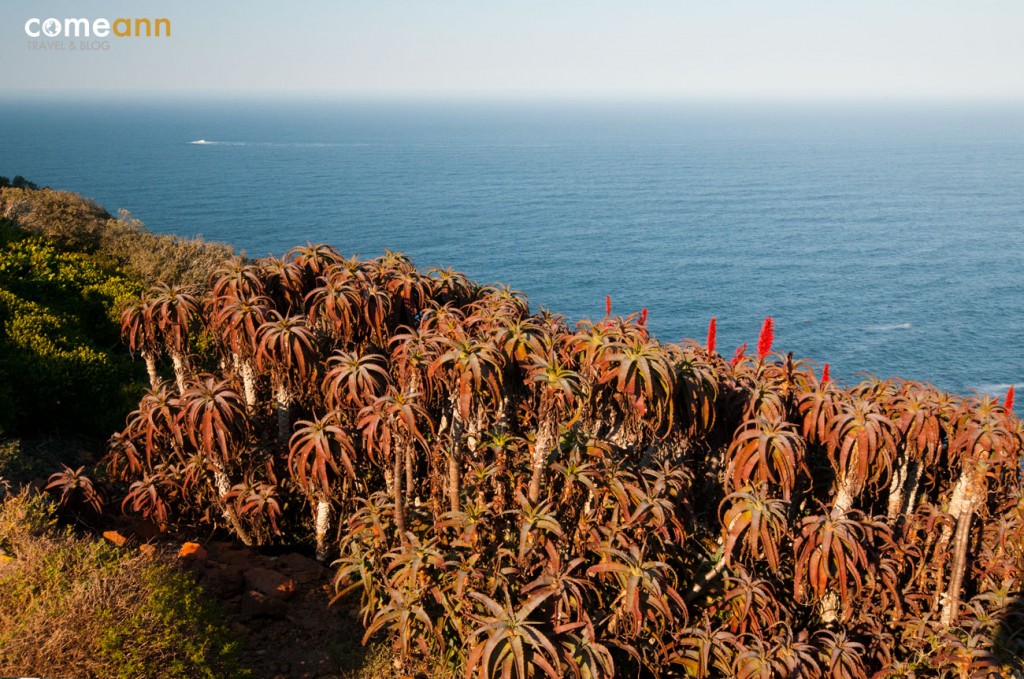 Na górę prowadzi bardzo łatwa ścieżka, lecz jest też opcja dla leniwych, czyli kolejka. Ja osobiście polecam spacer po jedne z najpiękniejszych widoków, jakie w ogóle istnieją. Trudno je ospisać, trzeba je po prostu zobaczyć i poczuć! Skaliste strome wybrzeże i ciche szmaragdowe zatoki to raj dla oka i dla obiektywu. Chętnie spędziłabym cały dzień spacerując po okolicy lub wygrzewając się na jednej ze rajskich plaż. Często o tym myślę, szczególnie kiedy w Polsce jest zima, bo jak mówi znane powiedzenie: "Punkt widzenia zależy od punktu siedzenia"… 🙂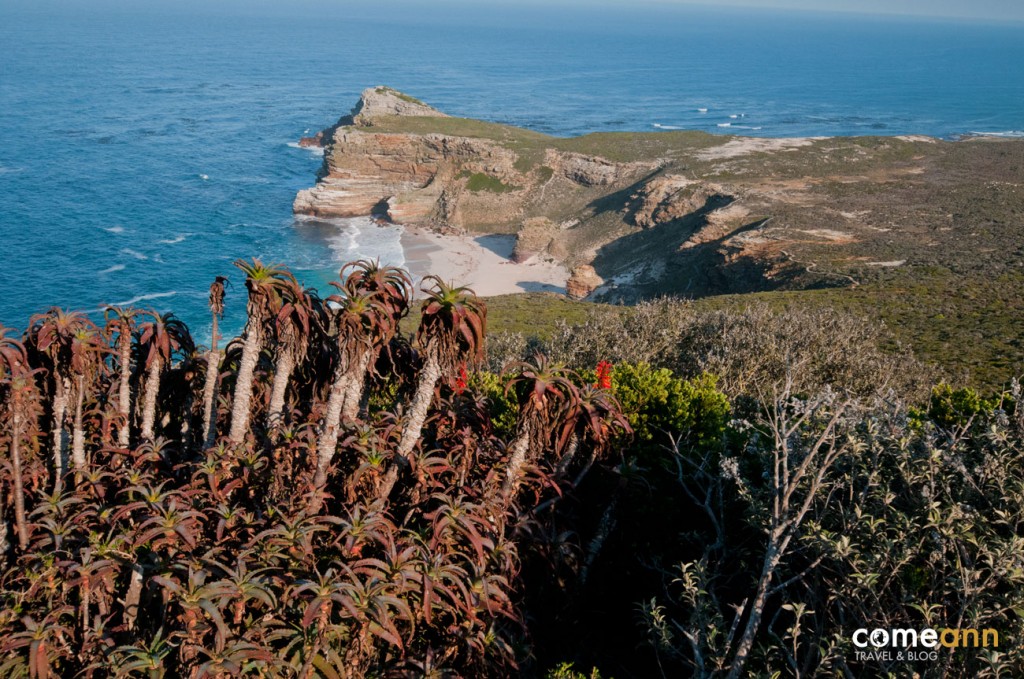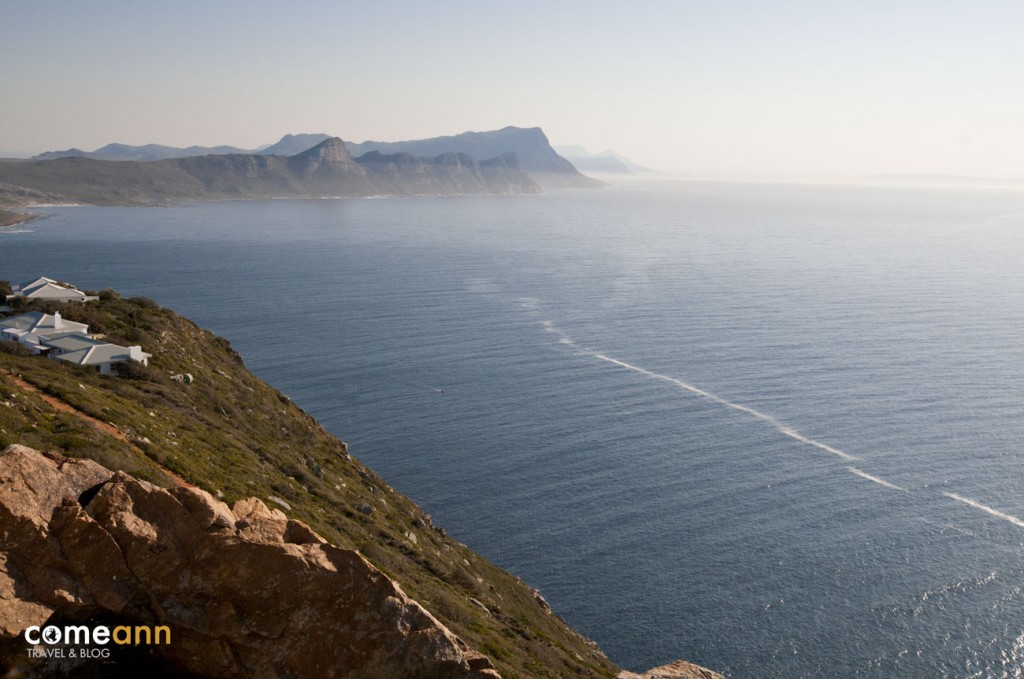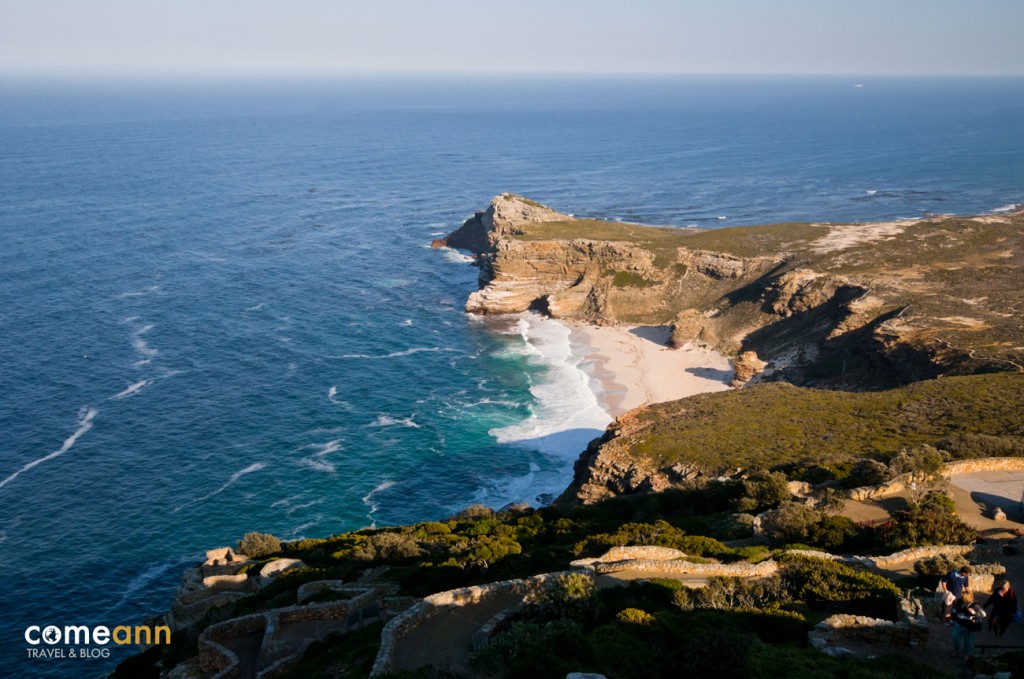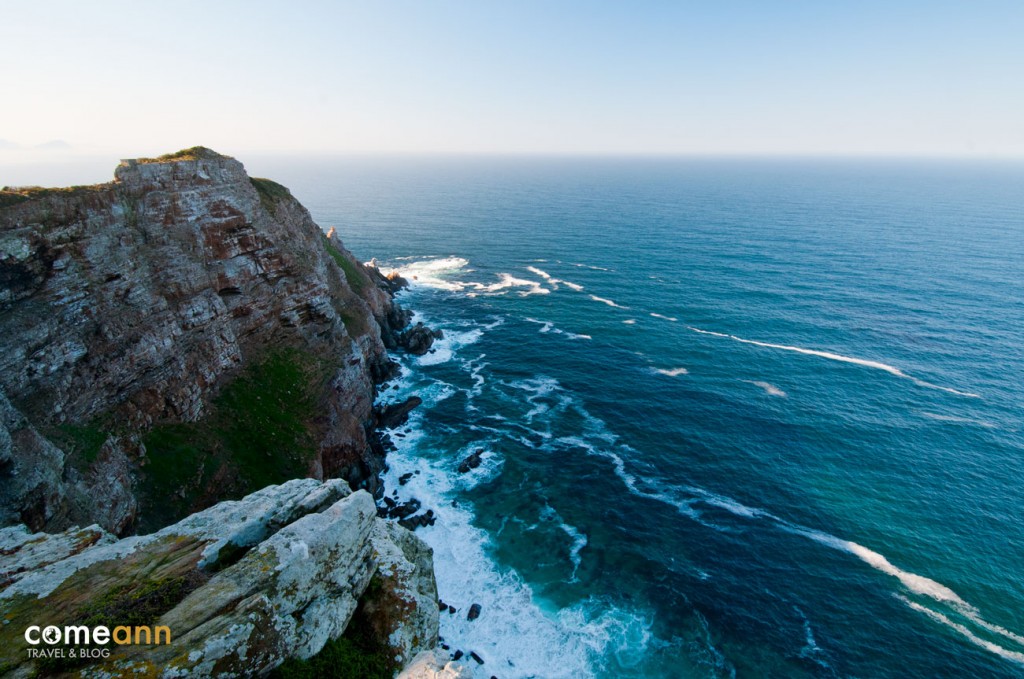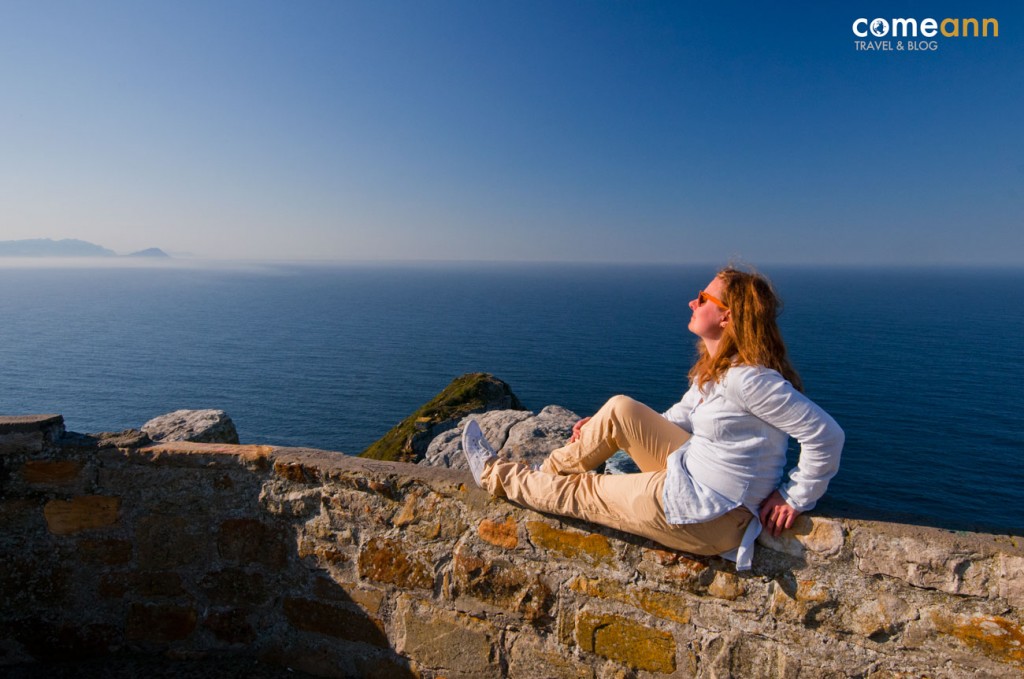 •••
You just have to see these places, there's no other option!
During my last stay in South Africa I didn't see Simon's Town because I visited penguins then. However I couldn't help going once again to the Cape of Good Hope and Cape Point. I now describe the full package, that is, the most popular trip around Cape Town that you can accomplish within one day.
THE CAPE ELEGANCE
You start from Simonstad or Simon's Town and the famous nearby Boulders Beach, where you can find a colony of charming cape penguins, which are there since 1985. They are also called Jackass Penguins because of the specific sound they make, recalling the donkey's roar. The penguins walk elegantly on the coastal rocks and enjoy ocean baths. The possibility to observe their habits, even for just an hour, is a great joy!
You can observe the penguins for hours, however if the trip is to take only one day, you have to go further. Cape of Good Hope gives you the hope for even more beautiful views (hard as it is to believe) that Cape Peninsula can offer – they are truly fabulous!
THE STRONG WHIFF OF HOPE
"Heaven has given human beings three things to balance the odds of life: hope, sleep, and laughter."
Immanuel Kant
The Cape of Good Hope (initially: the Cape of Storms) is situated 160 kilometers west from the Cape Agulhas, that is, the southern tip of the African continent and represents the end of the Cape Peninsula, the base of which is Cape Town.
The peninsula is characterized by a rocky landscape, where, among the numerous mountains you can perfectly see the dominant Table Mountain. It is a part of the Cape Floral Kingdom CFK inscribed on the UNESCO World Heritage list. You can find here an amazing abundance of plants called "Fynbos" which means "wonderful bush" or "small bushes". There are 1500 plant species in the local flora, including 50 endemic or threatened with extinction. You can also encounter many kinds of cinquefoil (such as the enchanting Proteas), briars and geraniums.
The name of the peninsula dates from the fifteenth century. In 1448 the Portugese sailor Bartolomeu Dias arrived here and called the place the Cape of Storms. Where did the idea come from? It turns out that this is an area distinguished by one of the world's highest lightning activity. However, the name was not adopted and was changed to the Cape of Good Hope. The reason was simple. Reaching this place was giving the sailors hope to arrive to the Far East.
Each visitor to the Cape of Good Hope takes an obligatory photo under the world-famous table. I have done so too! 🙂
Cape of Good Hope was once considered a place where the Atlantic and Indian Ocean meet. Nowadays this place is Cape Agulhas, which I will tell you about soon.
During my stay in this place I didn't see any storm but each time the wind was very strong. You can thus say that there is a strong whiff of hope on the cape. Where did it blow me? Obviously, to the Cape Point!
CAPE POINT CHANGES THE POINT OF VIEW
Cape Point is situated some 2 kilometers east from the Cape of Good Hope. It is a rocky headland on the south-eastern tip of the Cape Peninsula. On the top of the Cape Point there is a lighthouse and a signpost indicating various places on the world. The light of the Cape Point lighthouse is the strongest around the South African coast. It has a range of 101 km!
There is a very easy path leading to the top but there is also an option for the lazy ones, that is, a cableway. Personally, I recommend you a walk to see one of the most beautiful views that exist on this planet. It is even hard to describe them, you must just see and feel them! The steep rocky coast and the quiet emerald bays are a paradise for your eyes and camera lens. I would be happy to spend the whole day walking around or basking in the sun of one of the paradise beaches. I often recall this time, especially during the winter in Poland, because, as they say :"The point of view depends on the point of your seat"… 🙂