Ostatni wieczór w Stambule postanowiłam spędzić, podziwiając intrygującą ceremonię mistycznych derwiszy – członków ascetycznego i niezwykle uduchowionego bractwa religijnego, wywodzącego się z sufizmu.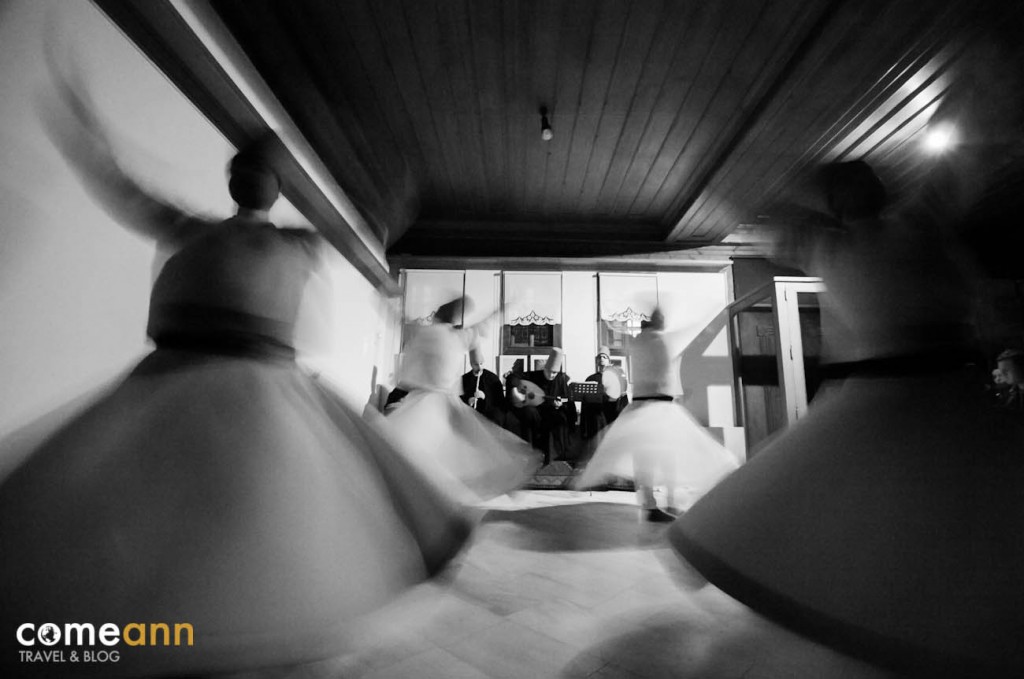 Na początku znalazłyśmy biuro, gdzie mogłyśmy kupić bilety na ten wyjątkowy spektakl. Później trzeba już tylko było trafić w zakreślone na uproszczonej mapce miejsce. Wydawałoby się to takie proste… Niestety, korowody wąskich i krętych uliczek Stambułu okazały się dużym wyzwaniem dla naszych umiejętności orientacji w terenie i dopiero po kilku rozmowach z mieszkańcami udało nam się, z lekkim opóźnieniem, dotrzeć do wskazanego na programie domu kultury.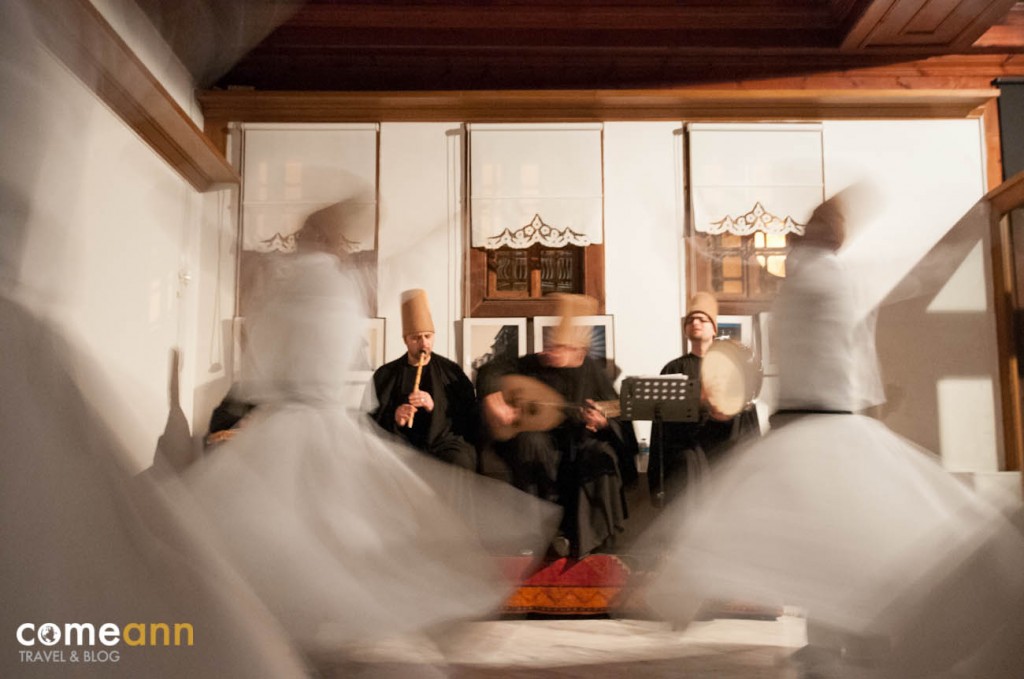 Występ był znakomity! Nie do opisania! Derwisze wirujący w takt wygrywanych na żywo religijnych pieśni sprawiali wrażenie, jakby unosili się nad podłogą, a tym samym nad własnymi pragnieniami, żądzami, lękami… Nawet jeśli tego rodzaju przedstawienia są w dużej mierze przygotowywane dla turystów w celu zarobkowym, dla mnie był to naprawdę magiczny moment zadumy i medytacji. Szczerze polecam! A Ali dziękuję za fantastyczny pomysł!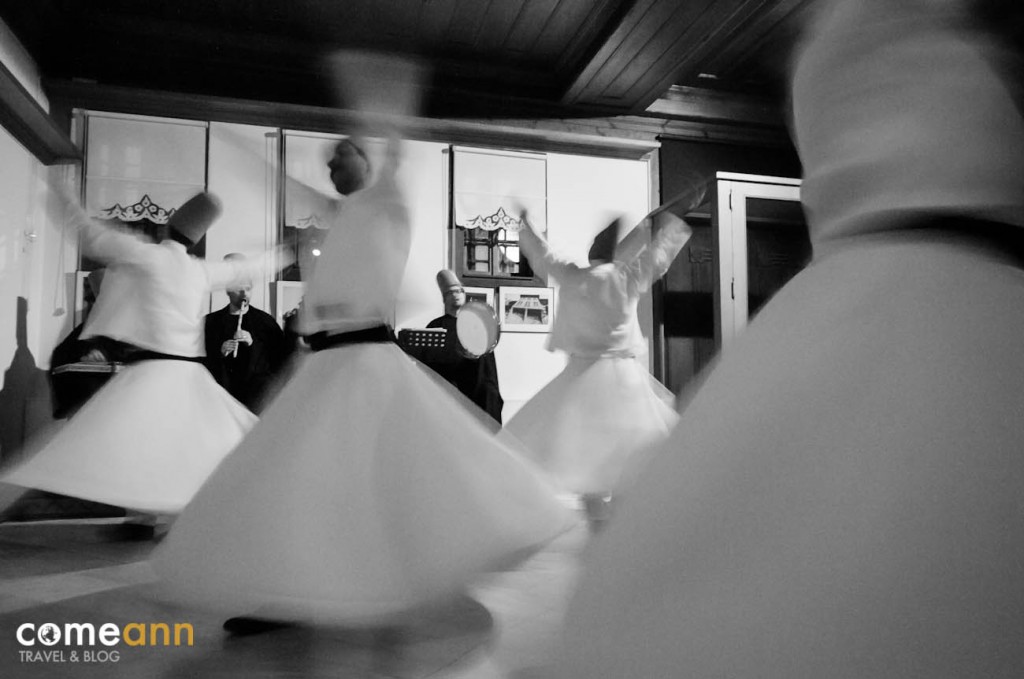 I tak przyszła pora pożegnać orientalny Stambuł i mieć nadzieję, że uda się tam przybyć kiedyś w lecie, popłynąć na dłuższy rejs po Bosforze, odwiedzić Wyspy Książęce i zobaczyć zabytki, na które tym razem nie starczyło czasu.
Nie wiem, jak Wy, ale ja nigdy nie narzekam, że nie udało mi się czegoś zobaczyć. Wręcz przeciwnie, biorę to za dobry omen, taki nie rozpakowany prezent od losu, a przede wszystkim pretekst do powrotu w to miejsce. Tak więc nie żałujcie, jeśli nie zdążycie zobaczyć jakiegoś kościoła, muzeum, czy pomnika przyrody, tylko traktujcie to jak powtórne zaproszenie! Do zobaczenia w Stambule!
•••
I decided to spend the last evening in Istanbul enjoying an intriguing mystical dervish ceremony. Dervishes are members of an ascetic and extremely spiritual religious brotherhood originated from Sufism.
We started from finding an office where we could buy tickets for this unique performance. Then all you needed to do was to find the place marked on a simplified map. It seemed so easy… Unfortunately, tangles of narrow, meandering streets of Istanbul turned out to be a great challenge for our sense of direction and only after several conversations with the inhabitants we managed, a little late though, to arrive at the community center indicated in the program.
The performance was outstanding, indescribable! Dervishes spinning in the rhythm of religious songs looked as if they were drifting in the air, thus upon their own desires, lusts, fears… Even if such performances are mostly prepared for tourists with commercial purposes, for me these were truly magical moments of reflection and meditation. I sincerely recommend it! Ala, thanks for your great idea!
And so came the time to say goodbye to the oriental Istanbul and hope to come back there some day in summer, go for a longer cruise on Bosfor, visit the Princes Islands and the monuments we couldn't make to see this time.
I don't know how about you but I never complain that I didn't manage to see a given place. On the contrary, I take this as a good omen, a kind of an unpacked gift from the fate and above all – a great pretext to come back to the place. Thus, never regret if you have missed some church, museum or a natural monument but take it as a re-invitation! See you back in Istanbul!