Nastał kolejny dzień, pierwszy w 2013 roku. Jak najlepiej go spędzić? Mój plan zakładał morską wycieczkę między Azją a Europą.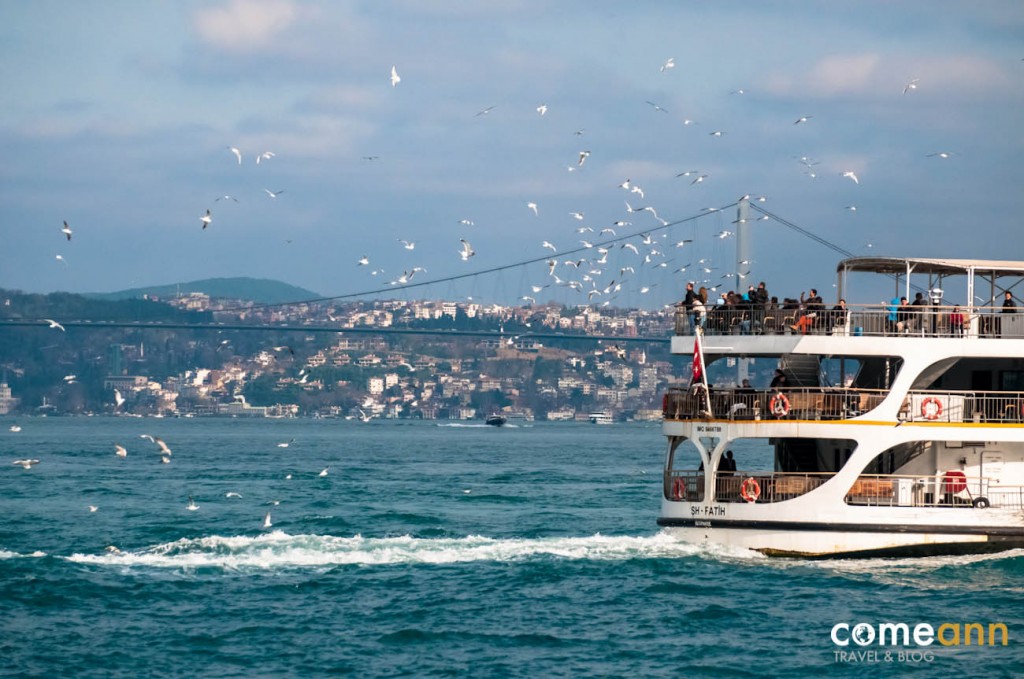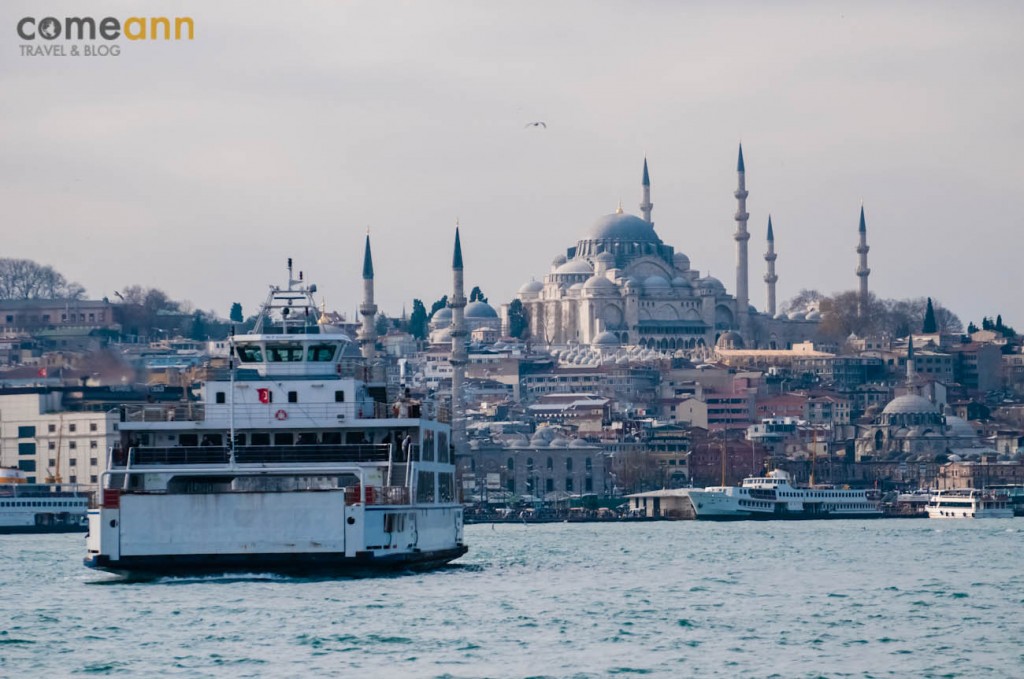 Upał raczej nie doskwierał, gdyż temperatura oscylowała w okolicy 10ºC. Mimo to zdecydowałyśmy, że płyniemy. Jak co dzień po śniadaniu udałyśmy się w stronę Błękitnego Meczetu, a tam już wystarczyło się tylko dobrze rozejrzeć, żeby znaleźć kogoś oferującego tego typu wycieczki. Zdecydowałyśmy się na dwuipółgodzinny rejs, którego trasa wiodła do Twierdzy Europa, drugiego mostu – Mehmeda Zdobywcy i z powrotem.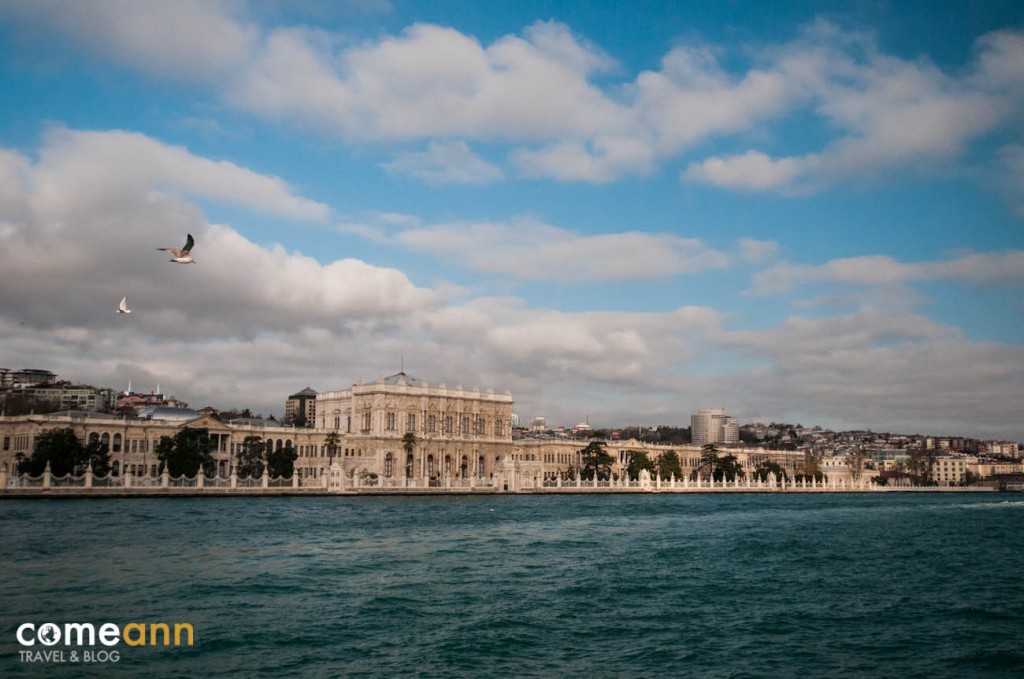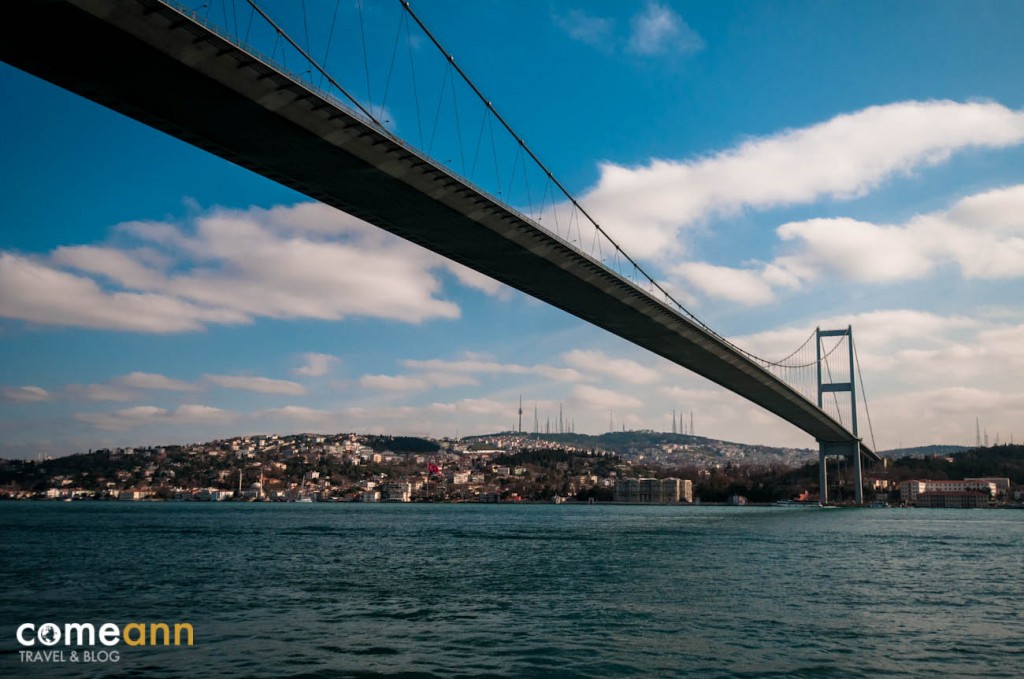 Dla mnie jednak największą atrakcją było przepłynięcie pod Mostem Bosforskim (mierzącym 1560 m długości!), który jest jednym z najdłuższych wiszących mostów na świecie! Powstał w 1973 roku i był pierwszym mostem nad Cieśniną Bosforską. Zrobił na mnie ogromne wrażenie. Mimo zimnego wiatru i przemarzniętych dłoni po prostu nie mogłam się powstrzymać, by nie zrobić kolejnego zdjęcia… Efekt był taki, że wyprodukowałam kilkaset zdjęć z samego rejsu, w tym około setki przedstawień Mostu Bosforskiego. Choć nie było łatwo, to przebrałam dla Was tę kolekcję i wyselekcjonowałam kilka najlepszych, moim zdaniem, ujęć.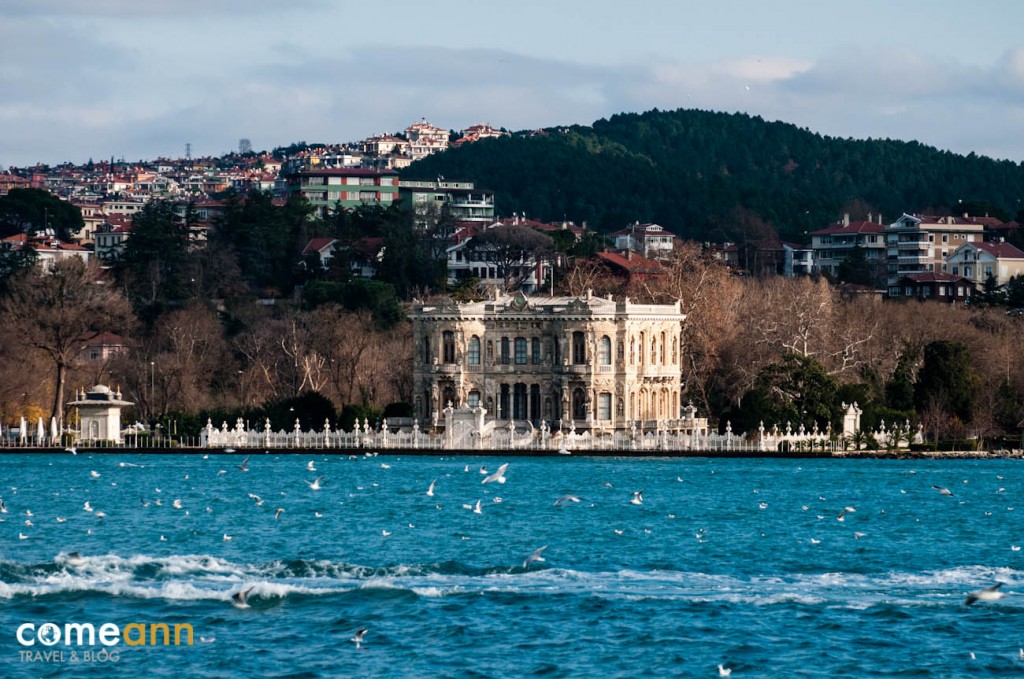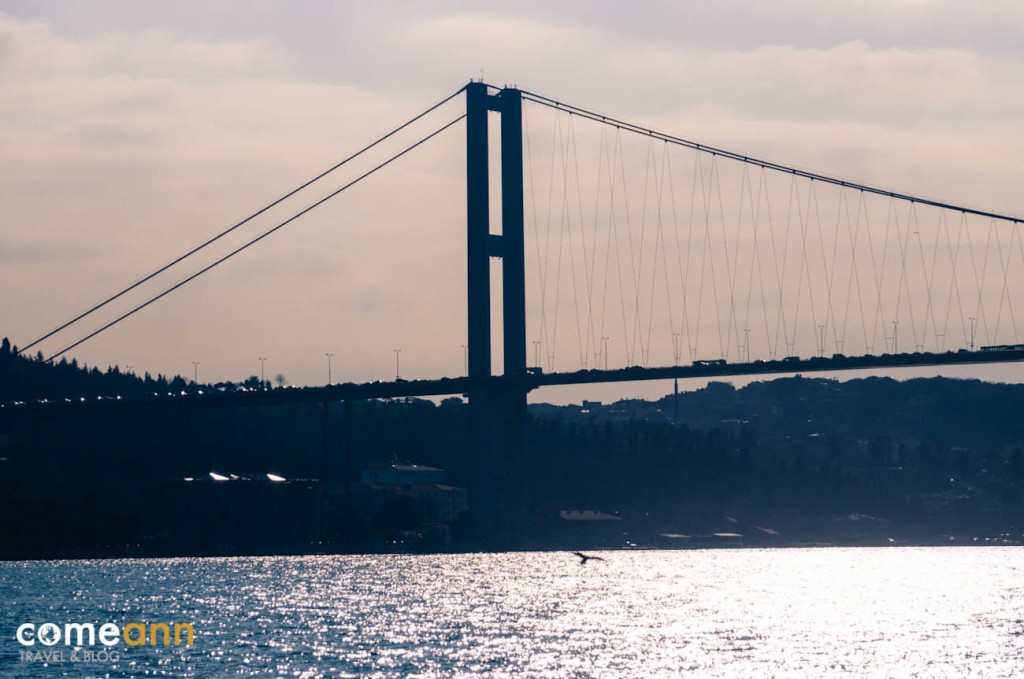 Każdemu, kto choć na chwilę znajdzie się w Stambule, bezwzględnie polecam taki rejs. To jedna z tych chwil w podróży, które są naprawdę pełne magii i które pamięta się przez wiele, wiele lat. Podążę za znanym reklamowym hasłem i zakończę tak: hotel w Stambule – 50 euro, prawdziwy turecki kebab – 2 euro, rejs między Azją i Europą – naprawdę bezcenne!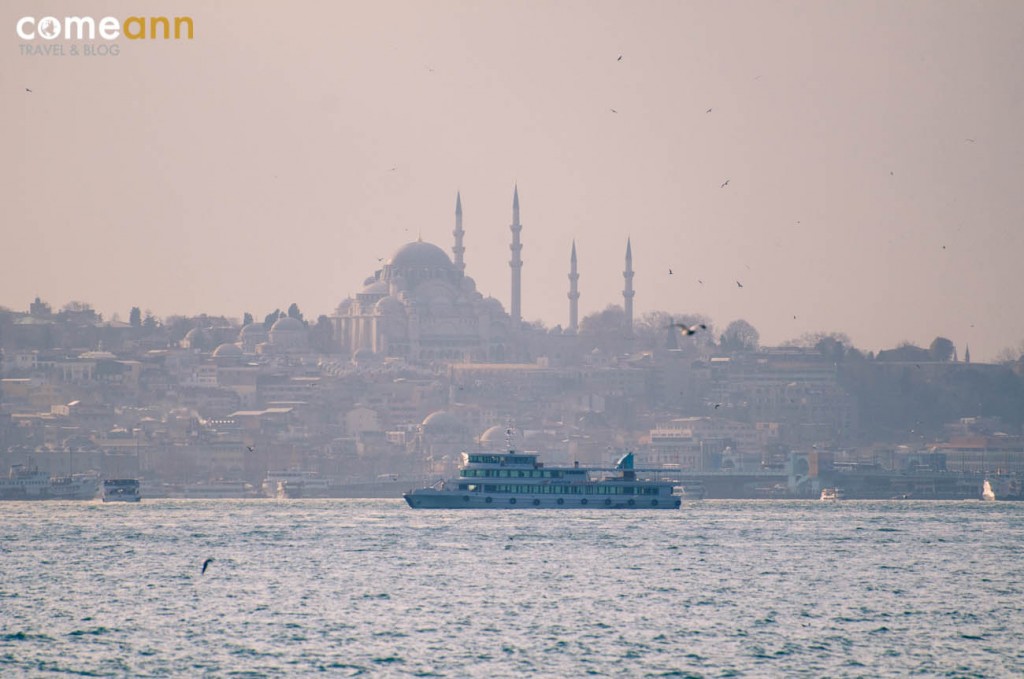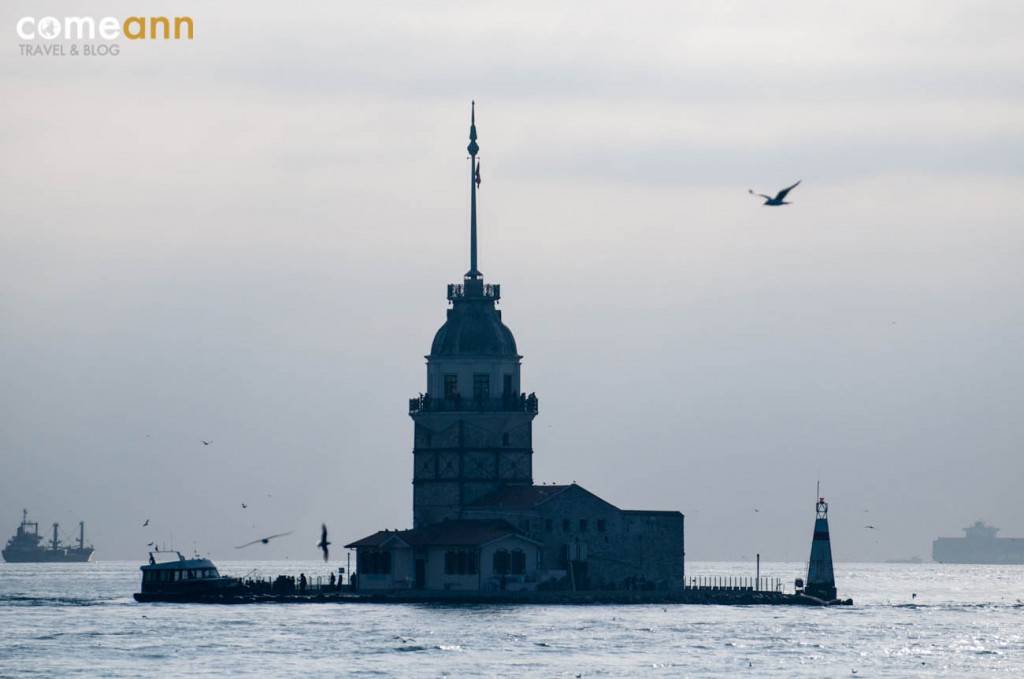 •••
The next day came, the first day of 2013. How to spend it best? I planned a sea cruise between Asia and Europe.
We did not really suffer from the heat as the temperature oscillated around 10 degrees centigrade. Despite this, we decided to go. As every day after breakfast we headed towards the Blue Mosque. From there it was enough just to look around to find somebody offering trips of the kind. We chose a two and a half hour cruise to the Fortress Europe, the second bridge – Mehmed the Conqueror and back again.
To me however the most attractive was crossing the Bosphorus Bridge (1560 meters long!), one of the longest suspension bridges in the world! It was built in 1973 and was the first bridge over the Bosphorus Strait. It impressed me a lot and, despite of the cold wind and chilled hands, I just couldn't resist taking another picture. The result was that I produced thousands of photos from the cruise only, therein around a hundred of depictions of the above mentioned bridge. Although it was not easy, I made a selection for you and published several shots I find best.
To anyone happening to visit Stambul even for a while, I absolutely recommend such a cruise as it's one of the very moments during the trip which are really full of magic and which you will remember for many, many years. Following the well-known Polish advertising claim: a hotel room in Stambul – 50 Euro, an original Turkish kebab – 2 Euro, to sail between Asia and Europe – truly priceless!