Przespacerować się po historyczno-finansowym Centro i skończyć dzień sącząc Caipirinhę w Lapa to w "Cidade Maravilhosa" (Port. cudowne miasto) po prostu konieczność! Ja miałam tylko pół dnia na te przyjemności, ale i tak się udało! Zapraszam na spacer po centralnej części Rio de Janeiro.
Cidade Maravilhosa jest stolicą stanu Rio de Janeiro. Położone jest w południowo – wschodniej części Brazylii, w zatoce Guanabara nad Oceanem Atlantyckim, między urwistymi wzgórzami Pao de Acucar – "Głową Cukru" (396 m.n.p.m) oraz Corcovado – "Garbatą Górą" ze statuą Chrystusa.
Rio de Janeiro jest bez wątpienia miastem kontrastów. Bajecznie położone, z zapierającymi dech w piersiach widokami i popularnymi plażami, jest zaliczane do jednych z najnowocześniejszych światowych metropolii. Z drugiej strony jednak, tuż "za rogiem", przeplatając się z przepychem wystawnych rezydencji w turystycznych dzielnicach, wiją się niezliczone "favelas" (biedne dzielnice), w których po dziś dzień występuja problemy przestępczości, handlu narkotykami i wojny gangów.
Dzielnica "Centro" to tętniące życiem śródmieście Rio de Janeiro, gdzie wąskie uliczki krzyżują się z zakorkowanymi alejami, a historyczne budowle i barokowe kościoły wyrastają nieopodal nowoczesnych szklanych wieżowców. Jest to też miejsce, w którym zaczęła się historia miasta, kiedy w 1567 roku Portugalczycy założyli tutaj osadę Sao Sebastiano de Rio de Janeiro.
Przyjemnie jest powłóczyć się po historycznych uliczkach, przysiąść w małym bistro na świeży sok z mango i poczuć rytm metropolii na własnej skórze. Spacerując, raz po raz napotyka się zabytki architektury i wiekowe kościoły, kuszące by choć na chwilę – dla ochłody, zajrzeć do środka.
Ważnymi momentami dla współczesnej Brazylii i historią obok której nie można przejść obojętnie, są wydarzenia, jakie miały miejsce przy kościele "Igreja de Nossa Senhora da Candelária". Były to protesty komunistów, czy msza za studenta Edsona Luisa de Lima Souto zamordowanego podczas protestów przeciwko dyktaturze. Na nabożeństwie zebrało się tysiące ludzi, a armia otoczyła kościół starając się zablokować wszystkie wyjścia z budynku. Jednak dzięki pomocy duchownych, okrążonym w światyni komunistom udało się wydostać z budynku i ujść z życiem.
Kolejnym dramatycznym wydarzeniem, o którym po dziś dzień przypominają wymalowane na czerwono ślady ciał na ziemi, była masakra z nocy 23 lipca 1993 roku, kiedy to 8 bezdomnych dzieci zostało zamordowanych przed kościołem przez zamaskowanych policjantów.
Warto pójść dalej i odsapnąć chwilę w jednej z wielu restauracji przy Travessa do Comércio. Jest to ulubione miejsce Cariocas (rdzennych mieszkańców Rio de Janeiro) po pracy. Ta okolica może nam dać wyobrażenie jak Cidade Maravilhosa mogło wyglądać w XIX wieku, z ciasnymi uliczkami zapełnionymi kafejkami i pięknymi budowlami, do których niewątpliwie zalicza się jeden z najpiękniejszych kościołów barokowych Brazylii – świątynia Nossa Senhora da Lapa dos Mercadores.
W Rio de Janeiro zabytkowe kościoły sąsiadują z nowoczesnymi założeniami, jakim jest na przykład Catedral de São Sebastião do Rio de Janeiro, czyli rzymskokatolicka Katedra św. Sebastiana, uważana za jeden z trzech symboli miasta. Uznawana również za jedną z najbardziej nietypowych i ekscentrycznych przykłądów architektury sakralnej, zbudowana w latach 1964–1976 budowla, została zaprojektowana przez miejscowego architekta Joaquima Corrêa, który wzorując sie na piramidach Majów, nadał jej kształt ogromnego stożka o średnicy 106 m. Gigantyczna światynia wznosi się na wysokość 80 metrów i może pomieścić aż 20000 wiernych, z których 5000 ma miejsca siedzące! 2 lipca 1980 katedrę odwiedził papież Jan Paweł II, którego pomnik znajdziemy przed wejściem.
Katedra zadziwia nie tylko swoja bryłą i olbrzymymi witrażami, ale również niesamowitym odbiciem w lustrzanych ścianach pobliskich wieżowców. Żeby zostać zaskoczonym jeszcze bardziej, należy się tym drapaczom chmur sąsiadującym z najbardziej znaną światynią Rio de Janeiro przyjrzeć ze szczytu "Głowy Cukru"…
Późnym popołudniem odwiedziłam znany plac Cinelândia, gdzie znajduje się Theatro Municipal, zbudowany na początku XX wieku i uważany za jeden z najpiekniejszych i najznakomitszych teatrów Brazylii. Muszę przyznać, że nawet mimo zmęczenia spowodowanego zawrotnym tempem zwiedzania, zrobił na mnie wrażenie. Później podążyłam w kierunku Lapy i słynnych schodów Selaróna (Escadaria Selarón), ale o tym już następnym razem.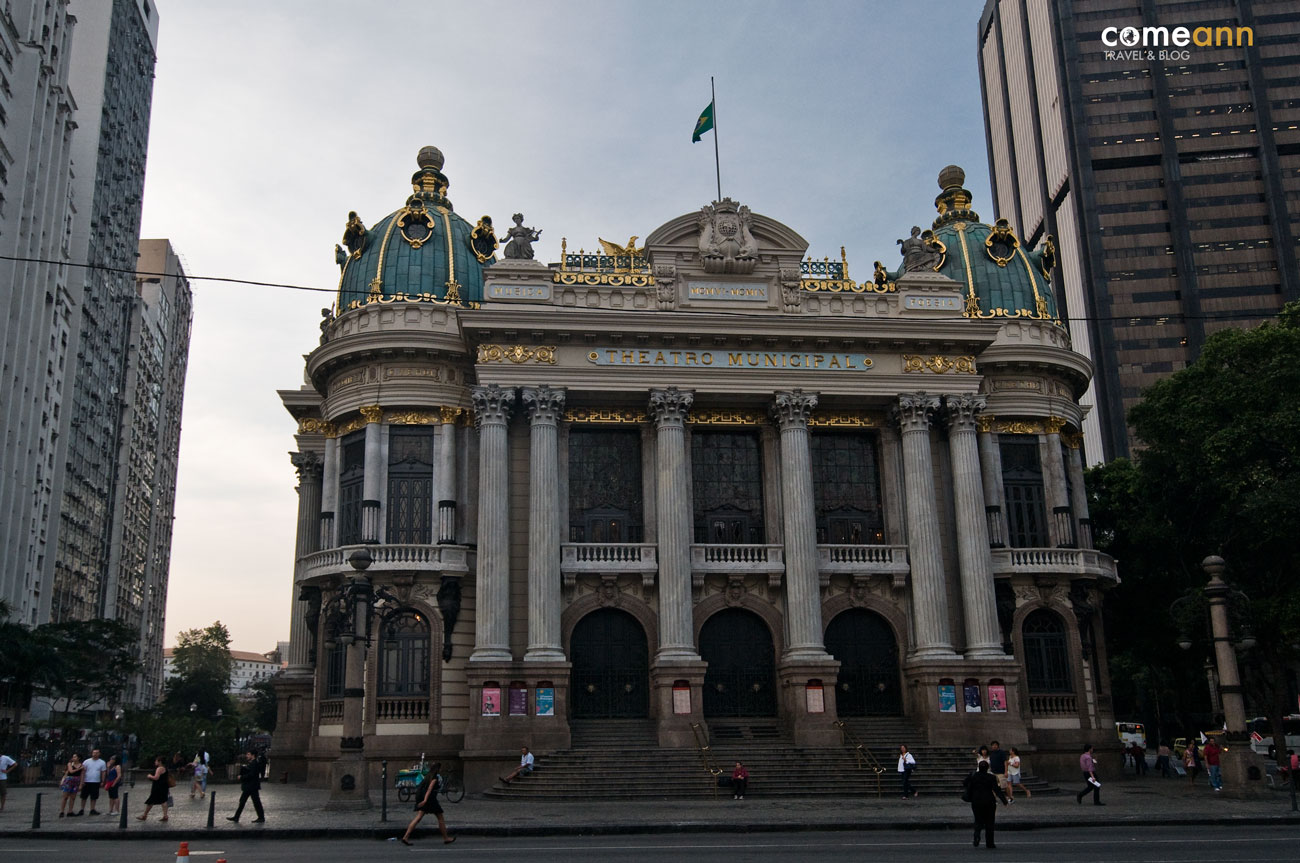 Rio de Janeiro zyskało przydomek "Cidade Maravilhosa" od nazwy słynnego marszu, który powstał za sprawą André Filho i Silva Sobreira na potrzeby karnawału w 1935 roku. Od tego czasu utwór ten stał się hymnem miasta. Do jego popularyzacji niewątpliwie przyczyniła się śpiewana wersja piosenki, nagrana w tym samym roku przez Aurorę Mirandę, wykonywana także przez jej siostrę Carmen Mirandę – brazylijską piosenkarkę, tancerkę i aktorkę pochodzenia portugalskiego, która stała się międzynarodową gwiazdą.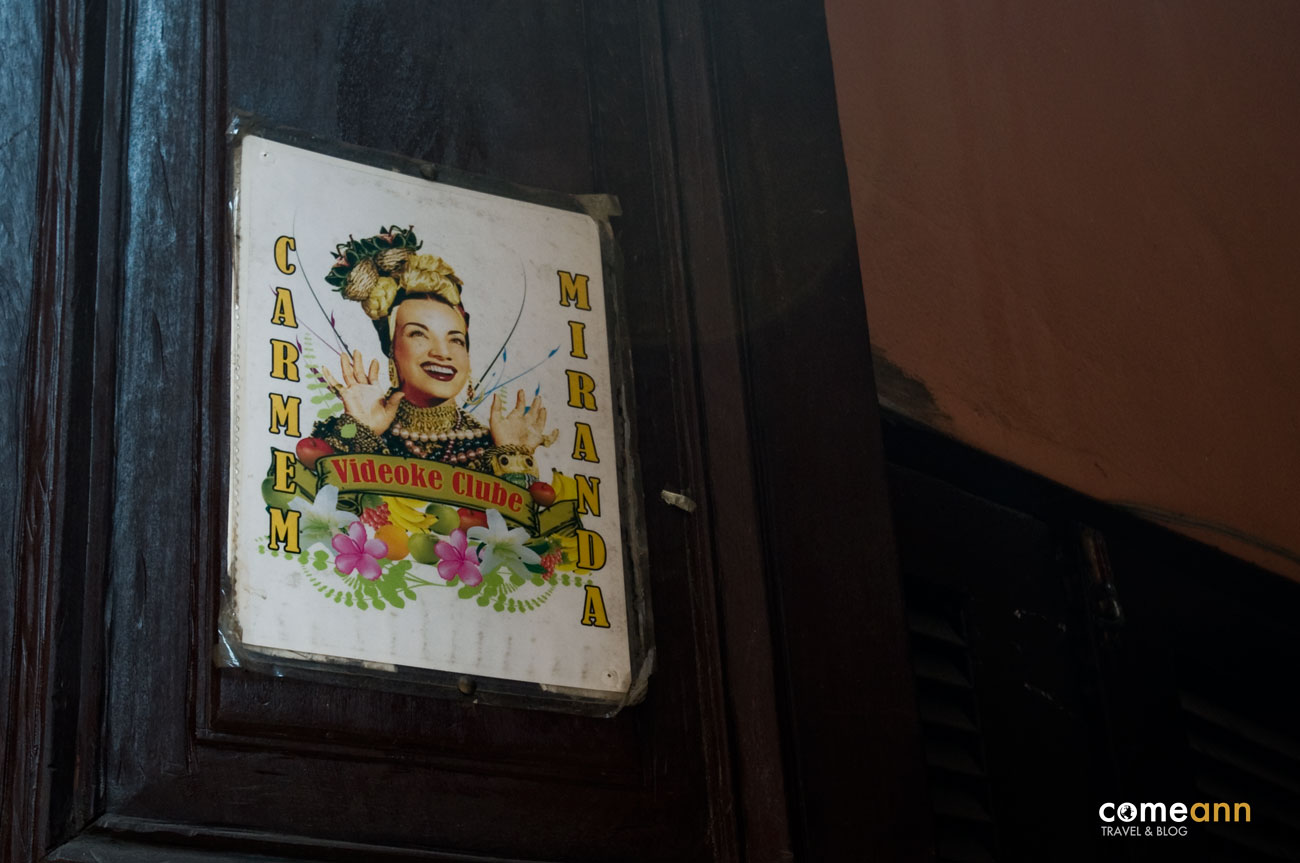 Czy Rio naprawdę jest tak cudownym miastem? Czy faktycznie jest najpiękniejszą metropolią na świecie? Spotkałam się już z wieloma różnymi opiniami. Niektóre niosły ze sobą wielki zachwyt, a inne ogromne rozczarowanie. Myślę, że ile osób – tyle wrażeń i każdy musi wyrobić sobie swoje własne spojrzenie na to niewątpliwie charakterystyczne i pełne kontrastów miejsce. Mam takie odczucie, że w Rio de Janeiro można się zakochać lub je znienawidzić, ale ciężko pozostać wobec niego zupełnie obojętnym. Ja, spacerując po Centro i słuchając Ady, opowiadającej o tym, jak wygląda codzienne życie w Brazylii, jakie są smaki i zapachy życia (zarówno te dobre, jak i złe) w Cidade maravilhosa, zaczęłam powoli rozumieć miłość do swojego miasta rdzennych mieszkańców – nazywających się z wielką dumą Carioca.
•••
To take a walk through the historical financial Centro and finish off the day sipping a caipirinha in Lapa is in the "Cidade Maravilhosa" (Port. Marvelous city) is simply a must! I only had half a day for such pleasures but I made it! I invite you to have a walk through the central part of the State of Rio de Janeiro.
Cidade Maravilhosa is the capital city of Rio de Janeiro. It is located in the south-eastern part of Brazil, in the Guanabara Bay on the Atlantic Ocean, between steep hills of Pao de Acucar – "Sugarloaf" (396 m) and Corcovado – "hunchbacked Mountain" with the statue of Jesus Christ.
Rio de Janeiro is undoubtedly a city of contrasts. Fabulously located, with breathtaking views and famous beaches, the city is classified as one of the world's most modern metropolis. On the other side however, just "around the corner", interspersed with the splendor of lavish residences in the tourist districts, writhe countless "favelas" (slums), facing day-to-day problems with crime, drug trafficking and gang warfare.
The "Centro" district is a vibrant downtown of Rio de Janeiro with narrow streets crossing the jammed alleys and historical monuments and baroque churches spring up near the modern glass skyscrapers. It is also a place where the history of the city began when in 1567 the Portuguese founded a settlement in Sao Sebastiano de Rio de Janeiro.
It is nice to stroll through the historical streets, have a fresh mango juice in a small bistro and feel the rythm of the metropolis firsthand. Walking around you come across many architectural monuments and ancient churches, tempting to look inside just for a while – to cool off.
The important moments for contemporary Brazil and the story you cannot ignore are the events that took place at the "Igreja de Nossa Senhora da Candelária" church. These were the protests of the communists and a mass for Edson Luis de Lima Souto, a student who was murdered during a protest against the dictatorship. Thousands of people gathered at the service and the army surrounded the church trying to block all the ways out of the building. However, with the help of the clergy, the communists managed to get out of the building and save their lives.
Another dramatic event, recollected up to now by the red-painted traces of bodies on the ground, was a massacre of 23 July 1993, when 8 homeless children were murdered in front of the church by masked policemen.
It is worthwhile to go further and take a little rest in one of the numerous restaurants at Travessa do Comércio. It's a favourite place of Cariocas (indigenous people of Rio de Janeiro) to visit after work. This neighborhood can give us an idea of how Cidade Maravilhosa could look like in the nineteenth century, with narrow streets full of cafes and beautiful buildings, one of which is a Nossa Senhora da Lapa dos Mercadores, one of the magnificent baroque churches in Brazil.
In Rio de Janeiro you can see historic churches next to modern buildings like for example Catedral de São Sebastião do Rio de Janeiro – a Roman Catholic Cathedral of Saint Sebastian – considered one of the three symbols of the city. It is also believed to be one of the most unique and eccentric examples of sacral architecture, build in 1964-1976. It was designed by local architect Joaquim Corrêa, who took inspiration from the Mayan pyramids and formed the cathedral in a huge cone shape with a diameter of 106 m. The gigantic temple rises to a height of 80 meters and can accommodate up to 20,000 worshipers, 5,000 of which would have a seating place! On 2nd July1980 the cathedral was visited by Pope John Paul II, whose statue is situated at the entrance.
The cathedral impresses not only with its shape and the huge stained-glass windows but also with an amazing reflection in the mirrored walls of the nearby skyscrapers. To be even more surprised, you should get to the top of "Sugarloaf" and have a closer look at the skyscrapers next to the most famous temple in Rio de Janeiro…
Later in the afternoon I visited the famous Cinelândia square where you can find Theatro Municipal built in the early twentieth century and considered one of the most beautiful and finest theaters in Brazil. I have to admit that, despite the fatigue caused by the dizzying pace of sightseeing, it really impressed me. Afterwards I went to Lapa and the famous Selaróna stairs (Escadaria Selarón) – but I will tell you more about it next time.
Rio de Janeiro used to be called "Cidade maravilhosa" from the name of the famous march, which was initiated by André Silva Filho and Sobreira during the carnival in 1935. Since then the song had become an anthem of the city. It was then popularized by the sung version of the composition, recorded in the same year by Aurora Miranda and performed also by his sister, Carmen Miranda, Brazilian singer, dancer and actress of Portuguese origin, who has become an international star.
Is Rio de Janeiro really such a marvellous city? Is it the most beautiful metropolis in the world indeed? I came across many different opinions. Some people were really enchanted, the others highly disappointed. I believe that everyone is different and so the impressions vary a lot. One should actually form their own view on his undoubtedly distinctive and full of contrasts place. I have the feeling that you can either fall in love with Rio de Janeiro or hate it – but it's hard to stay indifferent. Walking around Centro and listening to Ada describing the everyday life in Brazil, the flavors and scents of its life (both good and bad ones), I started to understand the love of indigenous people to their city – calling themselves proudly Carioca.