O Copacabanie słyszał chyba każdy. Jest to niewątpliwie plaża ciesząca się największą popularnością spośród wszystkich położonych w rejonie Rio de Janeiro. A znajdziemy ich tu trochę, bo przecież Brazylia to kraina słońca i radości, więc plażowanie jest naturalnie wplecione w codzienne życie mieszkańców miasta. Zwyczaj ten jest do tego stopnia ważny, że w każdą niedzielę w okolicach największych plaż miejskich zamyka się ulice dla ruchu motorowego, by zarówno miejscowi, jak i turyści mogli swobodnie spacerować, biegać, jeździć na rowerze, czy po prostu korzystać z odpoczynku bez konieczności wdychania spalin.
Copacabana to także dzielnica Rio de Janeiro, zamieszkana przez 400 000 ludzi – jedna z najbardziej zaludnionych na świecie. Wiedzieliście? Sama plaża ma 4 kilometry długości, jest piaszczysta, szeroka, i zadbana, z prysznicami, boiskami do gry w piłkę na każdym kroku, promenadą z licznymi barami i restauracjami oraz bardzo ekskluzywnymi hotelami. Czy jest to piękna plaża? Oczywiście rzecz gustu, ale na pewno trzeba liczyć się z tym, że jest to plaża miejska, a co za tym idzie gwarna i zatłoczona. Za plecami plażowiczów wyrastają kilkunastopiętrowe wieżowce, a zamiast odgłosów szumiących palm, można co najwyżej usłyszeć spacerujących między ciasno rozłożonymi leżakami sprzedawców "wszystkiego", od agua de coco zaczynając, na prawie markowych okularach kończąc. 🙂
Równie znana, trochę bardziej ekskluzywna i ciut mniej zatłoczona będzie sąsiadująca z Copacabaną, Ipanema. Opalając się możemy podziwiać wszechobecnych surferów i górujące nad plażą dwie imponujące góry – tzw. Dois Irmãos (Dwóch Braci). Jest też jedna ciekawostka. Nie wiem, jak prowadzono te badania, ale podobno Travel Channel uznał Ipanemę za najseksowniejszą plażę na świecie!!! 🙂
Pomiędzy Ipanemą a Copacabaną znajdziemy Arpoador – mały skalny półwysep, znany głównie jako najpopularniejsze miejsce do uprawiania surfingu. Ale nie tylko. Mnie najbardziej spodobał się pewien zwyczaj, bardzo powszechny w Rio de Janeiro. Rodziny, czy grupy znajomych wypoczywają na plaży przez cały dzień, a gdy słońce podąża w stronę horyzontu, wszyscy idą na wysunięty w ocean Arpoador, by wspólnie podziwiać zachód słońca. Takie miłe zakonczenie pozytywnego dnia. Fajny zwyczaj, prawda? Byłam i ja!
Plażowanie w Rio to nie tylko turystyka, karnawał i wypoczynek. Plażowanie w Rio to styl życia, nieodzowny element spędzania weekendu, odpoczynku po pracy, czy szalonych nocnych imprez. I nawet jeśli Copacabana, czy Ipanema nie są rajskimi bezludnymi plażami, gdzie na samotnej palmie rozwiesimy sobie hamak i będziemy kontemplować bezkres oceanu, to jednak przyznam, że nie pogniewalabym się, gdybym po pracy mogła zrelaksować się w takim miejscu – wykąpać się w oceanie, powygrzewać na słonku i ochłodzić słynnym deserem z owoców açaí.
Jednak, gdyby ktoś chciał więcej rajskich widoków, nie musi długo szukać, wystarczy pojechać trochę dalej na plażę Grumari. Tam naprawdę można poczuć się jak na okładce magazynu podróżniczego wysokiej klasy. 🙂 Palmy, rajskie zatoczki, wielkie głazy wychylające się raz po raz z oceanu i natura. Wszystko podane jak na dłoni i do tego jedynie 40 min jazdy z centrum miasta. Ja byłam zachwycona!
Plaże znajdujące się na terenie Rio de Janeiro to: Vermelha, Leme, Copacabana, Arpoador, Ipanema, Leblon, São Conrado, Barra da Tijuca, Recreio dos Bandeirantes, Grumari, Abricó. Myślę, że każdy znajdzie coś dla siebie, wystarczy tylko dobrze poszukać, ubrać typową brazylijską cangę (chusta do opalania, w którą można się zaopatrzyć na każdym rogu), słynne havaianasy, kupić agua de coco i położyć na piasku z twarzą zwróconą ku brazylijskiemu słońcu!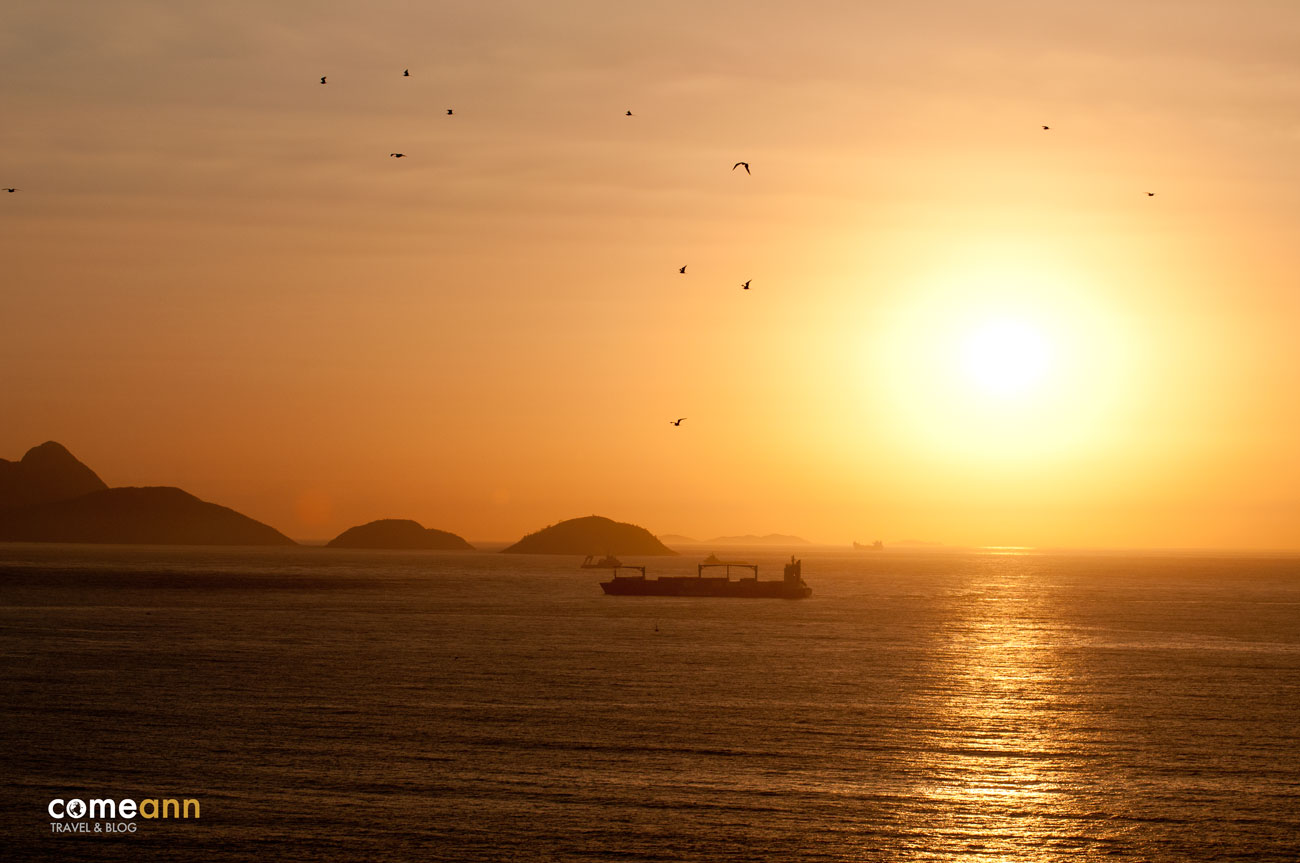 •••
I guess everybody heard about Copacabana. It is undoubtedly the most popular beach among all located in the region of Rio de Janeiro. There are quite a lot of them in this area – Brazil is indeed a land of sun and fun and sunbathing is a natural part of the citizens' everyday life. It's so important that every Sunday in the vicinity of the biggest beaches of the city the streets are closed to motor traffic so that people can freely walk, run, bike or simply enjoy their time without inhaling exhaust gas.
Copacabana is also a name of a Rio de Janeiro's district, one of the most densely populated in the world, with 400 000 inhabitants. Did you know that? The beach itself is 4 kilometers long. It's sandy, wide and well cared-of, with showers, pitches for ball games at every step, a promenade with numerous bars and restaurants, as well as very exclusive hotels. Is it a beautiful beach? Of course, it is a matter of taste but you should definitely consider the fact that it's a city beach, thus bustling and crowded. Behind the sunbathers' back huge skyscrapers spring up and instead of the sound of rustling palm trees you can hear the voices of "everything-sellers", walking between the tightly spaced loungers and shouting out their offer, from agua de coco to almost-branded sunglasses. 🙂
Equally well known, a bit more exclusive and less crowded is Ipanema, located next to Copacabana. While sunbathing you can admire the ubiquitous surfers and two impressive mountains, the so-called Dois Irmãos (Two Brothers), towering over the beach. There is also one interesting fact. I do not know how the study was carried out but apparently Travel Channel announced Ipanema the sexiest beach in the world! 🙂
Between Ipanema and Copacabana there is Arpoador, a rocky headland, known mainly as a popular surfing spot. But not only this. To me the most appealing was one custom, very common in Rio de Janeiro. Families or acquaintances stay on a beach for the whole day and when the sun starts falling towards the horizon, everyone goes to Arpoador to watch the sunset together. A very nice way to end up a positive day. A cool custom, don't you think? I'vebeen there too!
Sunbathing in Rio is not only about the tourism, carnival and rest. It's a way of living, an essential part of every weekend, free time or crazy night parties. And even if Copacabana or Ipanema are no paradisiacal deserted beaches where you can hang your hammock an a lonely palm tree to enjoy the endless ocean, I have to admit I wouldn't mind the chance to relax after work in such a place – have a swim in the ocean, warm up in the sun and chill out with the famous açaí dessert.
If somebody felt like some more heavenly views, they don't need to look far. It's enough to go a little bit further, to the Grumari beach. It really looks as if it was taken out from a top-class travel magazine cover. Palm trees, beautiful bays, large boulders emerging from the ocean and the nature. All of it just 40 minutes of drive from the city center. I was thrilled!
In Rio de Janeiro you can find the following beaches: Vermelha, Leme, Copacabana, Arpoador, Ipanema, Leblon, São Conrado, Barra da Tijuca, Recreio dos Bandeirantes, Grumari, Abricó. There's something nice for anybody, you just need to choose something for yourself, put on the typical Brazilian canga (a kind of beach towel which you can buy on every corner), the famous havaianas, buy some agua de coco and lay down on the sand, face towards the Brazilian sun!