To się dzieje naprawdę – lecę do Ameryki Południowej! Stało się, wybiła godzina zero i nie wiadomo kiedy przemknęły miesiące przygotowań. Teraz można było tylko odliczać godziny ostatniego dnia w pracy, po którym jechałam na lotnisko. Pierwszym, trzygodzinnym odcinkiem mojej wieloetapowej podróży był lot na trasie Warszawa – Malaga, gdzie miałam krótki nocleg i skąd następnego ranka ruszałam dalej.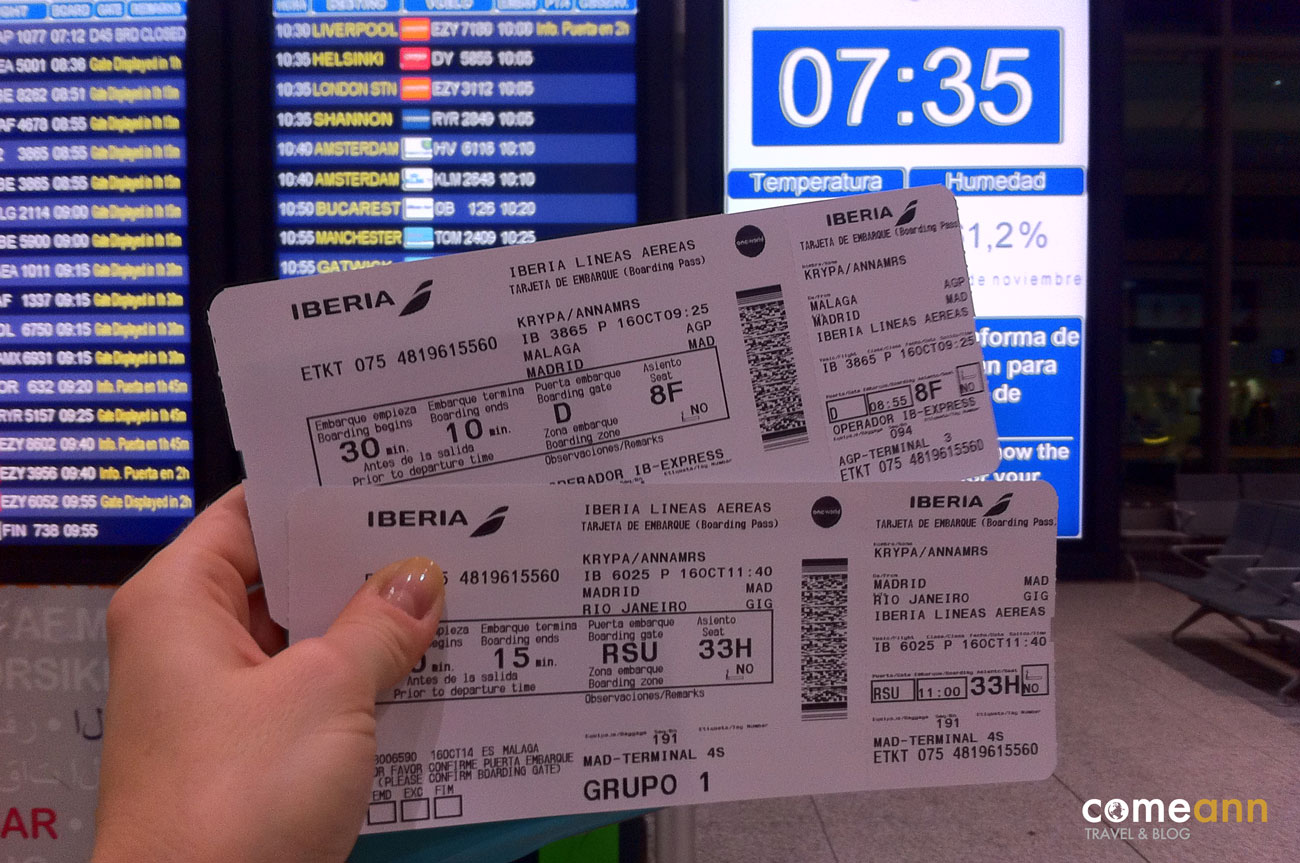 Kilka godzin hiszpańskich snów, przerywanych hałasami w lotniskowym hotelu, a potem znowu hala odlotów, reisefieber, mrowienie w żołądku oraz najlepsze na świecie uczucie, kiedy urlop dopiero się zaczyna i masz wrażenie, że będzie trwał w nieskończoność!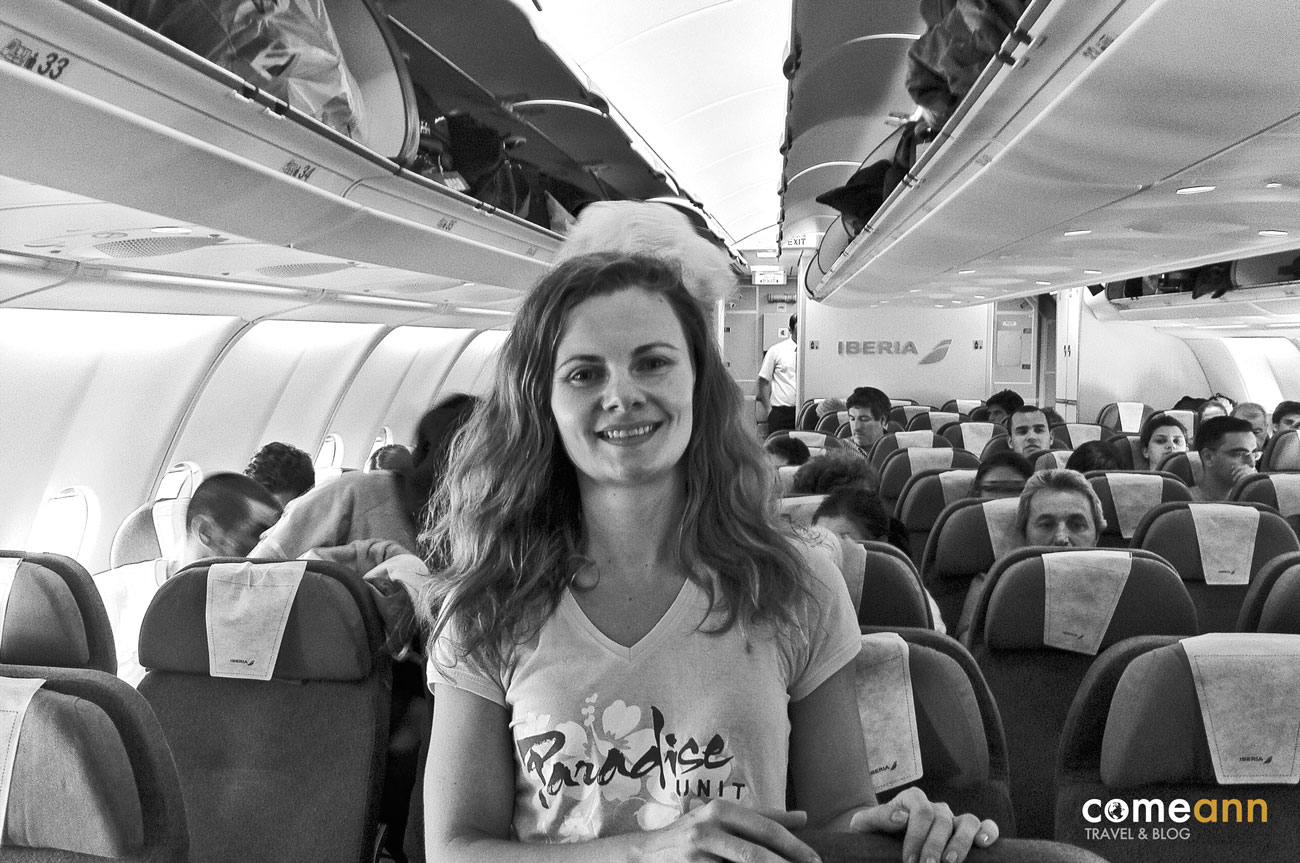 Podróż zaplanowałam "na lekko", czyli tylko z bagażem podręcznym i pomimo niewielkiej jego nadwagi, udawało mi się wszędzie wśliznąć z moim bardzo wysłużonym plecakiem. Zdaje mi się, że jest to bardzo dobra opcja dla osób podróżujących w pojedynkę i na pewno jeszcze nie raz wybiorę taki właśnie sposób podróżowania. No właśnie, bo zapomniałam wspomnieć, że do Ameryki Południowej postanowiłam wybrać się całkiem sama! A było to tak… 🙂
Zobaczyłam promocję, w ciągu kilku godzin kupiłam bilet i od razu wiedziałam, że chcę jechać sama. Była to od początku decyzja jasna, jak brazylijskie słońce i moim zdaniem absolutnie najlepsza! Jeździłam sama już nie raz, jednak to był pierwszy tak daleki i długi wyjazd bez żadnej osoby towarzyszącej i powiem szczerze – byłam na to całkowicie gotowa i po prostu tego potrzebowałam. Wiele osób dziwiło się i niepokojąco kiwało głowami, jednak ja byłam dziwnie spokojna, zadowolona i bardzo otwarta na to, co przyniesie każdy nowy dzień w podróży. Z drugiej strony wiedziałam też, że muszę zachować dużą, większą może niż przy wyjazdach kilkuosobowych, ostrożność i mieć oczy szeroko otwarte, szczególnie w Rio de Janeiro, czyli destynacji numer jeden.
Najbardziej denerwowałam się, jak dojadę z lotniska Galeão – Tom Jobim International Airport, położonego 20 km za miastem, do hotelu w Rio de Janeiro. Naczytałam się w rozmaitych przewodnikach, że trzeba bardzo uważać na przylotniskowe taksówki i nawbijałam sobie do głowy, że może mi się przydarzyć coś niebezpiecznego. Jednak zmęczenie czternastoma, w sumie godzinami lotu (3 loty) skutecznie osłabiło mój system nerwowy i pozwoliło na chwilę zapomnieć o dręczących mnie obawach.
– Będzie, co ma być! – pomyślałam i przecierając oczy z niedowierzania wysiadłam z samolotu, który dopiero co wylądował na południowoamerykanskiej ziemi.
Kolejka do odprawy paszportowej była długa i mało dynamiczna. Zmęczone towarzystwo, w tym ja, niecierpliwie przestępowało z nogi na nogę w oczekiwaniu po brazylijską pieczątkę. Ekscytacja faktem przybycia do jednego z najbardziej znanych miast świata spowodowała, że zaczęłam rozmawiać z małżeństwem czekającym w kolejce tuż przede mną. Rozmawiać to może za dużo powiedziane, gdyż pochodzili oni z Hiszpanii, a mój Hiszpański zaczyna się na Hola i już na Gracias kończy, łapiąc gdzieś pomiędzy "Buenos días", "Cómo estás?", tortlla i paella. Także dialog wyszukany nie był, ale zaistniał, co i tak uważam za niemałe osiągnięcie. Podpierając się kilkoma portugalskimi zwrotami ustaliliśmy skąd pochodzimy i gdzie się wybieramy. Udało mi się też podpytać o gnębiący mnie temat taksówek i poprosić o poradę, którą korporacją najlepiej jechać.
Kiedy ze świeżymi pieczątkami w paszportach, radośnie zmierzaliśmy w stronę wyjścia, ku mojemu zupełnemu osłupieniu, otrzymałam propozycję podwiezienia do miasta! Byłam zaskoczona i bardzo sczęśliwa. Ustaliliśmy, że pojadę z nimi do ich hotelu, znajdującego się przy Copacabanie i stamtąd zamówię sobie taksówkę do niedaleko położonej Ipanemy.
Serdeczne małżeństwo z Hiszpanii przyjechało w odwiedziny do rodziny, a z lotniska odbierał ich syn chrzestny ze swoją mamą. I nie dość, że przyjechał, mówił po angielsku, to jeszcze na koniec postanowił mnie podwieźć bezpośrednio do mojego hotelu! Po drodze wsłuchiwałam się w melodyjny język hiszpański i oglądałam rodzinne zdjęcia na ekranie telefonu. Czyż właśnie dla takich chwil nie jest warto wybrać się w samotną podróż?! Dziękuję Wam po stokroć! Muchas gracias!
Kiedy wreszcie dodarłam do hotelu, odetchnęłam. Tak, to się działo naprawdę, byłam w Rio de Janeiro i od jutra zaczynałam swoją pierwszą przygodę z Ameryką Południową! Rozpakowałam swój skromny podręczny bagaż, zaprzyjaźniłam się z sejfem i ulokowana w pokoju na szesnastym piętrze, poszłam spać.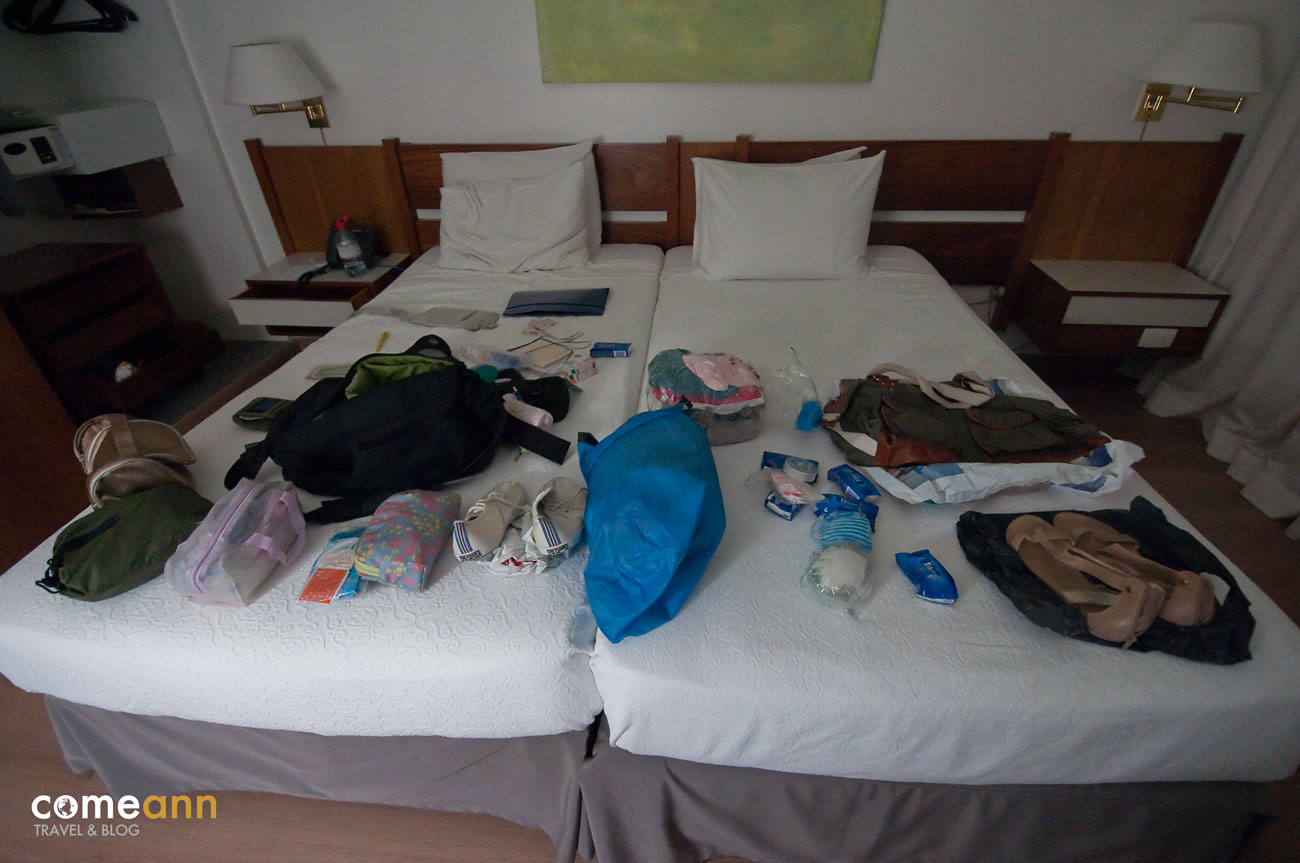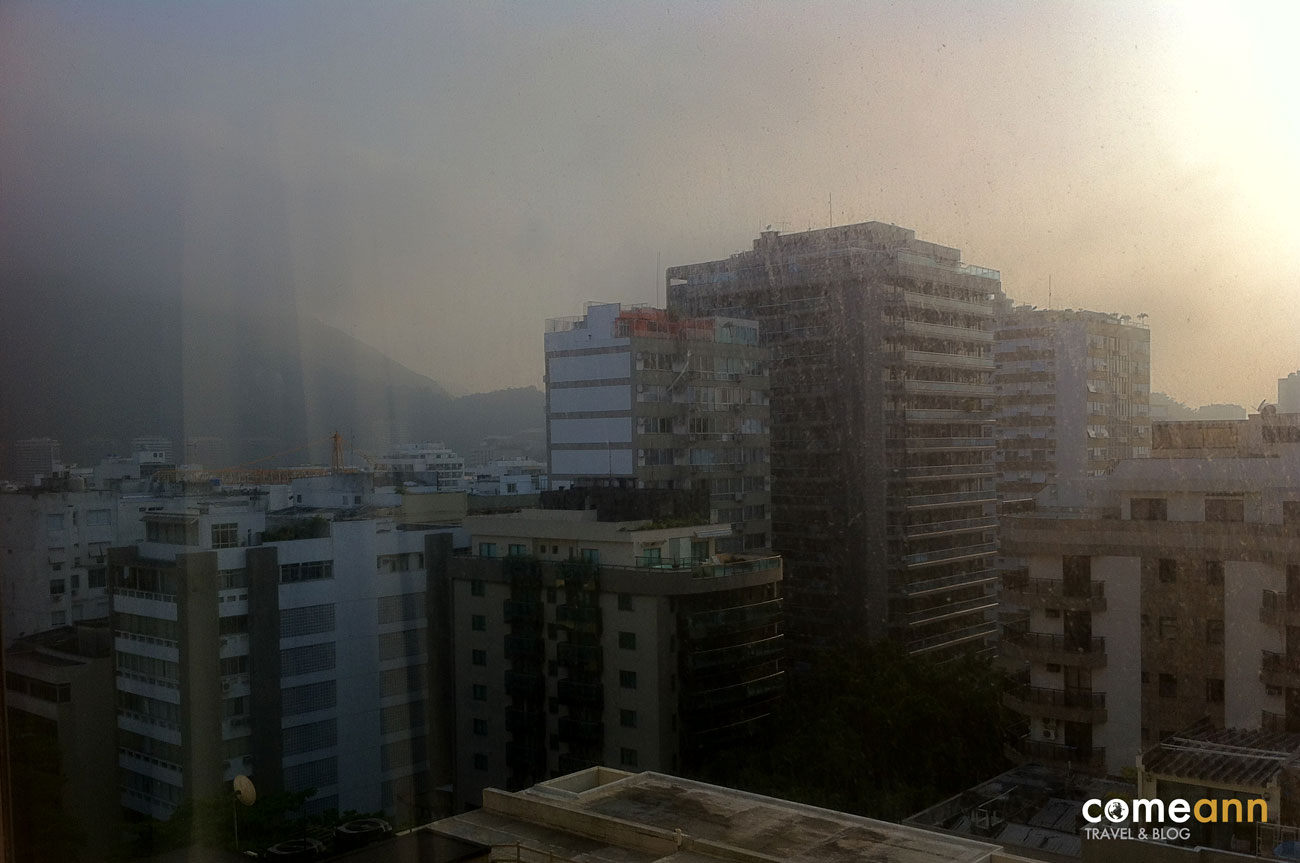 A kolejnego poranka śniadanie serwowano na dachu! Przepyszne świeże małe banany, mango, papaja, guava, arbuz i melon na dachu hotelu znajdującego się jedną przecznicę od słynnej plaży Ipanema z widokiem na Rio de Janeiro. Czy to aby na pewno nie sen? 🙂
•••
This really is happening – I am going to fly to South America! It's time of departure, I don't know when all these months of preparation have passed. Now you can only count down the hours of the last day at work after which I'd go to the airport. The first, three-hours' piece of my multistage trip was the flight from Warsaw to Malaga, where I stayed for the night and the next morning I was about to move on.
A few hours of Spanish dreams, interrupted by noises in the airport hotel, then again the departures hall, Reisefieber, butterflies in my stomach and the best in the world sensation that your holidays begin and you have the feeling as if it was going to last forever!
I planned my trip "lightly", that is only with my hand luggage and despite a little excess in its weight I managed to slip everywhere with my time-worn backpack. I believe it's a really good option for people travelling alone and I will definitely choose this way to travel again in the future. There, I've forgotten to mention that I decided to go to South America all by myself! And it was so… 🙂
I saw a promotion, within a few hours I bought a ticket and I knew right away I wanted to go on my own. It was clear from the beginning, as the Brazilian sky is, and I find it an absolutely perfect choice! I was travelling alone many times in the past but this was the first so long and distant trip with no companion and honestly speaking, I was absolutely prepared for this, moreover, I really needed it. Many people were surprised, anxiously shaking their heads but I was strangely calm, contented and very open to every new day of my travel. On the other hand I knew I have to be even more cautious and keep my eyes wide open, especially in Rio de Janeiro which was my No. 1 destination.
I was most nervous about the way to reach my hotel in Rio de Janeiro from the Galeão – Tom Jobim International Airport located some 20 km away from the city. I read a lot in various guides about how much you have to beware of the airport taxies and my head was filled with disturbing thoughts. However, the tired after fourteen, altogether, hours of flight (3 flights) had effectively weakened my nervous system and let forget my worries for a while.
'Be what may!', I thought and, wiping my eyes in disbelief, I got off the plane that had just landed on South American ground.
The queue to the passport control was long and not really dynamic. The tired people, including myself, were kicking their heels impatiently, waiting for the Brazilian stamp. The excitement with the fact of having just arrived to one of the most famous cities in the world made me begin a conversation with a married couple standing in the line right in front of me. Conversation is maybe too big word as they came from Spain and my Spanish begins with 'Hola' and ends with 'Gracias' catching on its way some 'Buenos dias', 'Cómo estás', tortilla and paella. So the dialog was not very sophisticated but it still took place which I consider a big achievement. With the help of a few Portuguese phrases we settled where we came from and where we were going to. I also managed to ask about the taxies' issue that kept disturbing me and ask their advice on which corporation to choose.
When we were joyfully heading to the exit, fresh stamps in our passports, I received, to my great astonishment, a proposition to be driven to the city! I was amazed and very, very happy. We settled that I would go with them to their hotel, situated next to Copacabana and from their I would call a taxi to the nearby Ipanema.
The warm-hearted Spanish couple were going to visit their family and were picked up from the airport by their godson and his mum. Not only did he arrive, was speaking English, he also decided to bring me directly to my hotel! On our way I was listening to the melodic Spanish language and watching family photos on the smartphone's screen. Aren't such situations worth travelling alone?! I thank You so much! Muchas gracias!
When I finally reached the hotel, I took a breather. Yes, it was really happening, I was in Rio de Janeiro and from the next day on I was about to begin my first South American adventure! I unpacked my modest hand luggage, got acquainted with the safe and, accommodated in a room on the sixteenth floor, I went to sleep.
The next morning's breakfast was served on the roof! Delicious small bananas, mango, papaya, guava, melon and watermelon on top of the hotel situated one crossing from the famous Ipanema beach, with view on Rio de Janeiro. Isn't it a dream? 🙂