Na cztery dni zostałam dziewczyną z Ipanemy. Zamieszkałam na chwilę w tej wyjątkowej dzielnicy i starałam się oswoić Rio de Janeiro. A może to ono próbowało oswoić moje niepokoje i przekonać mnie o swojej beztroskiej atmosferze? Podziwiałam miejskie widoki z hotelowego tarasu i przechadzałam się po plaży, prawie jak najsłynniejsza dziewczyna świata w piosence Toma Jobim'a – "Garota de Ipanema". Znacie? Musicie posłuchać koniecznie, bo to klasyka brazylijskiej bossa novy, która stała się światowym hitem w połowie lat 60, a w 1965 roku zdobyła Nagrodę Grammy w kategorii "Piosenka Roku". Przebój powstał w 1962 roku. Autorem muzyki jest Antonio Carlos Jobim, a tekstu (w języku portugalskim) Vinicius de Moraes.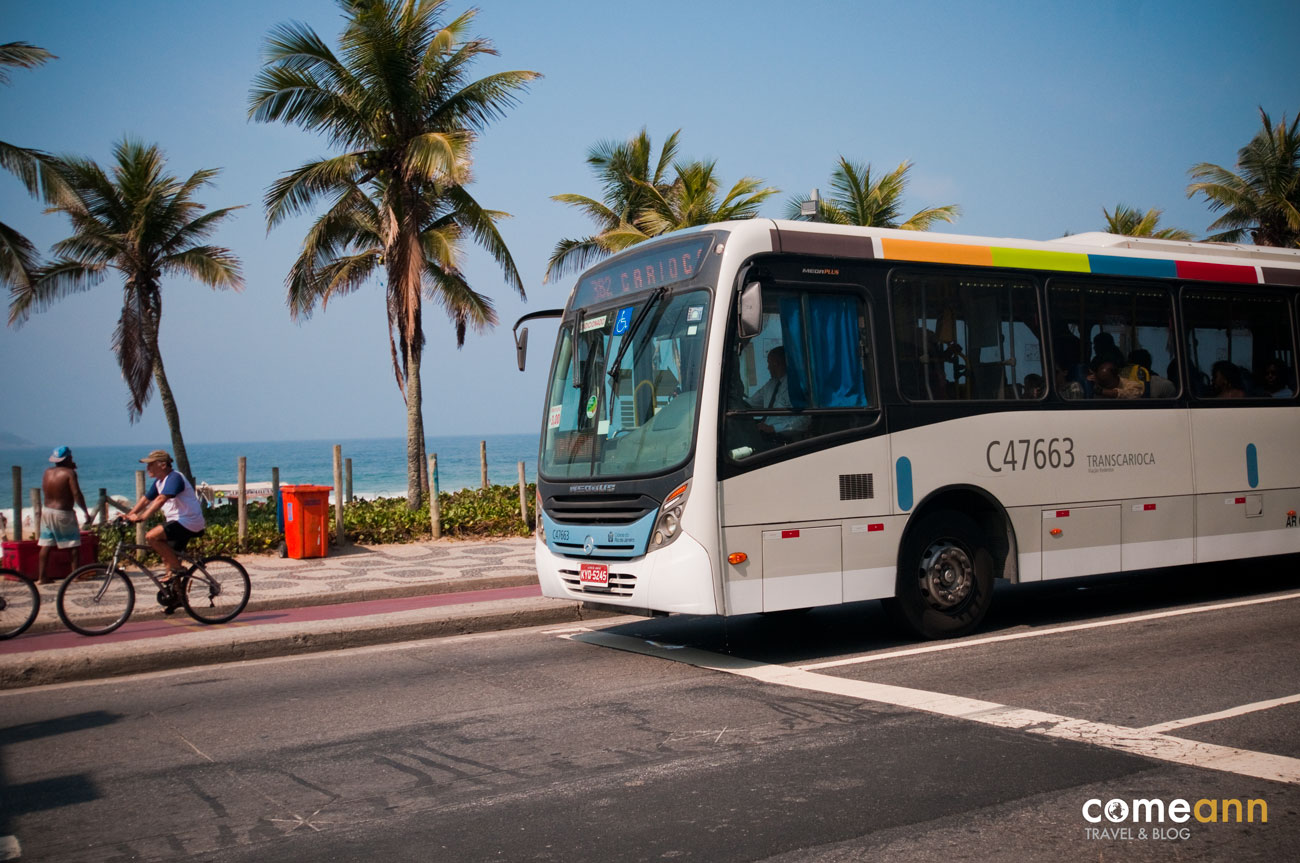 Plan był napięty. Miałam tylko trzy pełne dni w Rio de Janeiro, a czwartego już leciałam dalej. Ten krótki czas trzeba było wykorzystać maksymalnie, bez narażania się na wpadki, jakie zwykle przytrafiają się w pierwszych dniach pobytu na nowym kontynencie, w nowym kraju i gigantycznym mieście. Mam na myśli trudności w szybkim przemieszczaniu się, swobodnym porozumiewaniu się (pomimo wcześniejszych pięciu zajęć z języka portugalskiego 😉 ), rozeznaniu się we wszelkich godzinach otwarcia oraz obowiązujących cenach.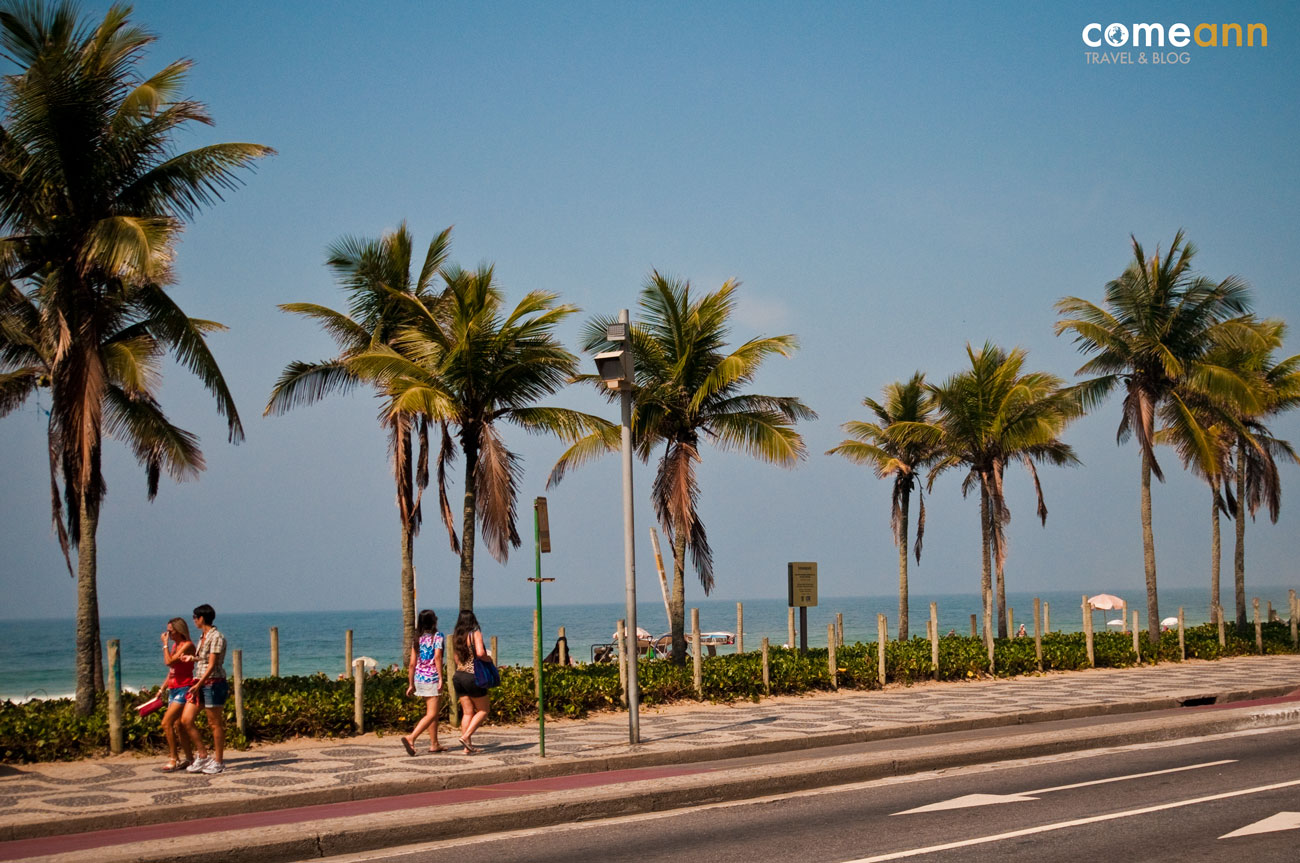 Dlatego napisałam do Adrianny Lasoty, która jest licencjonowaną przewodniczką w Rio de Janeiro i razem z rodziną mieszka tam od kilku lat. I była to jedna z lepszych decyzji, którą podjęłam podczas tej podróży, bo wyjazdy to przecież oprócz pięknych miejsc, wspaniali ludzie i nowe przyjaźnie, które czasem zupełnie nieoczekiwanie okazują się ważne i wnoszą w nasze życie inną jakość. Nie wyobrażam sobie teraz, że mogłabym zwiedzać Rio de Janeiro sama. Albo inaczej – nie chciałabym!
Pierwsze spotkanie, pierwszy wspólny spacer po Ipanemie i już podskórnie czułam, że spędzimy świetne 3 dni, zwiedzając razem Rio de Janeiro. Nie myliłam się! Dziękuję Ci Ada za pokazanie najbardziej znanego miasta świata swoimi oczami – właśnie taki wizerunek Rio de Janeiro pozostanie w mojej pamięci!
Zmierzając w stronę metra, przechadzałyśmy się promenadą przy plaży, kiedy nagle, na samym środku słynnej alei Avenida Vieira Souto, wyrósł przed nami sam marszałek Piłsudski! Nie spodziewaliście się tego, prawda?! Pomnik odsłonięto 18 grudnia 1967 roku, w setną rocznicę urodzin Józefa Piłsudskiego, a to wszystko oczywiście za sprawą Polonii prężnie działającej w Rio de Janeiro.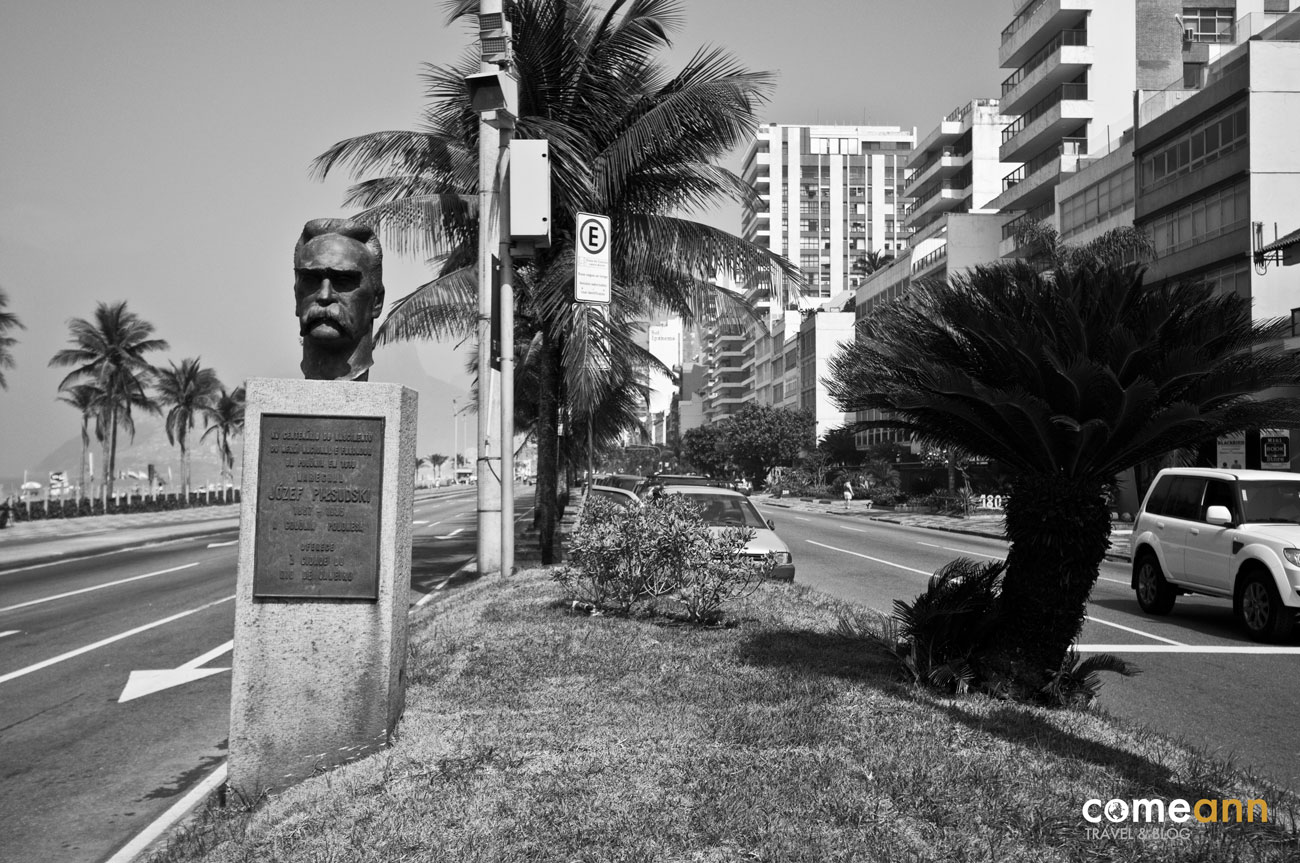 Dalej metrem do największego kiedyś stadionu piłkarskiego na świecie, czyli Estádio Jornalista Mário Filho, zwanego potocznie Maracanã. Stadion został zbudowany w latach 1948–1950. Kiedyś miał około 200 tysięcy miejsc. Aktualnie plasuje się znacznie niżej w rankingu największych stadionów świata, bo na 23 miejscu i po wielu modernizacjach może pomieścić 78 838 osób.
Stadion uważany jest w Brazylii za cud architektury sportowej, jak również świątynię drugiej brazylijskiej religii, czyli piłki nożnej. Jest stadionem narodowym, więc według konwencji haskiej jest też dobrem narodowym i posiada status zabytku.
Nie jestem jakąś szczególną fanką piłki nożnej, choć przyznam, że od czasu do czasu lubię obejrzeć dobry mecz i wiem, kiedy jest spalony. 😉 Chciałam zobaczyć stadion Maracanã, gdyż w mojej głowie uplasował się jako miejsce znane i historyczne. I przyznam, że robi wrażenie, więc będąc w Rio de Janeiro warto wsiąść w metro i wpaść na kilka chwil – zobaczyć loże honorowe , szatnie i koszulki gwiazd sportu oraz usiąść na ławce rezerwowych i zerknąć na murawę oczami trenera.
Pierwszy dzień w Rio de Janeiro zaczął się bardzo intensywnie i ciekawie. Później było jeszcze lepiej – popłynęłam do Niterói i piłam pierwszą w życiu agua de coco. Ach, co to był za smak! Zapraszam na dalsze opowieści!
•••
For four days I became the girl from Ipanema. I lived for a while in this unique district and tried to tame Rio de Janeiro. Or maybe it was Upanema that tried to tame my concerns and convince me of its careless atmosphere? I admired the urban views from the hotel's terrace and walked along the beach, almost like the world's most famous girl from the song of Tom Jobim – "The girl from Ipanema". Do you know it? You must absolutely listen to it, it's a Brazilian bossa nova classic and it became a worldwide hit in the mid-60s, and in 1965 it won a Grammy Award in the category of "Song of the Year". The hit was created in 1962. The music was written by Antonio Carlos Jobim and the text (in Portugese) by Vinicius de Moraes.
The plan was tight. I only had three full days in Rio de Janeiro and on the fourth I was already flying back. I needed to make the best use of this short time, without running a risk of any slip-ups that usually happen during the first days on the new continent, in the new country and the giant city. I mean the difficulties in transport, communication (despite the previous five classes of Portugese 😉 ), getting to know all opening hours and the current prices.
That's why I had written to Adrianna Lasota who is a licenced guide in Rio de Janeiro and has been living there with her family for a few years. This was one of the best decisions I took during my trip, because travelling is not only about beautiful places but also about wonderful people and new friendships that sometimes, unexpectedly, prove very important and bring a new quality to our lives. I cannot imagine now visiting Rio de Janeiro all by myself. Or rather – I wouldn't wish to!
The first meeting, the first walk in Ipanema together and I felt subconsciously that we'd spend great 3 days in Rio de Janeiro. I was not mistaken! Thank you Ada for showing me the most famous city in the world with your eyes – this is how I will remember Rio de Janeiro!
Heading towards the metro station, we were walking down the beach promenade when suddenly, in the middle of the famous Avenida Vieira Souto avenue, we saw the Marshal Pilsudski himself! This is not what you would expect, is it? The monument was unveiled on December 18th, 1967, on the hundredth anniversary of the birth of Jozef Pilsudski, all thanks to the Polish community operating in Rio de Janeiro.
We went with the metro to the famous footbal stadium, once the largest in the world, that is Estádio Jornalista Mário Filho, also called Maracanã. The stadium was built in 1948-1950. It used to have about 200,000 seats. Currently it ranks much lower in the ranking of the largest stadiums in the world, at the 23rd place. After many upgrades it can accommodate 78 838 spectators.
The stadium is considered in Brazil a miracle of the sports architecture and also a temple of the second Brazilian religion, that is football. It is a national stadium so, according to the Hague Convention, it has also a status of a historical monument.
I am not a big fan of football but I have to admit that from time to time I enjoy watching a good match and I know what offside menas. 😉 I wanted to see the Maracanã stadium because I find it a famous, historical place. And I have to tell you it really is impressive so if you happen to be in Rio de Janeiro, it is worth taking an underground trip and spend a few whiles at Maracanã – see the boxes of honor, the cloakrooms and the sports stars' T-shirts, have a sit on the bench and look at the pitch with the eyes of the coach.
The first day in Rio de Janeiro began very intensively and interestingly. Afterwards it was even better – I went to Niterói and I drank agua de coco, the first one in my life. Ah, what a taste! Feel invited to the next tales!