O tej wycieczce myślałam od dawna. Planowałam stanąć na najbardziej wysuniętym na południe przylądku Afryki, tam gdzie "oficjalnie" łączą się dwa Oceany – Indyjski i Atlantycki!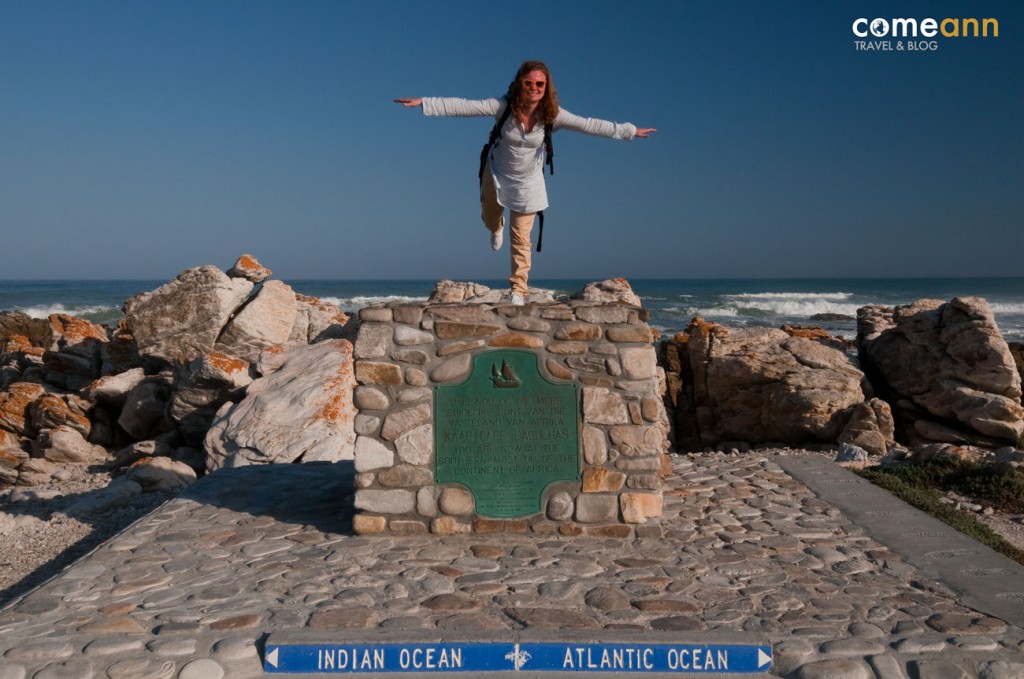 Nie byłabym sobą, gdyby nie udało mi się tego planu zrealizować, więc zapraszam Was serdecznie na Przylądek Igielny. Ruszamy!
Okazało się, że nie jest to miejsce bardzo oblegane przez turystów i znajduje się dość daleko od Kapsztadu. Zupełnie mnie to nie zniechęciło, a nawet po części ucieszyło. Pomyślałam, że ucieknę na chwilę od tłumów żądnych atrakcji.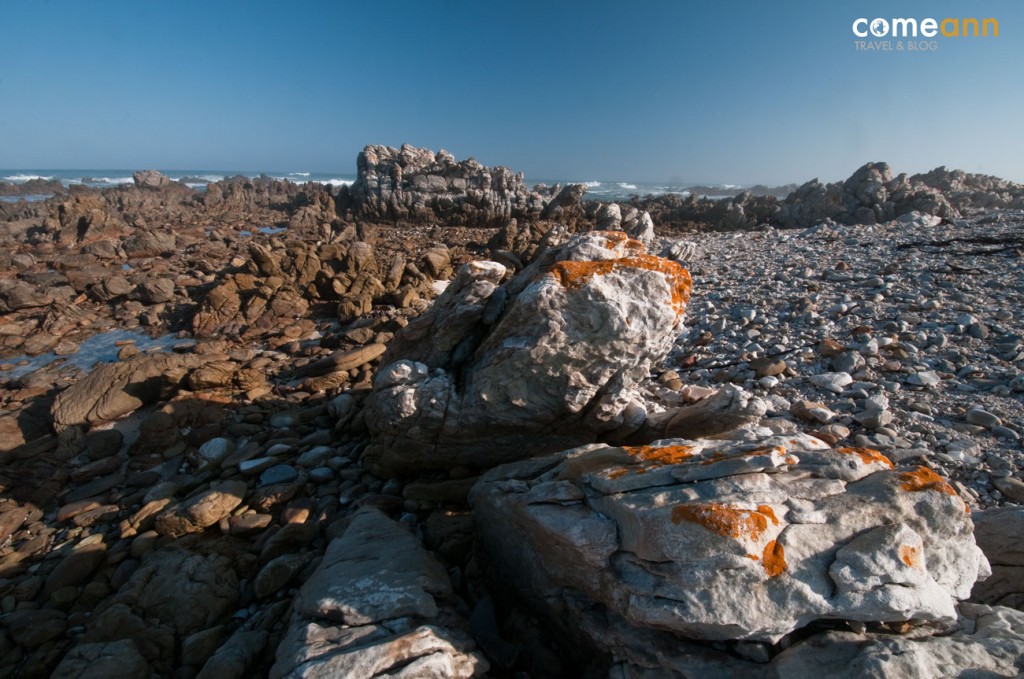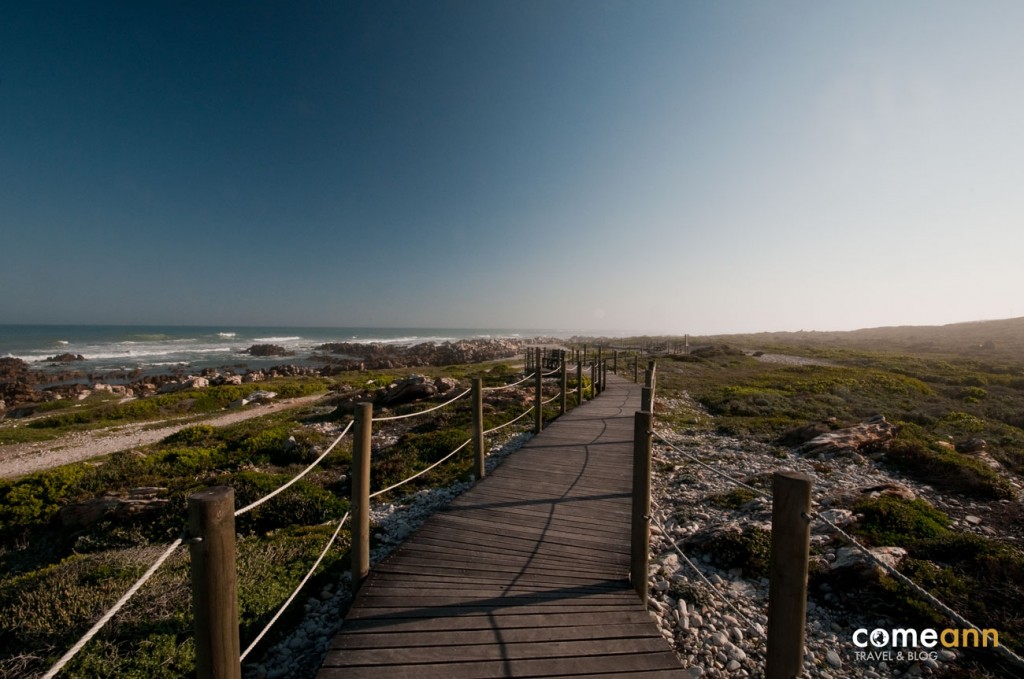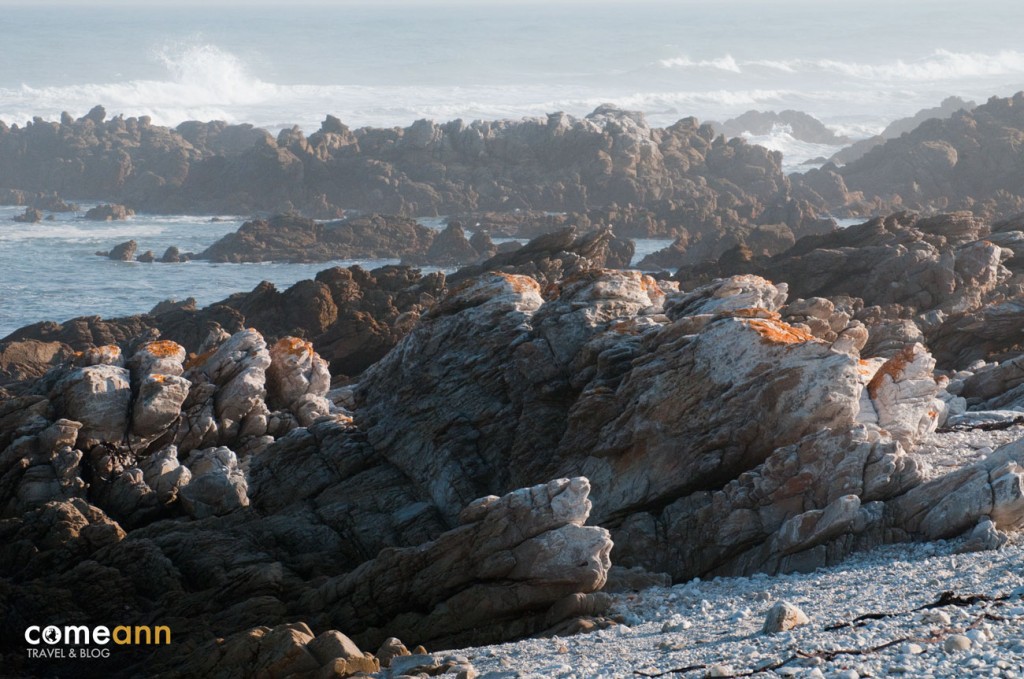 Przylądek Igielny położony jest ponad dwieście kilometrów od Kapsztadu, a jego dokładne współrzędne to 34°50′0.35″S 19°59′59.95″E. Taka wycieczka zajmuje niemalże cały dzień, jeśli chce się spędzić trochę czasu na miejscu.
Jak już wcześniej wspomniałam, od dawna planowałam odwiedzić ten wyjątkowy przylądek, dlatego też udało mi się wejść w posiadanie kontaktu do pana Marka, który zgodził się pełnić rolę kierowcy i przewodnika podczas mojej podróży. Pan Marek od wielu lat mieszka w Kapsztadzie, więc jego wiedza była naprawdę ogromna, a opowieści niezwykle ciekawe. Dzięki miłej atmosferze, podróż upłynęła szybko i zanim się obejrzałam fotografowałam słynną tablicę oznajmiającą położenie geograficzne przylądka.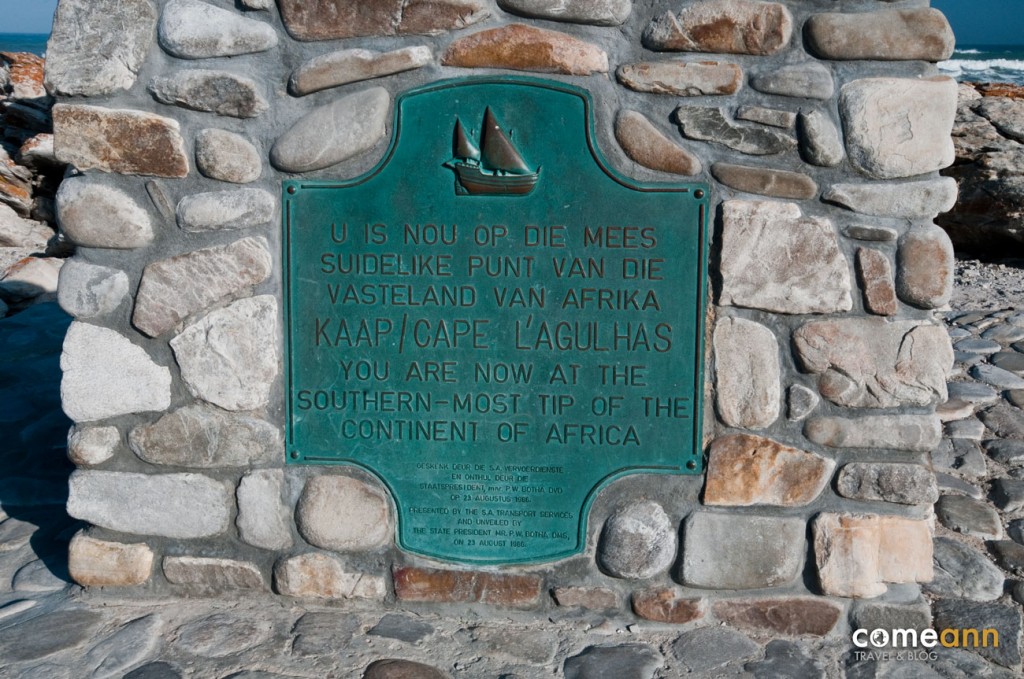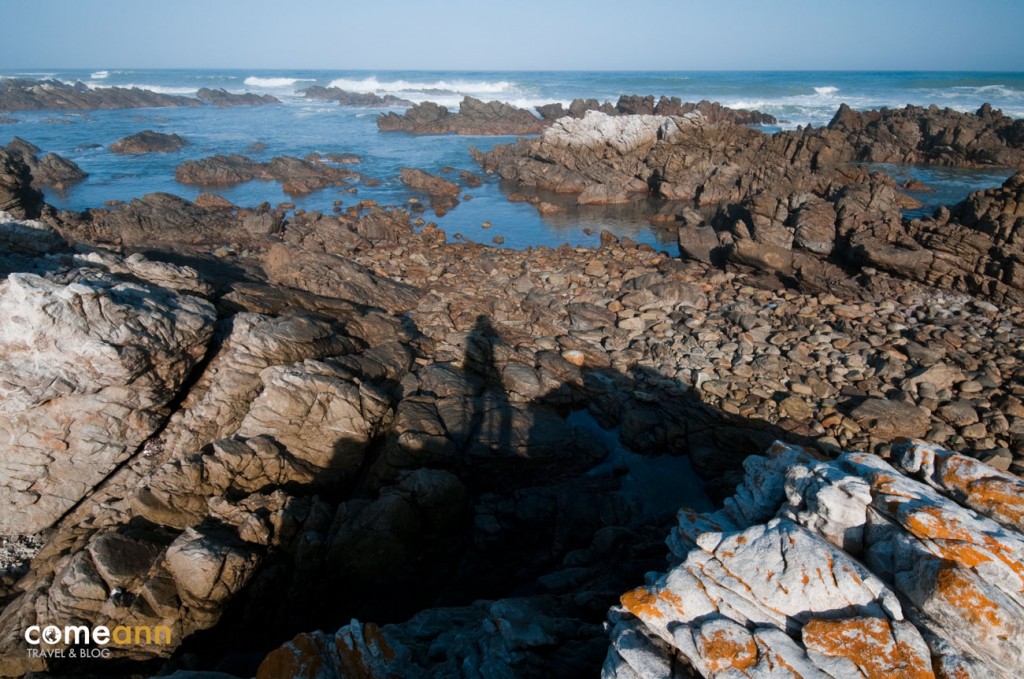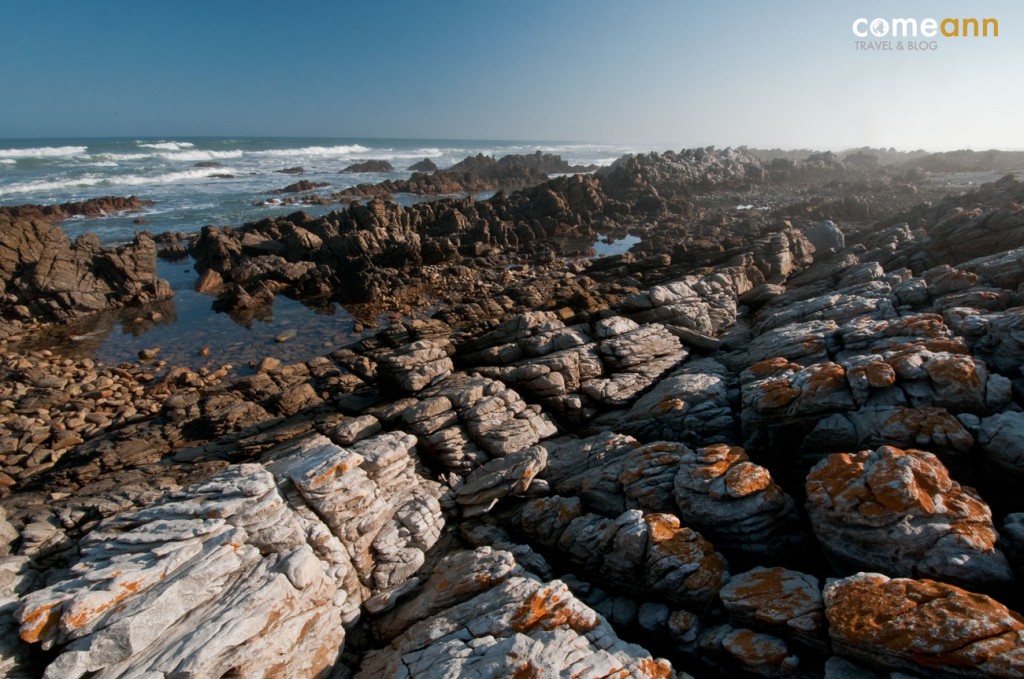 W przeciwieństwie do bardziej znanego Przylądek Dobrej Nadziei i Cape Point, Cape Agulhas jest stosunkowo mało spektakularny, gdyż składa się z łagodnie zakrzywionej i kamienistej linii brzegowej. Moim zdaniem ma jednak wyjątkowy urok, który tworzą bardzo mocno wypłukane i owiane wiatrem skały. Ich powyginane kształty przypominają o bardzo częstych zimowych sztormach niosących ze sobą olbrzymie fale, potwory zatapiające nawet duże statki, których wysokość może nawet dochodzić do 30 metrów!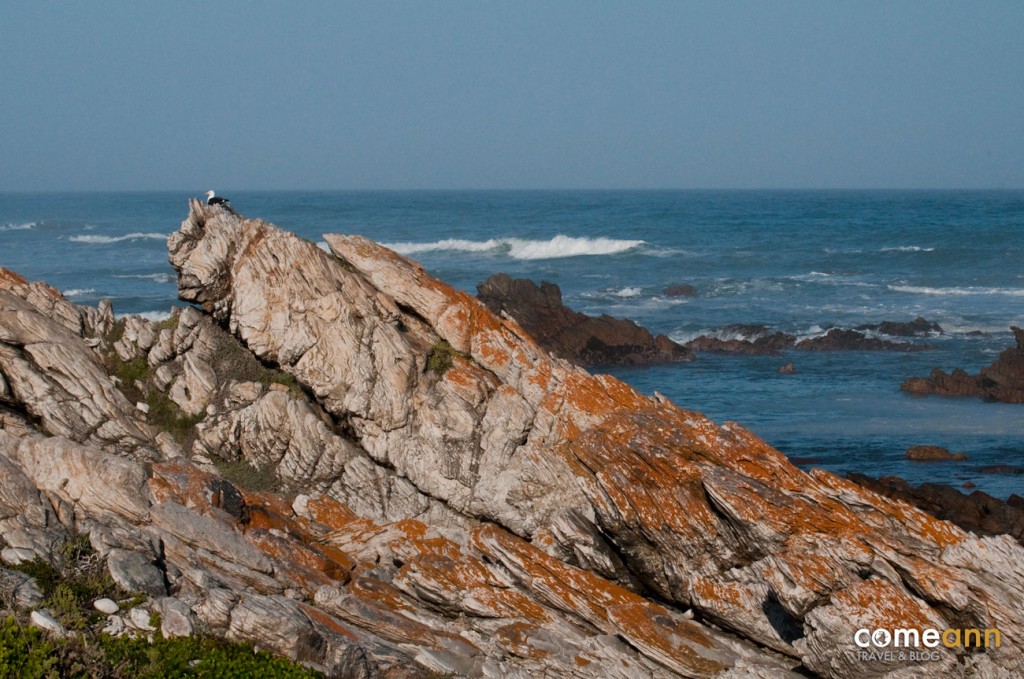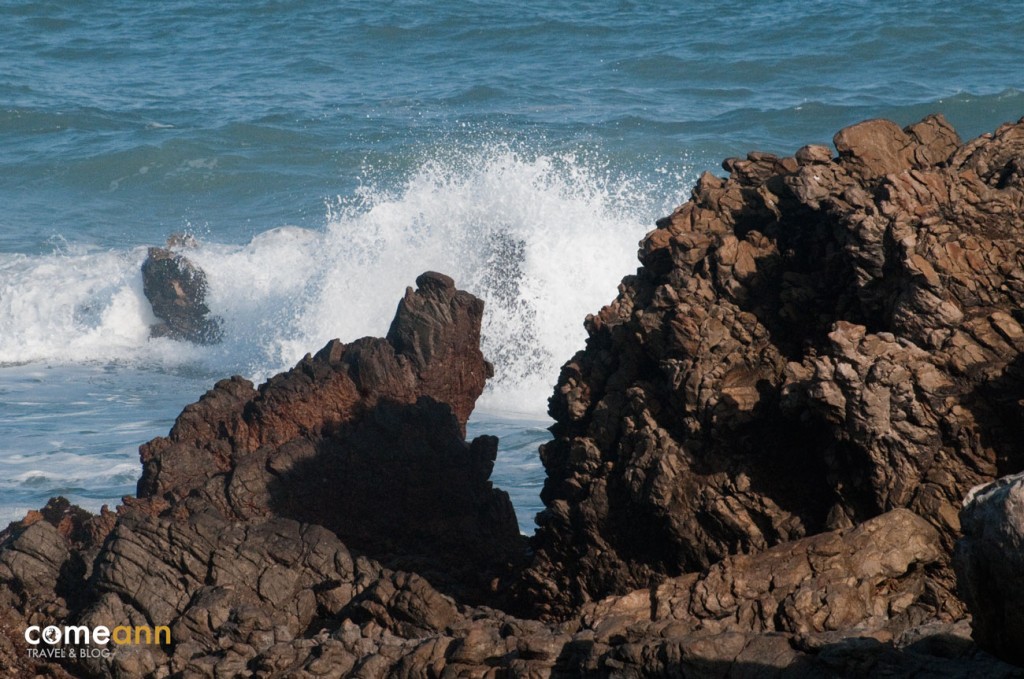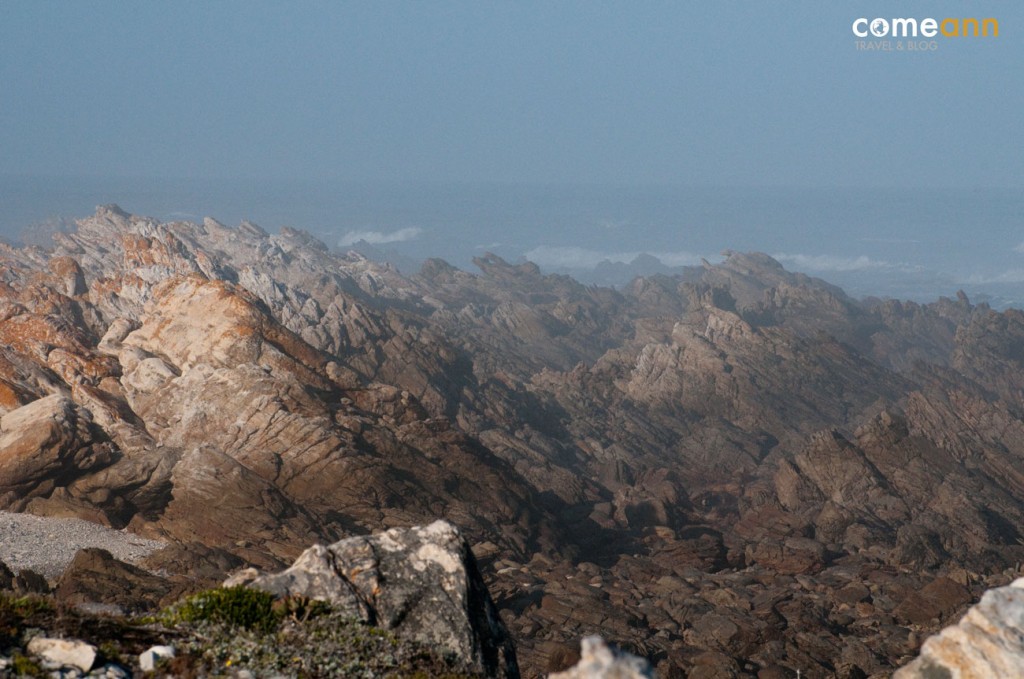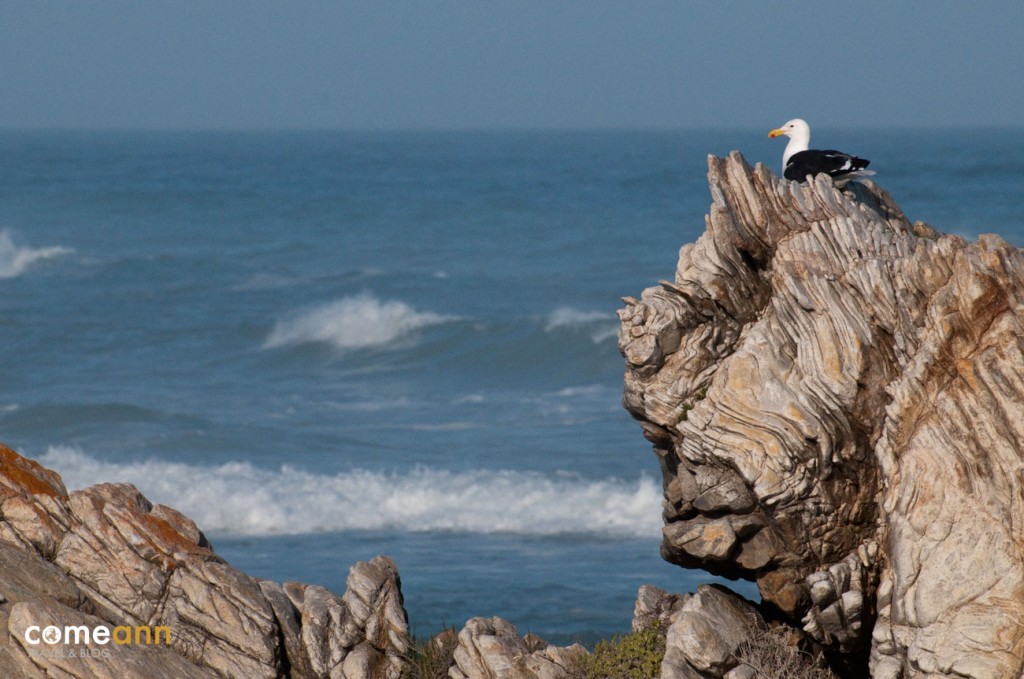 Spędziłam dłuższą chwilę na Przylądku Igielnym i uważam tą wycieczkę za niezwykle odświeżającą. Przez cały czas towarzyszyło mi wyjątkowe uczucie, że właśnie znalazłam się na południowym krańcu kontynentu afrykańskiego. Były też niesamowite widoki – zabarwione na rudo-pomarańczowo, bardzo mocno powyginane skały, które bronią się przed agresywnymi falami oceanu… No właśnie, tylko którego oceanu. 🙂
•••
I thought for a long time about this trip. I had planned to put my foot on the southernmost tip of Africa where "officially" two oceans meet – the Indian Ocean and the Atlantic.
I wouldn't be myself if I failed to realize this plan so I now invite you to Cape Agulhas. Off we go!
It turned out that the place is not very crowded with tourists and is situated quite a while from Cape Town. It didn't discourage me at all, I was even contented. I thought I would run away for some time from the crowds craving for attractions.
Cape Agulhas is situated over 200 kilometers from Cape Town and its exact coordinates are 34 ° 50'0 .35 "S 19 ° 59'59 .95" E. The trip takes almost all the day if you want to spend some time on the spot.
As mentioned before, I had planned this trip for a long time so I managed to contact Mr. Marek who agreed to be my driver and guide. Mr. Marek has been living in Cape Town for many years so his knowledge was really huge and his stories very interesting. Thanks to the friendly atmosphere the journey passed quickly and very soon I could take photos of the famous board announcing the geographic location of Cape Agulhas.
In contrast to the more famous Cape of Good Hope and Cape Point, Cape Agulhas is relatively unspectacular, as it consists of gently curved and rocky shoreline. In my opinion however, it has its unique charm created by heavily washed and shrouded by winds rocks. Their twisted shapes remind you of very frequent winter storms carrying huge waves, monsters of even 30 meters, making big ships sink!
I spent a long while on Cape Agulhas and I find this trip really refreshing. I felt all the time of how amazing it was to stand at the southernmost tip of Africa. I admired gorgeous views – the twisted, red-orange rocks, defending themselves against aggressive waves of the ocean … Well, but which ocean? 🙂